Merritt BC Businesses – Earthwalker
Merritt, B.C. Unique Businesses
Earthwalker, one of our Merritt, B.C. Unique Businesses with a twist
"I have the best customers! They range in age from 4 to 75 years old."

Renee Henry, Earthwalker
When you are checking out our Merritt BC businesses, you will wonder what sort of business Earthwalker might be. Not only is Earthwalker a spiritual store, the owner, Renee, tells me it is also a gathering place where politics, religion and spiritual discussion takes place.  There is a twist. In the winter there is always a pot of hot tea waiting too. The seating is comfy, the atmosphere welcoming and respectful of everyone's beliefs.
An inspired start
Several years ago, before Renee even thought of starting one of our Merritt BC businesses, she was laid off from her job. Unsure of what to do next, she went to a peaceful beach in Kamloops to meditate and get some clarity on what her next step should be. At the time a friend of hers had a spiritual shop and needed some help, so Renee volunteered. Since she had been interested in crystals from the age of twelve, Renee already had some background. Slowly she gathered together what she needed to open her own shop. A while later when her friend had more help, Renee launched Earthwalker, one of our Merritt BC businesses.
Why Merritt?
Renee tells me that from the first time she came to Merritt it felt like home. She loves the Merritt outdoors and we sure have plenty of that! Lots of fun stuff to do year round too. Hiking, mountain biking, cross-county skiing, fishing and swimming. For a nature enthusiast, wildcrafter, herb and food gatherer, this is paradise. "And once I saw the Hoodoos, I was hooked", she says.
Why a spiritual store?
Many people want to know why Renee chose this type of business. It's simple. She wants to help people with their spiritual growth. One way she is doing this is by helping customers connect with the crystal that is right for them. In addition to being beautiful, each crystal is a tool with its own healing properties. Renee knows them well! Not only has she been learning about them since she was only 12 years old, Renee has also been a rock hound for as long as she can remember. She matches each crystal's properties and healing elements to her client's needs. This is truly a Merritt, B.C. Unique Business! Where else can you get this kind of attention?
Inside Earthwalker
Plan to spend some time checking out Earthwalker. Renee carries many different types and colours of stones, crystals and jewelry. It doesn't stop here either. Best known for her knowledge, her crystals, her singing bowl and her own unique self, she also sells clothing, statues, tarot cards, books, healing items and one-of-a-kind goodies you just won't find anywhere else! And why would you? After all, Earthwalker is one of our Merritt BC businesses.
Gypsy, everyone's friend
All Merritt BC businesses have a surprise and uniqueness to themselves. Earthwalker is no exception. Meet Gypsy, a quiet, relaxing dog who is very gentle. Even if you are not a dog person, Gypsy will soon have you petting and talking to her. If you need a hug, you can be sure she knows and will wander over to offer canine comfort and support
Before we finished the interview, I just had to ask Renee a few questions I thought potential entrepreneurs might want answers to.
Questions and answers:
Q: If you could speak to your younger self when you were just starting out, what advice would you give?
A: Do some accounting courses first! That would be a huge help. Also, the importance of social media and technology awareness is crucial! It is invaluable in promoting and marketing your business. Also, in today's tough business climate  you need to be known on social media.  Your business will increase as your social media exposure increases.
Q: What are your favorite things about being an owner?
A: I dictate how my day goes. How I treat people or how much time I give them is not mandated by someone else.
Q: What future plans do you have for Earthwalker?
A: I would like to take more courses in the healing arts, holistic healing and women in business. In the autumn, I want to do more connecting with businesses. Lots of men are starting to get involved as well as women. More community connections. I would like to be able to hire more staff and offer more services.
Q: Speaking of community connection, is there another person or business you would recommend?
A: Angela Kerr. She is a Reiki master and reflexologist.
Q: What one book would you recommend every sma
ll business owner read?
A: Small Business For Dummies (Canadian version).
Q: Can you describe your customers?
A: I have the best customers! They range in age from 4 to 75 years old. There are a mixture of men, women and families.  My customers come from all walks of life.  Some need help and others come for information or to socialize. As I said, I have the best customers. (BIG GRIN)
Q: As a business owner, what are your top three priorities?
A: Community connections, people feeling that this is a safe, open place to come and be happy, satisfied customers.
Fall classes at Earthwalker
This fall Renee will be offering classes in:
– wire wrapping
– crystals
– reiki, level 1 and 2
If you are interested , please contact Renee at:
phone: 250-315-5350
email: earthwalkerspirit@hotmail.com
facebook: earthwalkerspiritualshop
Not only is Earthwalker one of our Merritt BC businesses, you can see from this interview that the owner, Renee Henry, is as unique as her business. Be sure to treat yourself to a visit soon. 
Earthwalker in Merritt BC Canada
Merritt BC Canada Businesses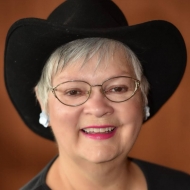 Latest posts by Diane Lavoie
(see all)
https://experiencenicolavalley.com/wp-content/uploads/2019/11/earthwalker-banner2.0.jpg
422
1000
Diane Lavoie
https://experiencenicolavalley.com/wp-content/uploads/2018/05/merrit-nicola-logo-01-300x254.png
Diane Lavoie
2019-11-09 19:30:51
2019-11-13 20:25:22
Merritt BC Businesses – Earthwalker