Hiking Merritt, BC at Kentucky-Alleyne

Hiking Merritt, BC
Kentucky-Alleyne Provincial Park
A Walk in the Park
I have talked about hiking near Merritt, BC before but focused on the trail network within the City of Merritt. Therefore this time I want to take you further afield to Kentucky-Alleyne Provincial Park.  Our park destination is a mere 20 to 30 minute drive from downtown depending on traffic. (Just kidding, there is no traffic in Merritt).  Kentucky-Alleyne Provincial Park is located off highway 5A just passed Aspen Grove.
Kentucky Lake-Hiking Trail near Merritt, BC  
I have chosen this trail because it is relatively easy.  However, those who are looking for a greater challenge you can check out a book by local author, Murphy Shewchuk,  Coquihalla Trips and Trails.
For this 4 kilometre hike near Merritt, BC you can choose which way you wish to hike around Kentucky Lake.   You can take the trail from the parking lot which will take you clockwise around the lake.
However if you wish to go the other way – counter clockwise – you have to walk into the campground and head over to the boat launch where there is another trail head.
This hiking Trail near Merritt, BC is for the whole family
The hike is generally considered fairly easy as it follows along the lake shore and there are not many hills.  However, the recent windstorms this Spring knocked down a lot of trees that are covering the trail.  We noticed that the Parks crew have been working hard and have removed most of the fallen trees from the trail.  Having said that, there are still one or two that require circumventing.  As long as you have decent foot wear you should be OK.
In some sections of the trail there is a rainforest like feel as the trees are much larger than in other areas of the trail. Take the opportunity to do some sky gazing and look up during your hike and take notice of just how tall some of the tress are.   
This is a great example of how easy the trail is.  While coats and hats were needed on this day because it was cool.  Normally summer temperatures are more conducive to shorts and T-shirts
This is the trail that takes you back to the parking lot.  In other words, this is the end of the hike
What to look out for when hiking near Merritt, BC
When you are walking the trail around Kentucky Lake you will not find flowers as prolific as those in the alpine meadows but there is still beauty in what you will see such as mushrooms, saskatoon bushes, Arnica and Indian Pint Brush to name a few.
Besides hiking near Merritt, BC you can do these things
One of the favourite things to do is fish.
These people are enjoying fishing from an outcrop.  The colour of the lake is spectacular. The kids have their own lake for fishing.  This little lake is close to the campground.
This camper van is situated close to the lake trail. Most of the sites are typical provincial sites with lots of room and trees.
Not all the fun is on the lake.  As you can see these kids are having a great time going through the culvert.  This is not a great activity for spring time.  Guess why?
Hiking near Merritt is unlimited.  I will be providing more hikes in the near future.  Kentucky-Alleyne Provincial Park is the home of this hike. You can check out the website and see that the park offers other activities besides hiking.  For example, you can swim , fish, canoe, kayak or check out the natural environment.  Whatever you choose you are sure to have fun day.
Hiking Near Merritt, BC
Kentucky-Alleyne Provincial Park
Nicola Valley BC Canada
Merritt BC Summer Activities in the Nicola Valley
Merritt British Columbia Canada Top Travel Guides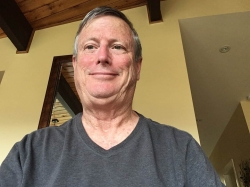 Latest posts by Tom Reynolds
(see all)
https://experiencenicolavalley.com/wp-content/uploads/2020/07/kennedy-lake-hike.jpg
652
1080
Tom Reynolds
https://experiencenicolavalley.com/wp-content/uploads/2018/05/merrit-nicola-logo-01-300x254.png
Tom Reynolds
2020-07-27 21:05:19
2020-08-05 19:52:44
Hiking Merritt, BC at Kentucky-Alleyne