Camping near Merritt BC – Paska Lake
Camping Near Merritt BC Canada
Paska Lake is a good reason to come camping near Merritt BC
"Paska Lake is just one of almost two hundred lakes that are within an hours drive from Merritt. This is one of the reasons I love living in Merritt."
I have talked about Camping near Merritt BC before where I outlined the pleasures of camping in the Kane Valley at Harmon Lake. This time we will travel 45 minutes north of Merritt to Paska Lake.  You will find the turn off to the lake on Hwy 97D between Lac Lejeune and Logan Lake.  You will travel up a narrow road that could use a few of the potholes filled.  However the travel is well worth it like most lakes when camping near Merritt BC.
The Forestry Site is Magnificent for Camping near Merritt, BC
This forestry site is on a gentle hillside and contains around 50 sites.  Each site is easy to back into and gives you stunning views of the lake.  When we arrived we were lucky to find a lakeside site available which we grabbed right a way.  The view was exquisite from this vantage point.
Camping Near Merritt,BC- Bring on the Birds
One of our favourite activities is to watch for the various birds in our area.  However, we are not birders and therefore could not necessarily name all those birds that we noticed.  Having said that, we had no difficulty in naming the Canadian geese that were hanging around the lake shore.  This lovely family came by our site every morning at the same time.
The loons were too far out to get their picture but we enjoyed watching them dive and then trying to guess where they would show up.  I am amazed at how far they can travel under water.  Their haunting sound reminds you that you are not in the big city any more.
You can't beat the food when camping 
The best part about camping is the food.  For some reason everything just seems to taste better outdoors.  For example, one of our go to breakfasts is blueberry pancakes.  It seems like the berries are fresh picked.  Bacon is tasty wherever it is served but is still better when camping.
Biking while camping near Merritt, BC
One of my favourite activities when I go camping is to go for a spin on my bike.  The Paska Lake area has lots of trails and logging roads to explore.  However, this trip I decided to tour the little community just down the road from our campsite.
Since I am now in my seventies I find riding my bike uphill has become a real chore.  However, my friend Travis Fehr at Breathe Bikes came up with the perfect solution. He turned my bike into an electric bike by installing an e-bike system.  Now I don't care about hills anymore because my new system assists with the hills.
With my electric assist on I was a able to pedal from the lakeside up to the road with ease.  Around a kilometre from the campground is a group of cottages.  While cottages are disappearing, to be replaced with monster houses, this area still has the classic cottage.
Other Activities at Paska Lake
This lake is great for swimming.  I was surprised that the lake temperature was actually decent considering it is a high mountain lake.  Anyway, the kids in the campsite next to us spent a lot of time in the water.
Of course camping near Merritt, BC would not be complete without fishing.  There is nothing better than rainbow trout done on the grill.
When we were there the weather was perfect for kayaking as there was no wind. We were able to travel around the lake with ease.
Camping near Merritt, BC is endless,
Paska Lake is just one of almost two hundred lakes that are within an hours drive from Merritt.  This is one of the reasons I love living in Merritt.  If you can't be as lucky as I am you can always come and spend a little time in the Nicola Valley on your holidays.  Once you do you will want to come back again and again.
Camping Near Merritt, BC
Adventures of Paska Lake
Nicola Valley BC Canada
Nicola Valley Adventures in and around Merritt British Columbia, Canada
Merritt British Columbia Canada Top Travel Guides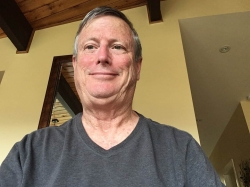 Latest posts by Tom Reynolds
(see all)
https://experiencenicolavalley.com/wp-content/uploads/2020/07/IMG_8188-scaled.jpg
1024
1365
Tom Reynolds
https://experiencenicolavalley.com/wp-content/uploads/2018/05/merrit-nicola-logo-01-300x254.png
Tom Reynolds
2020-09-17 02:10:29
2020-09-17 02:10:29
Camping near Merritt BC – Paska Lake