Country Music Hall of Fame Artist – Terri Clark

Country Music Hall of Fame Artist on The Merritt BC Mural Walk – Terri Clark
Canadian Country Hall of Fame Artist – Terri Clark


Clark says, "There's no formula for making it – everyone has there own journey."
Results Of A Vision
Country Music Hall of Fame Artist, Terri Clark with over 5 million albums sold, as well as critically acclaimed international tours, and a string of hit singles, has solidified her place in the history books of Canadian Country Music.
Together with being a three time Juno award winner, and Canadian Country Music Hall of Fame inductee.  Clark also holds the honor of being the only Canadian female member of the legendary Grand Ole Opry.
Terri has been named CCMA Female Vocalist of the year, five times and has taken home eight CCMA Fan's Choice Awards. In total Clark has had the honor of receiving 19 Canadian Country Music Awards.
History Of The Star
Clark was born Terri Lynn Sauson on August 5, 1968 in Montreal Quebec, Canada. Her family moved and settled in Medicine Hat, Alberta. Raised in Medicine Hat, Terri is the third of four children. She has a younger brother Peter and two older sisters Kim and Tina. Terri`s parents divorced when she was young. Her mother remarried and Terri took on her stepfather`s last name. 
Terri was part of a musical family. Ray and Betty Gautier, Clark`s grandparents, were both Canadian Country Musicians. They opened for numerous artist including George Jones and Johnny Cash. Her mother was a part of the folk scene playing coffee houses.
The Beginning of a Dream
Terri moved from Medicine Hat after graduation in 1987 to Nashville, Tennessee. She was 18 years old and moved lock, stock and barrel. She didn't have a green card and didn't know anybody. The only thing solid thing she took with her was a dream and some faith.
Once she hit Nashville she wandered into Tootsie's Orchid Lounge and asked if she could sing. She became the club's house singer after management heard her sing. Even though this was a big step forward she wasn't there yet. For the next seven years, she sang the clubs and worked odd jobs to survive. She never gave up and continued to try and land a record deal.
"At one point when things weren't going all that great. I called my mom and I said, "I wanna come home." She said, "Terri, if you do that, I don't want you when you are 50 years old, to be sitting there going, "What woulda happened?"
Terri's roots was traditional country. Traditional country at the time wasn't something of interest to Country Music executives. But record producer and singer Keith Stegall gave her advice not to give up. Then in 1994, she landed an audition for Mercury Records. After seeing Clark perform live, the label's president signed her on the spot.


Terri Clark Came Storming Out of Canada 1995-1997
Terri Clark came  out of Canada capturing the attention of America's Country Music Industry.
Clark stayed close to her country roots, even if those roots were closer to new country than traditional country. Clark issued her first single, "Better things to do" in early 1995. The song reached the top five in both the United States and Canada.
Clark was an immediate success upon the release of her debut album in the summer of 1995.  The album featured "Better Things To Do", "When Boy Meets Girl", "If I were You" and  "Suddenly Single". Terri supported the album with a tour opening for George Strait.
As a result, "If I Were You" became Clark's first No. 1 hit in Canada in June 1996. The album was certified Gold by the RIAA in the United States on April 5, 1996 and Platinum on July 29, 1997.
In the fall of 1996, Clark's second album "Just The Same" was released, following the album's first single, "Poor Poor Pitiful Me," a cover of the 1976 Warren Zevon song. The single as well as the second single from the album "Emotional Girl," reached number one in Canada with both songs reaching the top ten in the United States.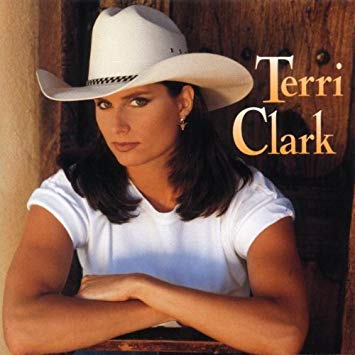 Picture: terriclark.com
Clark earned a nomination, for The Country Music Association's Horizon Award, as well as the Academy of Country Music Awards Best New Female Vocalist, in the late summer of 1996. During late 1996, Clark earned the award, Single of the Year for "Better Things To Do" including Album of The Year for Terri Clark by the Canadian Country Music Association. She was also named. The Top New Female Artist of The Year by Billboard magazine.
1998 – 2001 Singing What She Knows And Feels
Clark's third album, "How I Feel," was released in May 1998. The lead single from that album, "Now That I found You," reached the top five in both Canada and the United States. The album's second single, "You're Easy On The Eyes," reached number one in Canada as well as the United States. The song also became a minor Top  40 hit, peaking at No. 40 on the Billboard Hot 100 in the United States.  To promote her new album, Terri became the opening act for Reba McIntyre as well as Brooks and Dunn on their 1998 tour.
The release of "Fearless" the fourth studio album in September of 2000, delivered songs with more of an acoustic feel than that of her previous work. The album's first single "A Little Gasoline", was a late addition to the album. Mercury executives, of her label felt Clark needed to balance her new material with something that had a more familiar feel to it. Consequently, the song reached the top 10 in Canada. But only placed No 13 in the United States.
In March 1998, Clark visited Calgary, Alberta, Canada to film her first television special, Terri Clark Coming Home. The show premiered March 27, 1998 on CBC in Canada. During the special, Clark was visited by Canadian Country singers, Paul Brandt and George Fox. (Wikipedia)
2002 – 2004 – Grand Ole Opry Induction and A Playboy Magazine Offer
"Pain To Kill" was Clark's fifth album. The album was released in January 2003, following the release of the album's first single "I Just Wanna Be Mad". Sara Evans passed on the song, originally written for her, by Kelley Lovelace and Lee Thomas Miller. Once released as a single, the song became Clark's highest charting single in the United States. The song charted No 27 on the US Billboard Hot 100.
" I think of all the young girls who come to my shows. I think of those faces, I think of my mother, and I worry about the signal (sex) sends to them…"

"If I'm sexy enough for Playboy to want me with my clothes on. Then I hope, the message can be, that sexy is about, what's between your ears, in your heart and your smile."
Clark who came in second behind Canadian Country singer Shania Twain in a previous year poll, turned down an offer in early 2004 by Playboy magazine to pose, clothed for the cover of the magazine's upcoming May issue.
During an appearance at the Grand Ole Opry on Saturday, May 15, 2004. Steve Warner told Clark how much the Opry loved surprises and that he had one for her. Warner extended the surprise invitation to join the Grand Ole Opry family as her mother, Linda Clark, walked on stage holding a sign that read "Grand Ole Opry, June 12."
" This is the epitome of everything I have existed for in this business and dreamed about as a kid".
Greatest Hits Album 1994-2004
The future Canadian Country Music Hall of Fame inductee and the new Grand Ole Opry inductee, introduced her first greatest hits album. "Greatest hits 1994-2004". The album's only single. "Girls Lie Too", became Clark's first number one hit in the United States since 1998's, "You're Easy On The Eyes". The song did not reach number one in Canada.  It hit number one country song of 2004 in Canada by Radio & Records.
A non-album single, "The World Needs a Drink" (co-written by a then-unknown Eric Church), released in 2004, but was not included on any of Clark's studio albums.
Musical Roots of Country Continue 2005-2010
November 2005, Clark's new album "Life Goes On" hits the airwaves. All things considered. This would be the last album, Terri would produce with Mercury Records.
June 2006, Clark signed with BNA Records, a division of Sony BMG Label Group. "Dirty Girl", the first single for the label hit the stands in 2007. Following was "In My Next Life" the title track to the debut BNA release. 
Clark's tour of Canada with Emerson Drive  opening for Big and Rich hoping to promote her new album. "My Next Life" was delayed several times. Consequently, the album remained unreleased. She parted ways with BNA in November 2008, in order to concentrate on her career in Canada and possibly launch her own record label. (Wikipedia)
Clark released a live album, "Terri Clark Live: Road Rage", on her own BareTrack Records label in July 2009 through digital retailers. Clark's seventh unreleased album through BNA, "The Long Way Home",  shipped to all retailers in Canada and to all digital retailers in the United States on September 1, 2009, distributed by BareTrack/Capitol Nashville/EMI Canada. The album's release to non-digital retailers in the United States, took place on October 20, 2009.
The Albums Keep On Flowing Through Perseverance and Determination 2011-2013
Clark's eighth album  "Roots and Wings" hit the market on July 26, 2011. The album includes "Smile", a song she wrote for her mom after her death, due to a long battle with cancer. The album's lead single, "Northern Girl," released on April 18, 2011. There is no question that Terri Clark, will be headed for the Canadian Country Music Hall of Fame.
The ninth album released on November 13, 2012, in Canada. The album includes classic country standards. "Love Is A Rose," is  the album's lead single. Not only does the album duets include Jann Arden, Dierks Bentley, Tanya Tucker, but also Dean Brody as well as Reba McIntire.
Clark took home the CCMA Female Artist of The Year Award in 2011. Terri built a fan base like no other and again took home the CCMA Fan's Choice Award for 2013.
The Rewards and Vision of a Continuing Career
"Some Songs". The production and release of Clark's 10th took place on September 2, 2014. Her 11th album "Raising The Bar" was released on September 4, 2018.
Clark signed on to America's Morning  Show on Nash FM in 2013, as co host to Blair Garner and Chuck Wicks. She co hosted on America's Morning Show for about a year, before she returned to her road roots.
"I didn't realize how much I missed it until I started doing it again."
Country Gold With Terri Clark
The internationally syndicated radio show "Country Gold with Terri Clark, airs on more than 145 stations across the United States as well as Canada. As of April 2016, Terri became the new hostess of the Saturday night classic country program, replacing Randy Owen. Terri earned a 2017 CMA nomination for Broadcaster Personality of The Year as well as a 2018 ACM award for National Broadcast Personality of the year.
Canadian Country Music Hall Of Fame Induction
"It is such an honour to be inducted into the Canadian Country Music Hall of Fame. Being celebrated as one of Canada's most influential country musicians is a recognition I do not take lightly, and one I will forever be proud of. I am deeply grateful to everyone, who has been on this journey with me, especially my fans who I had the opportunity to celebrate with today."
Terri performed at the Merritt Mountain Music Festival in 2003. Displaying the talent, that would make her the International, Canadian Super Star she is today. She controls the stage in an international fashion, as well as providing her audience with a magical show in True Country Style. She performed the same caliber, and beyond in 2014 at the Rockin River Fest in Mission, BC.
During a 2014 interview by Shawn Conner of the Vancouver Sun, he asked. "Do you miss the bad ol' days of the Merritt Mountain Music Festival? Terri replied:
"You know what, Merritt, BC is beautiful. Any festival there, whatever you want to call it, is going to be a party. We have the best crowds out west, they like to break loose and have a good time."
Clark's Merritt Mountain Music performances including her support of Canadian Country Music, lead to a mural on the wall of the BC Country Murals, included in The Merritt BC downtown Mural Walk. Terri Clark's mural painted by Michelle Loughery in 2009, is displayed in Spirit Square, on the corner of Granite Avenue and Voght Street.


Canadian Country Music Hall of Fame Merritt Attractions – Take The Walk
To begin with, start your downtown mural tour at Merritt's National Attraction. The Canadian Country Music Hall of Fame, Situated on Quilchena Avenue in The Country Music Capital of Canada.
"The murals are impressive, I recognized the singers right away. What a clever way to make a small city interesting and fun." (Betty W Missoula, Montana)
The Merritt Mural Project was created in 2005. The Merritt BC Murals were part of a successful program called, the "Merritt Youth Mural Project". A project designed for working with local young artists and " youth at risk". Merritt Murals were painted by muralist Michelle Loughery.
Walk of Stars Handprints
In addition, while on your mural tour, visit the many handprints of country artists situated throughout the town.
Hundred's of International Country Music Artists have performed at the annual Merritt Mountain Music Festival. As a result, those stars  left their mark permanently, by placing their handprints (or, in one case, footprints) and signatures in concrete stars. As a result, in 2003, those stars became the basis for the Merritt Walk of Stars. In addition, by 2005 more than 100 bronzed stars, created from the concrete impressions, were displayed throughout the community. (Canadian Country Music Hall of Fame)
Above all, the handprints will continue to grow with the Rockin River Music Fest, and add to the existing legacy of the Stars that have visited and performed in Merritt, BC.
  Discover and experience the natural beauty and attractions in Merritt and the Nicola Valley!
Terri Clark is very much active at the writing of this blog. Follow her on:
https://www.facebook.com/TerriClark
https://www.youtube.com/user/OfficialTerriClark
https://www.instagram.com/terriclarkmusic/
Terry Clark – Merritt, BC, Canada Mural

Latest posts by Melvina White
(see all)
https://experiencenicolavalley.com/wp-content/uploads/2019/07/terry-clark-mural3.jpg
784
1400
Melvina White
https://experiencenicolavalley.com/wp-content/uploads/2018/05/merrit-nicola-logo-01-300x254.png
Melvina White
2019-07-08 16:13:23
2021-05-03 17:01:40
Country Music Hall of Fame Artist – Terri Clark