Don Messer Country Music Legend Mural
Canadian Country Music Hall Of Fame
"Don Messer left a celebrated legacy. He was one of the first Canadian artists to be a recording, radio and TV star, as well as, play live concerts all at the same time. "
Merritt BC attractions, the Canadian Country Music Hall of Fame and the Merritt Murals, both feature Country Music Legend Don Messer. The country music venue and murals are located in the community of Merritt BC Canada in the Nicola Valley.  The community is also the "Country Music Capital of Canada". 
Don was a Canadian band leader, a radio broadcaster, and a defining icon of folk music in the 1960″s. 
Born in 1909 in Tweedside, New Brunswick, Don was the youngest of 11 children. It all started at the age of five, while learning fiddle tunes with Irish and Scottish influences. Consequently, by the age of seven he was playing fiddle for square dances on a regular basis fine tuning his craft. 
Destined To Be A Merritt BC Attraction
By the time Don was a teenager, he had amassed a collection of hundreds of reels, and jigs, including breakdowns and other pieces for his fiddle. Moreover he was playing endless square dances, and country dances as well as weddings and other parties. At the age of 16 he moved to Boston, Massachusetts where he received formal music lessons, where he learned to read and write music. In short Don Messer created a fiddle style to operate within a band context. As He put it,
"I play the melody and let the accompaniment fill in the details"


Merritt BC Attractions and Legends Must Start Somewhere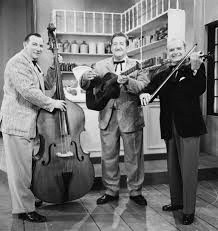 Messer began his career with radio. In 1929 at the age of 20, he moved to Saint John, New Brunswick where he joined CFBO radio station. As a result Don became a bandleader recruiting musicians to play on the radio in Saint John. Early recruits Charlie Chamberlain, Duke Nielsen, and Ned Landry formed the New Brunswick Lumberjacks. These band members stayed with Don for the next 39 years.
Messer led a smaller group, the "Backwoods Breakdown" which made up of Charlie Chamberlain, Julius 'Duke' Nielsen and Don Messer, himself. He used this group, for personal appearances throughout the Maritimes and Northeastern USA.
"There's something about my music that seems to upset the emotions."
Setting The Stage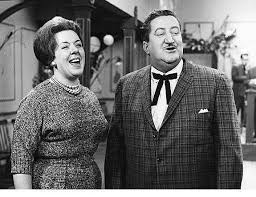 Messer, one of the Merritt BC Mural Attractions was hired by CFCY  Charlottetown in 1939 as their Music Director. It was here he formed the band "The Islanders" and became "Don Messer and The Islanders". CBC picked up Don Messer and the Islanders show. By 1944 it was airing three times a week.
Formed around 2 of the original members, Charlie Chamberlain and Duke Nielsen, the show established itself as the most popular on Canadian Radio and would  continue for almost 20 years.  The singer Marg Osburne joined the band in 1947 and became (with Messer and Chamberlain) the artist most identified with the Islanders.
Because of the huge success of the radio show. Messer and the Islanders began to appear outside the Maritimes. Their first tour was in Ontario in 1949. They made 18 tours by 1969, including a centennial trip in 1967 that lasted 3 months and covered 61 centers.
This Fiddler Of Canada
His credits include combining many different Canadian fiddle traditions. As a result, he played a relatively straight, and unadorned melody line, with great precision and assurance with little ornamentation, rhythmic nuance, or expressiveness.  His style influenced others, as it was clean, straight and neat. Marked by its down to earth simplicity.
Don Messer's Television Era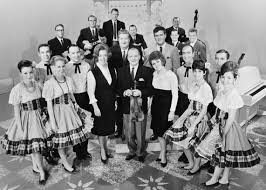 In 1956 Don Messer and The Islanders began to appear regularly on CHBY-TV, Halifax. Soon followed by "The Don Messer Show' in August 7, 1959 and continued as the "Don Messer's Jubilee".
Fiddler Night In Canada
The show was super popular and won over a wide audience. It was so popular it won top spot in the ratings two years in a row, beating out "Hockey night in Canada" and "The Ed Sullivan Show". Over the next nine years it reportedly was the second most watched show in Canada next to "Hockey Night In Canada."
A Show For Canadians To Meet
As has been noted, the show was notable because it had a regular guest performer time slot. Giving rise to many Canadian folk singers through national exposure, including Stompin' Tom Connors, Catherine McKinnon, and fiddler Graham Townsend. There were many others including a young 10 year old fiddler named Jim Elliot.
Don Messer never took anything for granted. He had already suffered the vagaries of CBC management for 20 years in radio. CBC offered no long term security. But it did provide a platform for him to share his music with the nation.


Coming To An Abrupt End
Don was handed a telegram on April 14, 1969, saying that the Don Messer's Jubilee was cancelled. Don was very upset, the fans were revolting. CBC received hundreds of phone calls, as well as, thousands of letters. The cancellation of the show generated many complaints including former Prime Minister John Diefenbaker, who was a fan of the show. The fans organized a demonstration on Parliament Hill, even raising questions in The House of Commons. Consequently, a syndicated version of "Don Messer's Jubilee "originated from CHCH-TV, in Hamilton Ontario in 1969, and ran until Don Messer's death in March of 1973.
Legacy of Don Messer on the wall of Merritt BC Mural Attractions
Don Messer left a celebrated legacy. He was one of the first Canadian artists to be a recording, radio and TV star, as well as, play live concerts all at the same time.  
Messer was inducted in into the Canadian Country Music Association Hall of Honor in 1985 and, with Chamberlain and Osburne, into the Canadian Country Music Hall of Fame in 1989.
 "My music is not Western or Cowboy music. Our tunes have been around for two or three hundred years. They're folk tunes passed from generation to generation."
Visit Don Messer`s Mural in Merritt BC and downtown walking tour.
Merritt BC Canada Country Music – Merritt Murals

Latest posts by Melvina White
(see all)
https://experiencenicolavalley.com/wp-content/uploads/2019/06/lumberjacks.jpg
550
1350
Melvina White
https://experiencenicolavalley.com/wp-content/uploads/2018/05/merrit-nicola-logo-01-300x254.png
Melvina White
2019-06-30 11:58:50
2020-11-11 22:02:12
Merritt BC Attractions – Don Messer Country Music Legend