Nicola Valley Arts and Culture-Experience!

​Nicola Valley arts and culture!
Our artistic and cultural style is full of variety, against a background of pine trees and golden grasses.
Of course, we experience arts and culture wherever we are…
Nicola Valley arts and culture is worth planning an experience around!
Arts and culture feeds our soul…
And our geography informs our culture and our art.
The Nicola Valley, in southern interior BC, Canada, with its sage hills, clear creeks, and warm sun encourages the kind of slow pace that inspires art in all its forms.
And the rich history and culture of the valley elicits respect for what has gone before, and invites a sense of possibility for what is coming.
Nicola Valley arts and culture: country music, graffiti art, rock paintings, children's books, local blogs, plays performed by theater students, dance lessons…
What is Culture?
Let's define the terms we will be writing about…
Live Science: Culture is the characteristics and knowledge of a particular group of people, encompassing language, religion, cuisine, social habits, music and arts.
So, culture is the big concept, …
A definition and opinion from Study.com: …Think about what makes you and your family special. What language do you speak? What traditions and beliefs do you have? Do you enjoy special foods and wear clothing to represent your family or history? The culture of a group of people is the traditions and beliefs that they practice in their daily lives. 
This gives us a wide range of topics to write about! Social habits! Language! Benefits of cultural diversity!
But a second meaning of culture suggests the direct interaction with social and artistic expressions, as the following quote suggests…
Huffington Post: If you can count on one hand the number of times you've gone to a museum in your city, a theater performance and a concert, you're missing out on the enriching world of culture that is there to be enjoyed. Why should you turn off the TV for once and get out there to take in some culture?
"Take in some culture" like a museum tour, a concert, a theater performance, or art exhibit. It helps us absorb or comprehend our lives and experiences. And it's fun!
What is Art?
What is Art? Always a lively discussion!
There are lots of quotes on this question. Lots of answers.
So art is one of our earliest expressions of culture. It helped early humans to organize their lives, to understand the world around them, and to communicate those understandings. And that is what art does for us. It helps us to understand how we feel about things and helps us to organize our world. SVCC
(I am definitely adding a reason to engage with art…get more organized! How about you?)
"Art is an expression that transcends religion, culture, country, people and time." Amit Ray
And discussions on this question are endless, everywhere.
We often have these discussions ourselves during afternoon teas at the Courthouse Arts Gallery on Nicola Avenue. "Is this art?"
"No? How come?"
"Yes? Why? What makes it art?"
Pour another cup of tea and we'll figure it out.
Where is the Nicola Valley?
Nicola Valley is in the southern interior of BC, near the west coast of Canada.
The town of Merritt, in the Nicola Valley, is the center of the Coquihalla highway system, with easy four lane access to large and small communities, a regional airport, and two international airports.
In this central location we have quick access to many cultural experiences not only in our own valley, but also over the mountains to other communities with engaging arts experiences.
The Nicola Valley is sunny and dry ranch country, surrounded by rolling hills, lakes, and creeks. You'll see Ponderosa pines, sagebrush or rabbit bush, and bunch grass as you come in to our valley.
We are…
in a valley surrounded by hils and mountains
on the Gold Country Tour
close to the Shuswap valley
and just a short and breathtaking drive to the internationally-known Okanagan Valley, with its famous wine tours and art galleries.
The Nicola Valley is a hub of BC highways, and a growing hub of musicians, artists, and performers…
And What Is Nicola Valley Arts and Culture?
Our valley inspires original country music, landscape paintings, and sculptures made from natural stones and branches.
Street benches that look like wagon wheels…
We are the home of the Canadian Country Music Hall of Fame, the Walk of Stars, and the country music and western themed murals of artist Michelle Loughery. First Nations pictographs and stone structures are overlooking our lakes and creeks.
We also host the Bass Coast electronic music and art festival, Home Routes concerts, and put on school wide SD58 Arts Festivals.
The Nicola Valley arts and culture style is full of variety, against a background of pine trees and golden grasses. From stilettos to cowboy boots, chainsaw carvings and beaded earrings, to flute concertos and banjos, the Nicola Valley is a center of creative expression….
Come and See For Yourself!
Experience Arts and Culture in the Nicola Valley!
Stop downtown Merritt and get oriented. Follow the Walk of Stars route, check out the murals, visit the museum. Spend time in the Courthouse Arts Gallery and gift shop, with goods like local tea and honey, guitar string bracelets, hand weavings, art on the wall.
If you come in July, tour our Art Walk with artists displayed in twenty downtown businesses and civic centers. or attend our country music "Rockin River Fest".
Here in late November? Join us for Country Christmas and our Festival of Trees.
And if you are here on a Friday, drop into our Open Mic Night at the Kekuli Cafe. Bring your instrument, or favourite poetry.
Get in touch with us to discover featured musicians at the Country Music Hall of Fame or in our outdoor Spirit Square.
Maybe we can set you up with an arts tour!
Complete with local refreshments, of course…
Visit the Nicola Valley Courthouse Arts Gallery and Artisan Shop
Check out the Public Art Works by our local artists.
And next see the Michelle Loughery murals? And hear the community story of their origin?
Want to get a taste of our local music scene, with the likes of Bobby Garcia and Al & Denise?
We'll see what we can do…
Nicola Valley Arts and Culture awaits!
Love the arts!
Jano
Nicola Valley Arts and Culture
       (All media here by permission)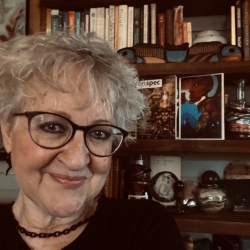 Latest posts by Jano Howarth
(see all)
https://experiencenicolavalley.com/wp-content/uploads/2018/05/BevVealePoster.Sept17.Edit_-1.jpg
761
1132
Jano Howarth
https://experiencenicolavalley.com/wp-content/uploads/2018/05/merrit-nicola-logo-01-300x254.png
Jano Howarth
2018-06-22 03:27:27
2020-11-11 22:01:49
Nicola Valley Arts and Culture-Experience!