Merritt Restaurants – Fine Dining in Ranch Country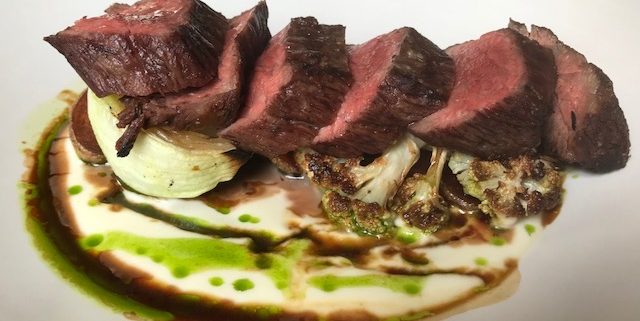 Merritt Restaurants – Fine Dining in Ranch Country
"The Quilchena Hotel's One Eleven Bar & Grill has it all!"
Just north of Merritt, Canada, on Highway 5A
Whether you're seeking a fine dining experience, a casual pub dinner, or an outdoor patio and BBQ, the Quilchena Hotel's One Eleven Bar & Grill has it all!  It is not only a beautiful destination, just a 20 minute drive north of Merritt on Highway 5A, but the scenery is divine!
This historic 1908 hotel is located in the small community of Quilchena, "where the willows grow", the name given by local Indigenous Peoples. Purchased by the Douglas Lake Cattle Company at the end of 2013, it has undergone many tasteful upgrades, in keeping with the hotel's Edwardian-era elegance. 
It took me awhile to realize that the restaurant's name, "One Eleven Bar & Grill", originates from the Douglas Lake Cattle Company's brand, |||. These 3 bars, from a perspective other than cattle branding, indicate the number "one hundred eleven". Hence, One Eleven. Clever!
Clever Stuff Going On At The Quilchena Hotel's One Eleven Bar & Grill
There is a lot of clever stuff going on at the historic Quilchena Hotel these days, particularly in the restaurant!  Not only have they completed much-needed renovations in the restaurant and saloon, they have engaged a top-notch chef, Chris Grimley. 
Following his chef's training at the Northern Alberta Institute of Technology, Chris worked at the Prairie Creek Inn at Rocky Mountain House and the Langara Island Lodge in Haida Gwaii. He now brings his fine culinary skills to the Quilchena Hotel's One Eleven Bar and Grill.  Chris is young, keen, and creative! He uses fresh, local ingredients wherever possible, and varies the menu depending on what is in-season. 
Trip #1 to Quilchena Hotel's One Eleven Bar & Grill
For my first trip to the Quilchena Hotel's One Eleven Bar and Grill after this year's opening in May, I enjoyed lunch in the saloon with two pals. My fish and chips with coleslaw were splendid. One pal reported that her Summer Greens salad with berries was delicious and very berry-loaded. The other said that his burger with arugula, goat cheese and beet slices, was "the best burger ever".  He vowed that pickled beets would become an essential ingredient of his home-made burgers!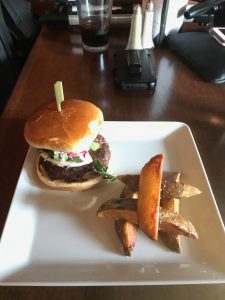 Trip # 2 – Here's the Beef
Famous for its beef, Douglas Lake Cattle Company pairs perfectly with the Quilchena Hotel's One Eleven Bar and Grill. This is where we are treated to locally-raised grass and grain fed beef, aged to optimal tenderness, served in a variety of forms, from burgers to roasted prime rib.
Saturday nights are Prime Rib Night so I invited my friend from North Vancouver to join me for dinner. I neglected to make our reservation early enough to secure a table in the dining room, so we made our way to the saloon, where the same menu is available.
We opted out of the prime rib because it looked like way too much food. Instead, we tried two of the dishes I'd spied on my previous visit: the Bavette Steak and the Chicken and Pasta.

Bavette steak is the French name for flank steak. Mine was cooked perfectly and served with cauliflower puree, a mild chimichurri sauce, roasted onions and herbed fingerling potatoes. The steak was sublimely tender and the vegetables delicious. 
My friend's quarter Chicken Supreme was served over house-made pappardelle pasta with mushrooms, bacon, herbs, leek and shaved parmesan. She was impressed.
The presentation was delightful. We "mmmmm'd" our way through our meals, a sure sign they were delectable. 
An Exquisite Combination
We had no room for dessert, sadly. On my previous visit, however, I enjoyed a slice of New York cheesecake with strawberry salsa. With the salsa's slight spiciness and the addition of chopped, fresh mint leaves, I found the combination exquisite.

 Trip #3 to Quilchena Hotel's One Eleven Bar & Grill
It has been awhile since there has been a fabulous new chef in the Nicola Valley, so I was keen to return to Quilchena Hotel's One Eleven Bar & Grill.  I called friends to join me for Sunday dinner, and I reserved a table for four in the dining room.
To start, my friends chose fun cocktails from a list of nine unique "Quilchena Spring Cocktails".  I chose dry pear cider from the Valley's own
Left Field Cider Company
.  
My iron-deficient friend ordered Bavette Steak, another decided on Mediterranean Flatbread, another chose Fish & Chips, and I opted for the Smoked Brisket Sandwich. Yum!
Accolades all around!
Experience Fine Dining in Ranch Country
Whatever your mood and your stomach desires, you are sure to find something to satisfy both at the Quilchena Hotel's One Eleven Bar & Grill.
Open Thursday through Sunday, reservations recommended. Call 250-378-2611 or email: QHotel@DouglasLake.com
Cheers!
JGS
https://experiencenicolavalley.com/wp-content/uploads/2018/06/IMG_3134-1.jpg
480
640
House Member
https://experiencenicolavalley.com/wp-content/uploads/2018/05/merrit-nicola-logo-01-300x254.png
House Member
2018-06-29 14:03:29
2019-04-19 10:27:11
Merritt Restaurants – Fine Dining in Ranch Country