Merritt BC Birdwatching and Wildlife From My Home
Merritt BC Birdwatching & Wildlife Watching from Home
Photo's of Nature  During Covid19 Merritt Canada
"From my home, my backyard, there is a whole world of activity opening up to my eyes that I may have taken for granted before Covid 19."  
Merritt BC birdwatching and wildlife watching from my backyard in the Nicola Valley has really opened my eyes up to how fortunate we are as Merrittonians.  However, being isolated during Covid19 may make a person a bit "Bat Crazy" therefore finding things to do can be tricky especially when you have children. 
Merritt BC birdwatching through Photography
Grab your camera, phone or art paint and head outdoors into Mother Nature is one option to consider. Almost every day I spend a couple of hours taking photo's of nature during Covid19 in Merritt, Canada." I like to experience the beauty of the Nicola Valley backyard "Critters" during isolation through photography.
Enjoying Merritt nature during isolation.
Finding things to occupy yourself during this time can be trying at times. I combine my passion for photography and nature to be my therapy during the pandemic. Consequently, I often find myself wandering my backyard for a photo moment. Admittingly I am not a pro at taking photos, but these pictures will forever be a reminder of this time in my life.  
Albeit when standing guard for your peanuts! 
Types of squirrels
Canada is home to 22 different types of squirrels. Six of these are ground-dwelling, four live in trees, and two are varieties of flying squirrels. Can you count flying squirrels as Merritt BC birdwatching? Probably not. Common ground squirrels have thin tails and hibernate through winter, while bushy-tailed tree squirrels are active year-round.
Life as a Squirrel
Tree squirrels build nests, living amongst branches and within tree hollows. Ground squirrels do the opposite. They dig  burrows to reside underground. All squirrels use their tails for shade during warm weather, warmth during the winter, and balance when climbing or jumping. Here is a link to learn more about squirrels –  Backyard friends.
They help plant trees
While they can be a nuisance to gardeners thanks to their fondness for flower bulbs, squirrels play an important role in forest regeneration.  As winter approaches, squirrels prepare by burying nuts and seeds to help see them through. Inevitably, some of their stash will be forgotten and germinate in the spring.
| | |
| --- | --- |
| Waiting its turn for the birdfeed. Photo by Tania  | |
The crow family (Corvidae) is a large family of birds that includes jackdaws, choughs, jays, magpies and nutcrackers as well as crows and ravens. The crow family represents one of the most advanced stages of avian evolution, showing, for example, a highly developed intelligence and a complex social organization. 
Caw to the Crow.
Crows will jointly defend space with a lifelong mate and displays their status with the rest of the flock, as well as, warns all fellow crows when danger is afoot. Furthermore, here is another interesting fact,  crows recognize human faces!
OK I admit I love Crows!
Merritt BC Canada backyard birdwatching includes Robins!
Robins feed extensively on insects, insect larvae and earthworms but also consume fruits and berries in season and are considered bird pests in many areas. The robin is widely found in many parts of Canada. Birdwatchers tell us the robin is migratory in most parts of the country however, it may winter or attempt to winter in some of the southern parts of most provinces. 
When you spot a "Robin" spring is here! Tania Stewart
The call of the Morning Doves
The mourning dove gets its name from its low, mournful "ooo-Ahhh crooo-ooo-ooo" call, though other calls include a low, rapid coo when in distress and a rapid, high wing whistle when the birds take flight.
It's a Birds Paradise! 
During Covid19. All bird feeders are open.
Deer are always welcome to visit during Covid19.
Being a deer is an even-toed ungulate, deers are grazers  and browsers (eating shrubs and woody plants). Deer also have a four-chambered stomach making them ruminants. The process of ruminal fermentation allows deer to partially digest complex carbohydrates that other mammals cannot – this means that almost all vegetation is available to deer as a food source.
Furthermore Oliver
Oliver the cat truly enjoys being outside and birdwatching in my backyard here in Merritt BC.
To tell the truth even Oliver takes in the sights with wonderment! Tania Stewart
Additionally you may run into this little critter!
As a result of using high zoom, I was able to capture this cool creature. Consequently,  those green looking leaves are decorative Christmas fur on the outside railing of my home. Got to just love Insects.
Nature During Covid19 in  Merritt, Canada
This is how I find some balance during this time during the pandemic. Therefore, almost every day I spend a couple of hours during the day taking photos.
Merritt BC Birdwatching
Wildlife Watching from Home
Adventures and activities in British Columbia Canada
Merritt British Columbia Canada Top Travel & Adventure Guides
"Experience Community Program" (small and rural community authentic content marketing program) is a product of the EH? Tourism Marketing Group. Contact us for more information on this program at media(at)ehcanadatravel(dot)com.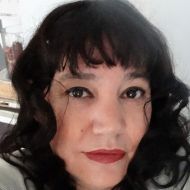 Latest posts by Tania Stewart
(see all)
https://experiencenicolavalley.com/wp-content/uploads/2020/04/dsc01180-2-e1596505595539.jpg
462
1002
Tania Stewart
https://experiencenicolavalley.com/wp-content/uploads/2018/05/merrit-nicola-logo-01-300x254.png
Tania Stewart
2020-10-11 20:23:10
2020-10-11 20:25:34
Merritt BC Birdwatching and Wildlife From My Home