Horse Back Riding at A-P Guest Ranch Nicola Valley Merritt BC.

Horse Back Riding Merritt BC.
A-P Ranch Horse Back Riding, Nicola Valley BC.
Outdoor adventure at A-P Ranch
Horse Back Riding at A-P Guest Ranch Nicola Valley Merritt BC.  This rustic "Western Guest Ranch" is owned and operated by Andre and his wife Susan Patry. Established in 1986, this scenic ranch is nestled in a valley setting in the heart of B.C.'s prominent ranching country. The ranch is surrounded by impressive fishing lakes and thousands of acres of rolling terrain for picturesque trail riding and winter sports. Experience Nicola Valley is proud to have had an opportunity to visit with A-P Ranch. 

A great way to experience Merritt Canada is from the back of a horse at A-P Guest Ranch Nicola Valley BC.
Andre Patry, owner of A-P Ranch, shared with us that he has been riding for 73 years. More impressively, 53 years of that stretch is right here in Merritt BC. The Patry's left Quebec around 1966 and with a bit prospecting for the perfect ranch Andre found what was to become A-P Guest Ranch.
Importantly Andre and family at A-P Guest Ranch believe in providing 5 star treatment for all their guests.
For example safety is very important for their guests when embarking on a trail ride. With Andre's years of experience dealing with horses he seems to have this magical ability to team a horse and rider up perfectly. The right temperament is required between a horse and rider for a maximum riding experience for both horse and rider. 
In fact A-P Ranch is ideal for family outings, reunions, weddings, and for escaping the city for a weekend getaway! 
Together with its 5 Star Hospitality A-P  Ranch also offers other outdoor adventures.
When was the last time you enjoyed a hay-ride, or have you even tried one of these sightseeing adventures. It is a great way to spend a fall day with the family. Why not make it a weekend getaway with your children and give them the ultimate experience of "Living Country" on a horse ranch like A-P Ranch.
A-P Ranch's great hospitality.
Along with great "Lodge Package's"(including meals & lodging)… A-P Ranch also has a Bed & Breakfast. Also for those campers with tents or trailers,  there are camping facilities as well, some with with power.
In case you forget your "Cowboy" boots.
A-P Ranch provides more than a horse and some good times. They are ready to help you look the part as well. They have the cowboy boots to fit all sizes of feet and adventures. Riding boots are not only great for the ambiance but also for the safety of the rider.
Additionally Mark Patry helps with saddling up the horses.
Andre believes in "safety" first.
For this reason alone A-P Guest Ranch is a great start for beginners as well as all levels of horseback riding. From families to seasoned riders the people at the ranch have the skills and equipment for a safe ride. 
Indeed all of the horses at A-P Ranch are truly beautiful!
There is something special going on at A-P Ranch. Interestingly enough, you can see that more and more people are turning to horses for a connection with nature as well as a connection with themselves. Additionally Horses have been linked to helping people heal when dealing with PTSD, anxiety, depression, abuse, addiction, grief, and stress. 
This was my "ride" for our open trail experience.
A-P Ranch is a hidden gem within the Nicola Valley. Hidden in the sense that it is located on the outskirts of the Nicola Valley in the wilderness backcountry of British Columbia. A great destination for company retreats, team building and motivational seminars.
Calling all "horse" lovers!
Whether you love to go riding in the vast outdoors or relax and stay in for a night being treated to country cooking A-P Guest Ranch is truly the place for you.
Especially with all its scenic beauty, its hard not to feel like your riding in the Old West of yesterday.
Surprisingly from Kamloops Purity Feed Ltd to A-P ranch is 92.3 km, average driving time 58 minutes. Also from Merritt's Best Western Plus to the ranch is 26.5 km = 20 minutes driving time. If arriving from Vancouver British Columbia Canada it is only a little over a 31/2 hour drive, Kelowna just over an hour.
Amazing how one can connect with nature when on horseback.
Riding on a perfect late summer day.
For the brave and more adventurous people, A-P Ranch also provides multi-day "Pack Trips". These horseback riding adventures range from 3 days to 7 days. All you need to do is show up, saddle up and enjoy the experience.  My son and I along with other people hope to do a 3 day one in the fall.  
Not only can you see how Andre's horses earn their keep, you see the love shared between horse and man. 
Majestic Outdoors.
20 Minute Break
Half-way through our trail ride we had about a 20 minute break to stretch our legs. I found it got harder to get back on my horse. But, I guess I am a natural, as there are stumps around to help with the saddle up process. 
Notably the chances of making new friends are very high.
My hat, if I had one, is off to our very personable and knowledgeable horseback riding guide "Andre Patry"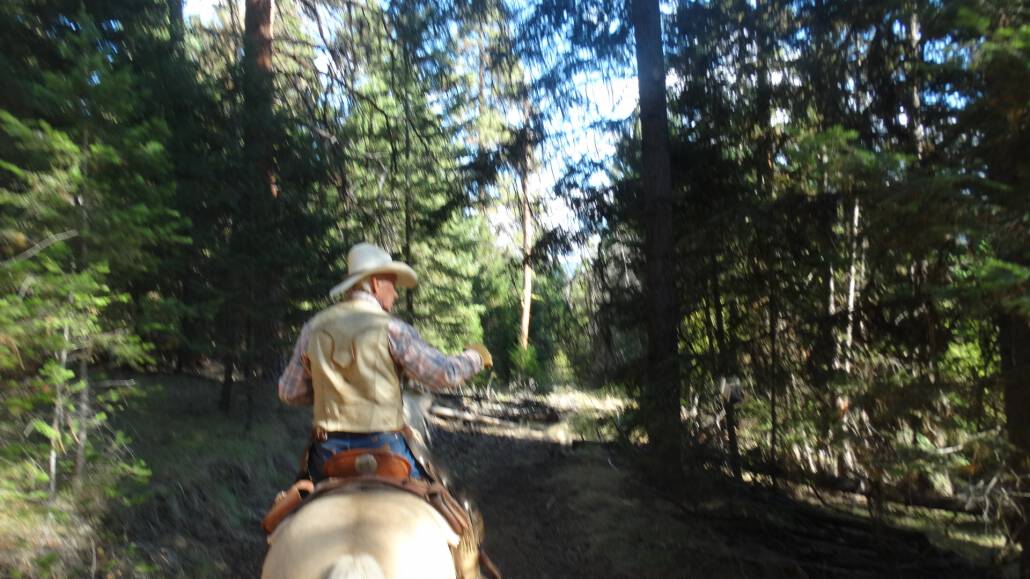 Andre pointing out all the different trees.
Coupled with nature, good company, well adjusted horses this is truly a perfect mini holiday!
Of course after the trail ride" you can cool of with a drink in A-P's Saloon.
Additionally Andre is an amazing artist.
Pictures do not do Andre's art justice. Seeing his amazing work is truly an experience to see and enjoy. And I guarantee you wont leave with just one piece. 
CONTACT INFORMATION
A-P Ranch Box 1148-4220 Hwy 5A South Merritt BC. 
Tel: 250-378-6520
Email: apguestranch@hotmail.com
Website:
Facebook: https://www.facebook.com/A-P-Guest-Ranch/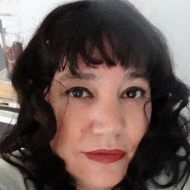 Latest posts by Tania Stewart
(see all)
https://experiencenicolavalley.com/wp-content/uploads/2019/09/ap-ranch.jpg
579
1300
Tania Stewart
https://experiencenicolavalley.com/wp-content/uploads/2018/05/merrit-nicola-logo-01-300x254.png
Tania Stewart
2019-09-27 21:39:21
2021-04-10 13:40:43
Horse Back Riding at A-P Guest Ranch Nicola Valley Merritt BC.