The Nicola Valley Experience – About Merritt
Plan and book all your adventures and accommodations on Nicola Valley's largest and most awarded tourism and travel website about Merritt, BC, Canada.
About Merritt Experience Nicola Valley Bloggers!
We live, eat and breathe the Nicola Valley
We are real people doing real things while living, playing and working in and about Merritt, BC, Canada. We hold down jobs. We volunteer.  And we tell stories about our home town.  It is our mission to inspire, educate and share with you our adventures and experiences here in the Nicola Valley. So whether you want to learn more about the valley, plan your next trip or just follow our stories then we suggest you follow us.
About Tourism In Merritt BC
Book and plan your next visit on Merritt's tourism website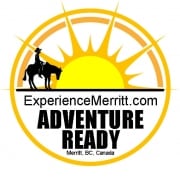 Visit our travel planning and booking Tourism Merritt Website. We provide you a complete list of tourism businesses, accommodations and attractions. We encourage you to connect with them directly and get the best price and best service possible. To compliment your vacation we also provide you with the information you will require to enjoy any of our year round adventures including descriptions, maps, videos, photos, tips and more.