Merritt Canada Art Walk 2018

Merritt Canada Art Walk 2018
"If you want to collect the beads for a bracelet, come early!"
Time to get out and see our local artists! July 3rd to July 31st.
We are excited to begin Art Walk 2018 in downtown Merritt! We want to show off the local art and culture. Our art walk this year has 19 artists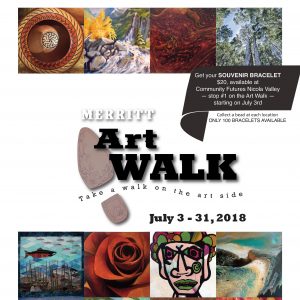 participating in several mediums.
painting on canvas
stone painting
tile painting
photography 
mixed media 
fabric art 
woodwork 
and pebble art! 
Seventeen businesses, services, and our Courthouse Arts Gallery are hosting the artists and supporting both the Chamber of Commerce and the Nicola Valley Community Arts Council.
In its sixth year, the Art Walk attracts community members and visitors alike. Our community is introduced to artists new to the local scene and well-known favorites. And some locals pop in to see businesses they haven't visited yet.
Our visitors enjoy a walk around our downtown, seeing both sides-art and business.
Art Walks are everywhere!
One of the benefits of our Merritt Art Walk, is hearing the stories of other Art Walks elsewhere! From big to small, the opportunity to connect art to the workings of a town or city is a big attraction. Some of the people we meet are Art Walk buffs, and travel to different communities to take in the art scene.
There are communities with themes, like local landscapes. And contests for prizes, from the businesses for art pieces. And event hook ups like art auctions and dinners.
We love to visit Art Walks when we are visiting other towns, but our favorite is our own, in Merritt, Canada.
How about a Bead Bracelet incentive?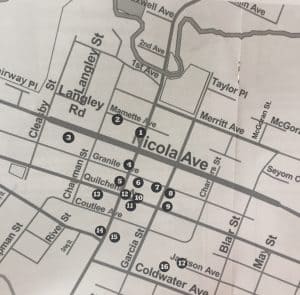 If you have heard, or read this in time, or if you participated locally last year, you know that 100 lucky people can buy a silver bracelet at the first stop at Community Futures on Voght, on the first day (or until they are gone). And at each of the locations they receive a bead, or charm, to add to the bracelet. When you are done they have a beautiful charm bracelet memento for the art walk.
I've seen all the 2018 beads and they are something! From the medical symbol (the caduceus) to a tiny cup and saucer, to a t shirt bead, Jeanine at Vision Quest has done a great job matching up beads to the businesses they are located in.
One, a rainbow bead, even symbolizes a town issue from several months ago, making the bracelet a topical one for 2018.
So, Who's Matched Up?
1. Joan Jennings, a mixed media art quilter, is showing her new work at Community Futures. She loves to experiment with surface design variations, and try new things in her art form. Joan was inspired by her travels this year, and her art is colorful and lively!
2. Joel Reid, a prolific local artist, has his work in the office at the Civic Centre. He has a unique art style, with a graphic quality and signature of urban graffiti. He works in charcoal, acrylics, oils, and spray paint. Joel is also working on several community art pieces we hope will be on display soon.
3. Cindilla Trent, Pat Tombe, and Bev Veale are showing 3 kinds of art at the Courthouse Arts Gallery– fabric art, unique wooden bowl, and paintings respectively. Cindilla's detailed and beautiful quilts are just one of her art forms. She also works with clay, mosaics, and beads (in the Gallery Shop). Pat Tombe creates unique wooden pieces- bowls, plates, and hollow forms. He adds embellishments such as carving, pyrography, dye, paint, and texturing. Our Bev Veale, painting in the valley for decades, and active for years in our arts community, has a summer collection of paintings and drawings on the Gallery Walls.
Despite the Odds
4. Wyatt Collins, a 20-year old aspiring Nlaka'pamux artist, is at the Kekuli Cafe. Wyatt, despite having autism, is overcoming the odds and has discovered his unique style in Abstract Expressionism. He uses fluid form and drip painting techniques. This show includes some new pictograph work.
5. Glenn and Susan Parkinson, creators of glass art images, are at the Interior Savings Credit Union. They work in a variety of styles, including fractured glass mosaics, leaded stained glass, and fused glass.
6. Vicki Strom, a weaver, spinner, and potter, is displaying her creative garment weaving at the Community Policing Office. Vicki has studied the Sauri weaving art form in Japan, from the master Kenzo Jo, and brings the concept to her own pieces.
Connection with Nature
7. Natalie Rostad-Desjarlais, a mixed media artist working with stone, natural pigments and canvas
painting, is at Earthwalker Spiritual Shop. Through her stone paintings and work, Natalie shows her connection with nature. She harvests and makes her own pigments from earth and stone, as well as using acrylics.
8. Fran McMurchy, a painter working primarily in watercolor, is at Espresso, Etc. Fran loves the feel of the watercolor and its soft color layers, but also uses acrylics with its bold and intense colors. She enjoys using both mediums.
9. Gale Simpson, a paint artist inspired on her walks and hikes. is at Lynda's Cafe. Trees, birds, and animals fill her acrylic paintings. Gale, always interested in painting, began taking art classes when she retired.
10. Lori Desy and Jill Fitzer, with their popular pebble art, are at Black's Pharmacy. They started making pictures for family and friends as gifts. Collecting their materials by hand. Jill and Lori spend hours lakeshores, river banks, and seaside beaches.
11. Renee Bauwens, a local painter using acrylics and watercolors, is at Spaner and Webb. Renee teaches art to children, initiating the Art Buds class at the Gallery. She also is creating digital paintings as home decor art to be sold internationally online.
Artists as Entrepreneurs
12. Pauline Ouellet, an artist working in oil, acrylic, colored ink and watercolor, is at Vision Quest. Her intimacy with Canadian landscapes evident in her work, Pauline has developed a passion for the mountains, valleys, and seascapes of British Columbia. She also makes hand painted jewelry.
13. Mordichai, musician, filmmaker, and artist, is at Breathe Bikes. Mordichai was the editorial cartoonist for the old Merritt News. Currently Mordichai enjoys multi -media expressions, including digital and oil painting, and things that fall in between.
14. Jean Kiegerl, an artist working with watercolor, acrylics and oils, is at Home Hardware. She finds an amazing array of colors in everyday objects. She says that educating her mind to see and then create that vision artistically is a never-ending cycle. Jean often gives classes for painters, and teaches drawing.
Capturing Journeys and Life Experiences
15. Faye Gustafson, an experienced artist working in oil on canvas, is at Purity Feed. She paints people,
animals, and symbolic objects within their environment to capture their journeys and life experiences. Her goal is to expose the emotion and character that is daily life. Faye often teaches art to children and is giving a local painting summer camp at the Gallery.
16. Angelina Brooymans, a nature photographer, is at Save On Foods. Black and white images are her favorite medium, but she does color as well. Angelina also produces museum quality giclee prints, and helps other local artists by photographing and printing their art.
17. Diane Kiernan's work, creating beauty through painting, is at Nicola Valley Museum and Archives. Diane lived a creative life, from large murals to intricate tole painting, fabric art and jewelry making, gardening and decorating homes. Diane's Art Walk show this year is curated by her daughter, Stephanie Kiernan.
Merritt Art Walk 2018
"I'm guided by my objective to leave parts of this world more loved, and more beautiful, and to leave a gentle footprint on precious Mother Earth". Diane Kiernan
We probably won't be bringing a stylish red car like the one Diane is seen with here. Most Art Walkers put on their comfy shoes and head out with friends. Three of our locations are cafe's, so there are even refreshments to buy along the way, while you are enjoying the art! Support our local artists, and businesses!
Come and join us on our Merritt Art Walk 2018!
And if you want to collect the beads for a bracelet, come early! Starts Tuesday, July 3rd.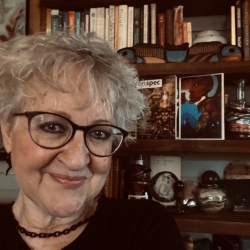 Latest posts by Jano Howarth
(see all)
https://experiencenicolavalley.com/wp-content/uploads/2018/07/unnamed.jpg
1080
855
Jano Howarth
https://experiencenicolavalley.com/wp-content/uploads/2018/05/merrit-nicola-logo-01-300x254.png
Jano Howarth
2018-07-02 23:54:01
2020-11-11 22:01:41
Merritt Canada Art Walk 2018