Blogging Awards Gala 2020 – Merritt Canada Stories & Experiences

Merritt Canada Stories Celebrated At The Blogger Awards 2020!
The Nicola Valley comes together to hear about the successes of ExperienceNicolaValley.com!
Note! This event happened on Mar 6/2020, just a week before social distancing settled on our valley, province, country, world. Glad we celebrated these Merritt Canada stories just in time… Stay safe!
Merritt Canada stories and experiences are everywhere around us. Our job is to find them and then celebrate them. The 2020 Bloggers Awards were held in early March, and people from the Merritt community and elsewhere gathered at the Canadian Country Music Hall of Fame for good food, music, info, acknowledgments, and laughs. The tables were full and conversations were lively!
A fun evening celebrating Merritt Canada stories!
Celebrating Experience Nicola Valley story tellers
Just a month earlier, creators and consultants of the community blogging website Experience Nicola Valley, brothers Greg and Colin Girard, and Melvina White, thought it was time to acknowledge the hard work and dedication of the contributing bloggers. How? Golden trophies at an event like the Academy Awards, of course! Add a local twist of prime rib beef (ranch country!) and music by longtime popular locals, Tammy Weymouth and Stuart Emslie. And, oh yes, a talk by a travel influencer, a popular Canadian Vlogger. All in all, it was fun, unique, exciting and something the Nicola Valley has not seen around these parts for a long time.  A total success. 
Nicola Valley Bloggers Telling Merritt Canada Stories
Bloggers for the Experience Nicola Valley website have been promoting the town of Merritt and the Nicola Valley for almost three years.
The group of bloggers have been writing about businesses, services, individuals, and non-profits in the community. The blogs are full of info, insights, photos, and things to do in our area, with a focus on adventures of all kinds in the community and valley.
The bloggers meet up almost every month to plan their next steps, talk about upcoming events, and the choices for upcoming blogs. The blogging is done out of a passion for our community, and the hope to show off the town of Merritt and the beautiful Nicola Valley to those far and wide, to bring a benefit to all of us who live here.
Check out all the blogs on our site! Lots! Such a variety! But I digress…
Community and Blogger Nominations
Not only were the bloggers up for acknowledgments, but also the people in the community who had been the focus of the blogs. So businesses, events, Non-Profits, organizations and individuals were nominated for the interest they had generated online.
The awards choices were made by tracking the online data! The statistics of the views, Likes, Shares on the website and Social Media (Facebook, Twitter and Instagram) determined the picks for the nominations. After intense review, the coordinators of the Experience Nicola Valley group sent out nominations for different categories, like best photo, most popular blog, and best event blog.
A great idea to share the successes of the community blogging endeavor with the community it serves! An Awards Gala! A Merritt Canada Bloggers Awards Gala!
Put the Bloggers to Work!
The bloggers pitched in to plan, create, decorate, and man the stations at the Gala. There was a wet bar, filled with beverages of all kinds, tables set up with candles for the ticket holders and the nominees, and two tables ready for a delicious catered  dinner.
The stage at the Country Music Hall of Fame was filled with a big TV for the presentations, mics for the speakers and performers, framed acknowledgements for the nominees and golden trophies for the winners.
Julie Pollard and Tania Stewart took photos all evening of all the fun and action. So did I!
And at the red carpet entrance to the beautiful venue, our blogger and emcee, Tom Reynolds looking natty in a suit and  light-up bow tie, greeted the Gala comers and guided them in various directions. 
Greg Interviews the Nominees
Greg Girard is very excited about the worldwide response to the Experience Nicola Valley blogs! And he works hard to be sure our blogs get out there! At each of our meetings, he shares with us the data that is pouring in- the number of blogs read, page views, website visits. He tracks for us the social media attention our posts are getting, all the shares of the Merritt and Nicola Valley outdoor adventures, events, restaurants, gift shops, art and culture. Greg researches the status of our blogs on the Google searches, noting which are doing well, and which need tweaking. He is as determined as we are to bring lots of attention to the exciting and worthwhile things going on in our valley.
And while his brother Colin makes the website magic happen behind the scenes, Greg is ready in the bright lights of the cameras. But his purpose? Show off this great community and the people who make it that way. He interviewed all the nominees as the evening began. (Look for the full list of interviews on the Experience Nicola Valley You Tube and Facebook Pages.
2020 Blogging Award Categories and Nominees
People's Choice Nominees

(Individual/Event)
(Ellen Miller) Nicola Valley Women's Fair
Don Loewen Saddlery
Open Mic Night
People's Choice Nominees
(Business)

Game On Sports
Boston Pizza
Mary's Corner Cafe
People's Choice Nominees
(Non Profit)
Seniors Centre 
Canadian Country Music Hall of Fame 
Nicola Valley Food Bank 
Top Guest Blogger Nominees
Amber Papou
Meagan Preston
Manuel Olguin
Best Picture Nominees (Blogger)
Julie Pollard (Fall in the Nicola Valley)
Diane Lavoie (Boston Pizza)
Tania Stewart (Nicola Valley Rodeo)
Top Story Nominees (Blog)
Melvina White (George Jones)
Diane Lavoie (Things To Do In Merritt)
Tania Stewart (A-P Ranch)
Story Teller of the Year Nominees (Blogger)
Tania Stewart
Tom Reynolds
Melvina White
***
Socialize and Network About Merritt BC Canada Stories
The spacious setting at the Hall of Fame was full and noisy, with lots of laughter, and a few introductions exchanged. People mingled and chatted, sharing stories of the blogs. And took photos before settling in to a hearty plate of medium rare prime rib beef with roasted veg. And celebratory cake….
Community Involvement from Open Mic
Open Mic, a successful Nicola Valley Arts Council program, running for two and a half years at the Kekuli Cafe, received an event nomination for a blog written about it. This long running live music weekly event is worth a blog, or two, or three! We have a solid crew running it, regular local musicians playing at it, as well as lots of variety with locals who come now and then and visitors passing through and playing a set or two. And even more regulars in our audience!
For this event, Open Mic closed up at Kekuli and we filled a double table at the Gala with crew, musicians, and Open Mic fans. My daughter Tasya traveled from Vancouver to celebrate with us. And as she usually does, got busy helping along with the bloggers.
Usually the Sound Guy for Open Mic, Amrit Ahuja got out his video equipment to cover this event. Amrit shares his time between sound recording, music creating, and videography. He spent the evening behind the video cam and we look forward to a short promo with lots of highlights of the Gala. Of course we saved him some cake!
Then the Awards!
The Experience Nicola Valley event coordinators put on a great awards presentation, acknowledging the nominees and crediting the award winners.  Greg split his presentation between info on the nominees, and jokes to engage the crowd.
Guest Speaker on Social Media
Matt and Karla, popular You Tube vloggers from Calgary, Alberta joined us for the evening. Matt was the special guest speaker. He talked to us about the importance of social media supported by a beautiful slide presentation from their travels across Canada.  The info he provided was familiar to those of us blogging with Greg, as Greg has inspired us with the possibilities of a great online presence and how to do it. Matt's talk gave us his own story through the online process to their personal success, focusing especially on You Tube. His statistics were impressive, and I'm sure convinced many in the room why it's worth getting our local stories online and out to the global community.
Many thanks to Matt and Karla for their perspective, and for coming all this way to celebrate our successes with us and sharing theirs!
Check out their entertaining and beautiful You Tube channel, Must Do Canada!
Arts in the Community
While the stage set up was changed for our live music performance, I took the opportunity for a five minute talk about the Nicola Valley Arts Council. I blog about art and culture in the community, while serving as the Arts Gallery Director for the Arts Council. 
How much info can I squeeze into 5 minutes. Lots, if I talk fast. So I did! And gave away several free memberships in the Arts Council!
And Live Music from Stuart and Tammy
We loved this part of the evening. It was a great wind down.  Lots of visiting, chatting, and a little dancing to some covers, and some beautiful original music from Tammy Weymouth and Stuart Emslie.
Story Telling Songs Fitting For The End of the Gala
The whole room quieted when Stuart sang some of the emotional songs he has written. Stuart is involved with a group focused on mental health in youth, and how to mitigate and express their difficult experiences.  Stuart's personal experiences have inspired him to get involved and contribute his musical talents.
So, for a few moments during a joyful night, we were reminded of what community is about. Contribution and serving. And getting together…
"Have some fun, do some good.", as my recently passed partner Gord Cockle always said.
A Lot of Fun, and Doing Good in the Community
As the evening drew to a close, the people voiced their appreciation for our blogging endeavor. We were glad to stop briefly, work hard, and pull off a fun Gala, a dress up evening in our small town. To take time to celebrate each other. And celebrate with others.
Thanks to Greg, Colin, Melvina, all the bloggers, and everyone who came to our Gala evening. Glad we did it!
Still so much to blog about! We feel like we have just scratched the surface with over a hundred blogs in our almost 2.5 years! It's a small town in a big valley. Lots of history to write about. Lots of people, businesses, organizations, non-profits. Great adventures, restaurants, services…. 
Our Experience Nicola Valley group has lots to inspire us. As a group, we inspire each other to keep going and promote our town, our valley. And tell some great stories.
And for now… #staysafe #stayhealthy #flattenthecurve
This is a whole new reality to write about. Blessings…
Jano Howarth 
Art and Culture Blogger
Blogging in Merritt, B.C.
Creating your Merritt Canada stories and experiences for the world

Merritt British Columbia Canada Top Travel Guides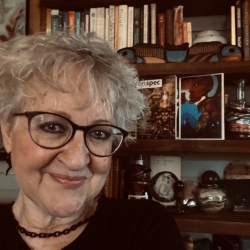 Latest posts by Jano Howarth
(see all)
https://experiencenicolavalley.com/wp-content/uploads/2020/04/dsc_2899-1-scaled.jpg
1024
1860
Jano Howarth
https://experiencenicolavalley.com/wp-content/uploads/2018/05/merrit-nicola-logo-01-300x254.png
Jano Howarth
2020-04-20 00:42:17
2020-05-04 11:08:51
Blogging Awards Gala 2020 – Merritt Canada Stories & Experiences