Experience Nicola Valley – New Merritt BC Website Launch

Experience Nicola Valley Community Website
Your Community. Your Voice. Its Time Merritt.
Unveiling and launch party April 15, 2019
MERRITT, BC. APRIL 15, 2019 – Tourism Nicola Valley will be hosting the unveiling and red-carpet launch party for a new interactive and digital community tourism website called Experience Nicola Valley. The event will take place on April 15, 2019 at the Canadian Country Music Hall of Fame . There are  appys, entertainment, door prizes and an unveiling. 
The hall is located at 2025 Quilchena Avenue in Merritt BC.  Most importantly, the event is open to Nicola Valley businesses, non profits, clubs, societies, associations and events. Above all, look for your invitation in your email inbox or get one hand delivered (invitation below)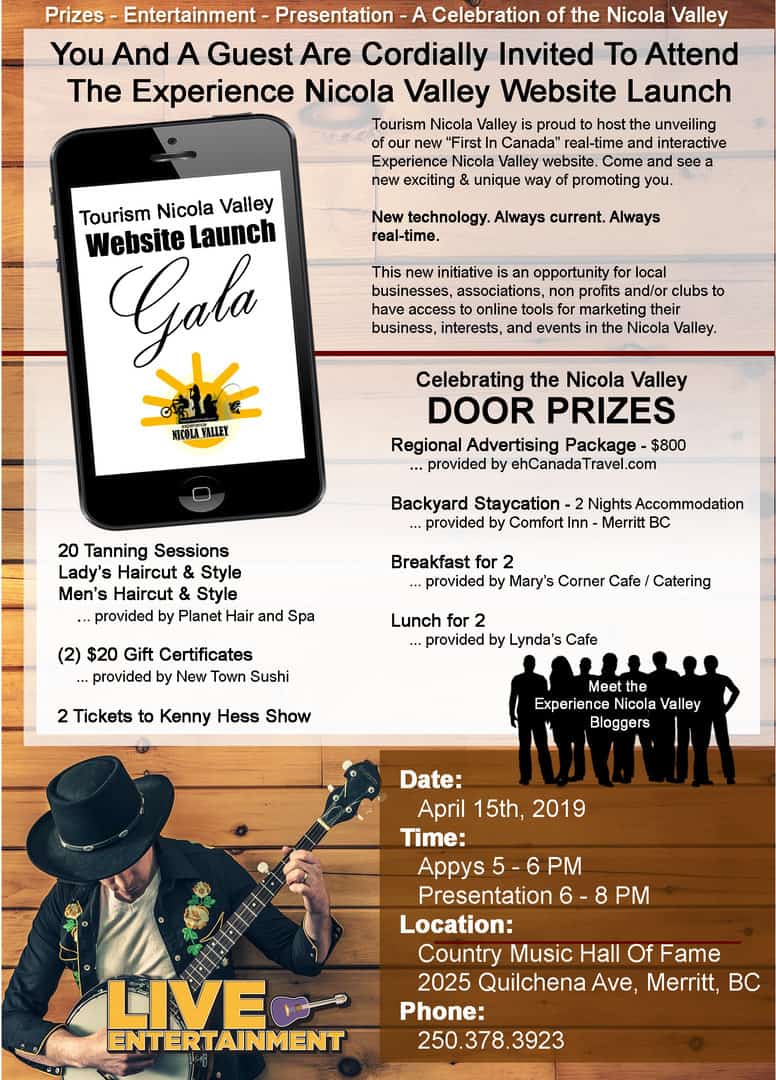 Tourism Nicola Valley presents the Experience Nicola Valley Website Launch Gala
Travel Merritt BC In Real Time
The digital platforms, which are the first of their kind in Canada, is in partnership with tourism marketing consultants Greg and Colin Girard from 'eh Canada Travel'. More over, the new Experience Nicola Valley Blog and Website platforms use state of the art technology and content writing techniques to publish in real time. In short, authentic content is created and developed by community members in the form of informational pages and blogs.
In addition, the Nicola Valley website will feature tourism related information about events, activities, restaurants, hotels, as well as, other tourist related businesses. Best yet, the new interactive website is an opportunity for local businesses, non profits, clubs, associations and events to participate too. It is an opportunity to educate, self market, as well as, generate awareness in real time.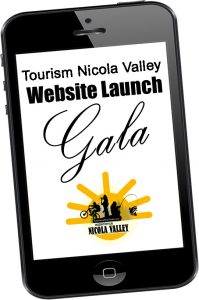 Travelers want it now and in real time
" Firstly, 74% of travelers plan their trips on the Internet. Secondly, 89% of millennials plan travel activities based on authentic content. Travelers of today and tomorrow research prior to visiting a destination. To clarify, they want it now and in real time", states Greg Girard. "Most importantly, these people are looking for authentic stories and experiences from their peers. They are not looking for "corporate speak".
Community and Technology Working Together in Merritt BC
The Experience Nicola Valley platforms create authentic content covering everything that visitors want to do in Merritt BC & the Nicola Valley including fishing, snowmobiling, mountain biking, and cultural events.
Experience Nicola Valley – New Merritt BC Website Launch
The "Experience Nicola Valley" Blogging Program hosted by "Tourism Nicola Valley" and led by the brother team of Greg and Colin Girard from "eh Canada Travel" is one of the most satisfying programs I have ever been involved with. The program commands your thoughts, inspires your hopes, as well as, creates faith in yourself and your abilities. The stories and experiences are positive, inspirational and motivating. Furthermore, the feeling of watching your blog position on the first page of searches is exhilarating. I would recommend everyone give this program a try and see for themselves.", Melvina White (Merritt City Counselor)
Proud to be working with eh Canada Travel
"Tourism Nicola Valley (TNV) is proud to be working with ehCanadaTravel in presenting this new and exciting venture for smaller communities. TNV is impressed with the quality and speed eh Canada implemented the program and with the support they have provided. The volunteer Bloggers are a huge asset to the community and we look forward to seeing them flourish further under the guidance of ehCandaTravel." Anoop Sehon (President – Tourism Nicola Valley)
Showcases and supports local Merritt BC businesses
"We are very excited about this project and specifically how it showcases and supports local businesses here in Merritt. Tourism dollars are such a huge source of income for so many of Merritt's business owners, but the work that Tourism Nicola Valley and Eh Canada Travel have done on building this "Experience Nicola Valley" brand is also keeping people here to shop local and renewing interest in exploring their own back yards, which is amazing." Meagan Preston (Merritt Chamber of Commerce)
Excited about the future
"I am really excited about the future of tourism in the Merritt and the Nicola Valley area. A strong team of bloggers are writing almost daily about the many opportunities and adventures we have to offer in this area. In short, the opportunity to tell the world about our hidden gem by local residents is, to me, priceless." Tony Luck (Merritt City Counselor)
Proud of the successes of Experience Nicola Valley
"I am very proud of the successes of Experience Nicola Valley team. They continue to share positive stories and experiences about all that is good in the Nicola Valley. Furthermore, the new interactive website is going to add to this "feel good" story," Greg Girard (cofounder of ehCanadaTravel.com / Small and Rural Community Tourism Consultant – Top Ranked Canadian Travel Blogger).
Tourism Nicola Valley – Merritt BC Community Website 
Latest posts by Greg Girard (Guest Blogger)
(see all)
https://experiencenicolavalley.com/wp-content/uploads/2019/04/banner3.jpg
1002
1506
Greg Girard (Guest Blogger)
https://experiencenicolavalley.com/wp-content/uploads/2018/05/merrit-nicola-logo-01-300x254.png
Greg Girard (Guest Blogger)
2019-04-09 17:36:42
2020-11-11 22:01:58
Experience Nicola Valley – New Merritt BC Website Launch