Nicola Valley Food Adventures

Nicola Valley Food Adventures
"…I love nothing better than hiking for awhile, then finding a sweet spot in the sun to spread out a blanket, yummy foods, and delightful bevvies."
After over thirty years in the Nicola Valley, and an increase in weight of ten pounds per decade, I feel well-qualified to blog about Nicola Valley Food Adventures!
I love the Nicola Valley and all that it has to offer, and I am a Foodie, so I am especially keen on Nicola Valley Food. As well, I adore adventure, so I am always up for discovering new Nicola Valley Food Adventures.
What is a Foodie?
The English Oxford Living Dictionary defines Foodie as: A person with a particular interest in food; a gourmet. 
Yup, that would be me!
And since I love to write almost as much as I adore food and adventure, I am going to blog about the fabulous foods of the Nicola Valley, as well as adventures that involve food, whether home-cooked or prepared in a restaurant.
I can't go anywhere without packing a goodly bit of nosh. I blame it on my deprived childhood: six siblings fighting over scant servings.
Food Adventures of My Youth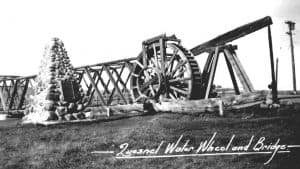 From an early age, adventures included food. I remember when my older brother and I (he eleven, me six) packed up a can of creamed corn in a plaid shoulder bag, and embarked on an adventure. We walked downtown, climbed to the top of Quesnel's water wheel, opened the can of creamed corn and devoured its contents. Creamed corn never tasted so good!
Casbar Drive-in movies with all of us kids sardined into the Pontiac station wagon always included very buttery popcorn and a chocolate bar at intermission. The downtown Carib Cinema: a bag of Liquorice Lozenges or a box of chocolate-covered raisins. Coming home from a day at Dragon Lake: a soft ice cream cone or a Coke Float.
Sunday drives: sandwiches wrapped in waxed paper, an orange for dessert.
Tobogganing in winter was generally followed by a steaming cup of hot chocolate and cinnamon toast. Drives to the Coast included a stop for a hamburger and French fries in Hope. And trips to visit the Grandparents in Alberta involved camping at Mt. Robson, roasted wienies and marshmallows, and those cute little boxes of cereal for breakfast. Birthdays: angel food cake; sports days; boiled hot dogs on steamed buns with fried onions. Sunday drives: sandwiches wrapped in waxed paper, an orange for dessert.
We loved our trips to visit our cousins in Prince George, where we could count on a fresh batch of Auntie Al's Nanaimo Bars waiting for our arrival. While there, my cousin introduced me to her favourite movie watching food: Cheezies and grape pop.
Time at Skaha Beach in Penticton wouldn't be complete without a cardboard container of salty fries, drowning in ketchup and vinegar.
Trips to Vancouver included a trip to the White Spot Drive-In on Granville
Trips to Vancouver to visit our paternal grandparents often included a much-anticipated trip with Uncle "Fud"  to the White Spot Drive-In on Granville Street to enjoy the best burgers, fries and pop, served on a tray bridging the rolled-down windows of the jeep. What a treat!
One trip with my Dad included a stop in the Fraser Canyon for a huge bag of fresh bing cherries upon which my younger sister and I gorged ourselves, only later to have them all come up. They had tasted much better going down!
Adventures included food; it was as simple as that!
Adventure = Food
I was hiking with a new friend last year when I was suddenly consumed by the thought of a wienie roast! It dawned on me that almost all of the time I had spent outdoors during my lifetime had involved food in some form or other, and that I felt quite deprived when it didn't!
My friend was happy to take along a banana, a Gatorade, and a chocolate bar. He would get frustrated with me taking time to pack and then eat a picnic. I would spend time creating a fabulous feast to take on our outings, as I love nothing better than hiking for awhile, then finding a sweet spot in the sun to spread out a blanket, yummy foods, and delightful bevvies.
His preference was to stop for a minute, eat his banana, gulp his Gatorade, and continue hiking. The chocolate bar was saved for the ride home.
I required Food Adventures!
Nicola Valley Food Adventures
A primo Nicola Valley Food Adventure that we enjoyed last July, was a trip up Mount Thynne when the wildflowers were in bloom.
We drove out Coldwater Road, crossed under the Coquihalla and continued up the road through Brookmere, always a scenic journey. When almost to the top of the mountain, we parked and hiked the ugly, steep bit, with my picnic pack on my back. After a good hike, we found a perfect little hollow, protected from the cool wind, where I lay down my blankie and spread out my delicious fare.
Fabulous Food + Nicola Valley Adventure = Nicola Valley Food Adventures
Variety is the spice of a fine picnic, and I'd included kalamata olives, roasted red pepper strips, hummus with carrots and celery for dipping, feta cheese drizzled with olive oil and sprinkled with oregano, as well as a delightful, chilled Jacob's Creek Sparkling Chardonnay Pinot Noir. I'd even carefully wrapped and packed my favourite champagne flutes from which to enjoy the bubbly.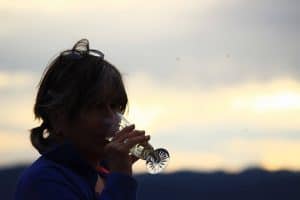 To me, it couldn't get much better than this! Fresh air, exercise, wild flowers, fabulous food, fine wine and the most spectacular of views! This was a true Nicola Valley Food Adventure!
However, my friend wasn't a Foodie and, unfortunately, he didn't revel as I did in my lovely picnic.
When I told my son this story, he asked, in disbelief, "Who isn't a Foodie?"
Truly! My boy was raised to enjoy and appreciate great food, and it was unfathomable to both of us how someone wouldn't adore food as much as we did!
It soon became apparent that I couldn't be a good adventure buddy with someone who doesn't appreciate great cuisine in the same way I do; who doesn't see an adventure as something with which to pair fine food. He was, undoubtedly, an incredible Nicola Valley Adventurer, but he was not a Nicola Valley Food Adventurer!
Here's to Nicola Valley Food Adventures!
Stay tuned, my friends! I look forward to sharing many Nicola Valley Food Adventures with you!
Cheers!
JdW
Nicola Valley Food Adventures
https://experiencenicolavalley.com/wp-content/uploads/2018/06/20257841_1835556223126957_1424809738_o.jpg
1080
1682
House Member
https://experiencenicolavalley.com/wp-content/uploads/2018/05/merrit-nicola-logo-01-300x254.png
House Member
2018-06-17 17:42:53
2019-02-21 08:24:19
Nicola Valley Food Adventures