Nicola Valley Cruiser's 25th Annual Show 'n Shine

Nicola Valley Cruiser's, Merritt, BC Canada
Classic Car Lovers 25th Cruise Through History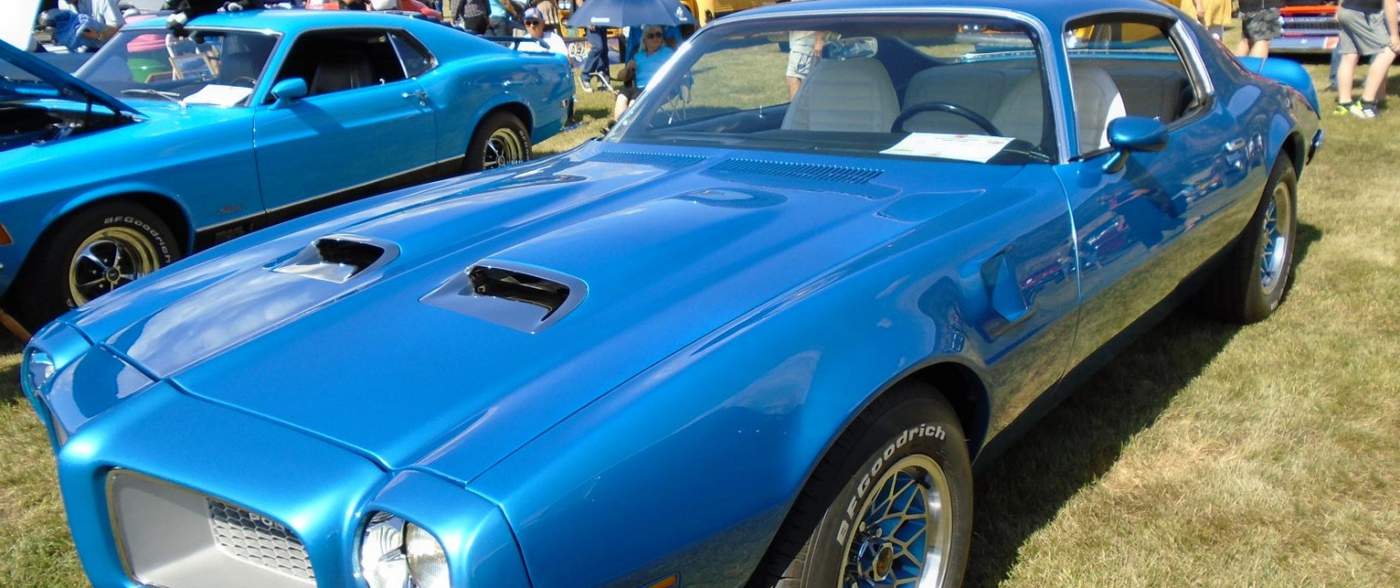 Nicola Valley Cruiser's 25th Annual Show 'n Shine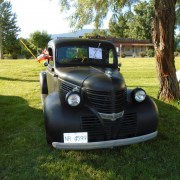 The dream cars of the past cruised back to be the show cars of today at The Nicola Valley Cruiser's 25th annual Show n' Shine, which was held on Sunday July 28, 2019 at Central Park in Merritt, BC . It's a car show that continues to draw fans and a dazzling display of muscle, classic, vintage and antique vehicles. Although, this was an anniversary year, the show continues to deliver each year and be a car enthusiast's version of paradise.
The show included entertainment, Cash Door Prizes, and Goody Bags as well as Dash Plaques. 
It's a time for classic Car Lover's to cruise through history, bringing back the happy and glory days of cruisin' the main. It's about nostalgia, memory lane and a time for classic car lovers to unite with their classics and babies ready to shine.
The Club Nicola Valley Cruiser's
Nicola Valley Cruiser's car club was formed in 1994. Founding members, were the Roline's, Mervyns's, Nunn's, James's as well as Dave Jackson. Cars in the club consisted of the Classic – vehicles over 20 years old, Vintage – vehicles made between 1919-1930 and Antique –  vehicles over 45 years old. The group currently has 40 members.
"The Golden Rule… The height of an ordinary car's value is when it's new and when it is about 30 years old. That's when it gets its title as The Collector Machine." (An Avid Car Enthusiast)
In April 2006 the Vintage Car Club was formed and the Vintage and Antique vehicles moved over to that group. Both groups regularly work together and participate in each other's events.
Club Purpose
Nicola Valley Cruiser's are a group of local classic car owners who meet regularly to "cruise" and talk vehicles.
They may not know exactly why they love cars, but there are certain aspects of that love affair that are common. For one thing, cars are never gender-neutral. Car lovers always refer to their favourite cars as a he or she.
Memories will resurface, stories will come to mind and, deep inside, the love of classic cars will take root. For the average person that gets into a car hobby, sometimes it's something as simple as someone who likes to preserve something that reminds them of their youth.
Like many car events there is a charitable component to The Nicola Valley Cruisers Show and Shine. They raise money and awareness for the local Food Bank. Sometimes they will pick a different charity but the food bank is their choice charity.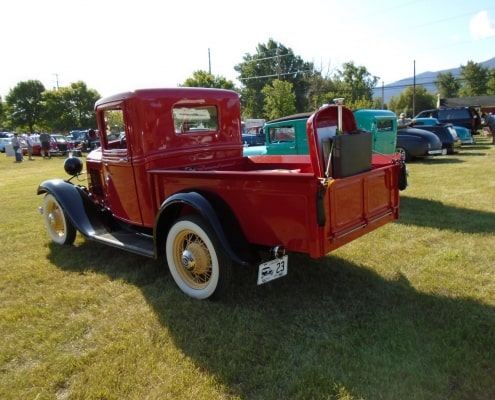 Challenges Of Organizing a Show
Volunteers are always a challenge. Trying to encourage and recruit younger volunteers is a big challenge. It takes a whole club and then some to put the show on.
Last minute changes and no-show volunteers are always a challenge . There is lots of pre work such as raffles, dances etc… that contribute to the budget. There is insurance, venue, planning of categories and trophies, permits, restrooms…the list goes on.
Sponsors For The Nicola Valley Cruiser's
Lordco is and has been a major supporter of this club for a number of years. In speaking with Mike Coates the manager of Lordco. Not only is his passion the cars, but his interest is also to support the Nicola Valley Cruiser Car Club and the community.
He enjoys the recognition as well as contributing  supplies for the goody bags. His biggest satisfaction is showing and communicating his appreciation to the customers.
Boyd Auto Body 
This is Boyd Auto Body's  first year in Merritt. The car show was a great opportunity to get out and support the Nicola Valley Cruisers as well as the community. They are very excited to be in Merritt and have been pleased with the warm welcome they have received. They are looking forward to being a part of the community and supporting events in line with their business.
"Merritt puts on a great show" (Uncle Fluffy)
While at the Boyd Auto Body booth I had the honor of meeting Uncle Fluffy from Krankin Vintage Restoration, Princeton, BC. His report on the Show and Shine Car Show hosted by The Nicola Valley Cruiser's was absolutely glowing.
Bumper To Bumper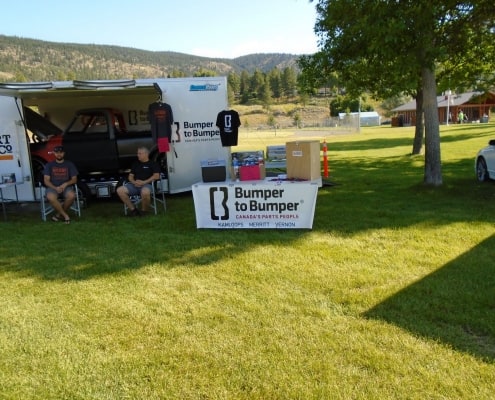 Bumper to Bumper previously known as Wescan was purchased by the Gilbert family. Trevor Gilbert owns the business with his wife Sherryl and sons Tage and Tyce. The Nicola Valley Cruisers show  is the first for Bumper to Bumper.  They are looking forward to serving the community of Merritt and participating and supporting various events that are in line with their business.
"Every Car Has a Story"

(Car Enthusiast)
The Love Of Classic Cars Hard to Explain
"Mae won't drive it. I said, how come? he said, I don't know." (Lawrence Ketter)   "I said, Mae why won't you drive the car? She said, "Are you kidding! It just got a brand new paint job. I'll drive it after he puts the first little scratch on it." (Mae Ketter)
The first car I got to admire was the 78′ Mustang owned by Lawrence and Mae Ketter. Lawrence is pretty proud of this car. He told me it is not driven in the winter. He drives it about 3 months of the year. Although it just got a new paint job it is in mint condition and has no rust anywhere.
My next little beauty was Ringo. Absolute mint condition. Brad said he named it Ringo because it's a beetle and a fun little bug. Brad has been attending the car show every year since it started, which would be since 1994.  
Summer Is The Time For Cruising
This 1957 Ford Fairlane with a retractable hardtop was a real gem to admire. Joyce was feeling like a teenager in that  passenger seat. Vic and Joyce drove to Merritt from Abbotsford and enjoyed the show immensely.
The 1955 Chevrolet Nomad is a station wagon model. The Nomad is best remembered in its two-door Tri Five form and was considered a halo model. Cameron McLeod of North Delta says he drives it all summer and just loves it.
" I drive it all the time. I can just drive it, I don't have to babysit it." (Rae Robinson)
The Chevrolet Bel Air was a full-size car. Initially, only the two door hardtops in the Chevrolet model were designated with the Bel Air name from 1950 to 1952. Rae Robinson says this is his 7th year attending the Nicola Valley Cruisers Show and Shine.
Top of the line 1966 Chevy Nova SS only available in a Sports Coup. The elegantly smooth panel lines visually distinguish the Nova SS. It has bright SS emblems on the grille and on the rear panel, as well as Super Sport script on the quarter panels. The 652, Chevy models were produced, with a 283 cylinder – 195 HP-V8 engine. The Nova SS has competed and won in all types of automobile racing. Including the NHRA Pro-stock drags to SCCA Trans-am.
Lover's Of The Classics
This 1981 Mercedes, 380 SL Roadster Convertible has never had the hard top on because it is never driven in the winter. This car has been completely redone and is in pristine condition. Brian says he'll sell it and someone would be getting a steal.
Considered a full size pick up truck, this 1964 Chevy has been completely customized and is definitely a show piece.
Real Vintage Imaginations
Electric Powered
1898 Horseless Carriage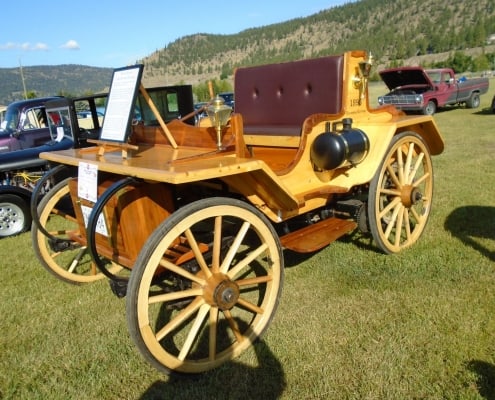 This replica of an 1898 Hammound Runabout was made by Rick Brewer of Merritt, BC.
Rick built this car based on a picture of the Runabout that he found on the internet. He did all of the metal work and the wood work using no nails or screws in the wood body. Wheelwright Dwayne Danley of Armstrong, BC built the wheels.
It took over 6 months to complete the chassis and a further 6 months to build the body using poplar wood that Rick dried and planed. The carved dash and trim represents the wildwood flower, carved from 150 year old Oak. In addition, the oak came from a mansion in Vancouver.
Following the path of many early automobile makers of the 1800's. Powered by an electric motor as well as an axle driving the rear wheels through a chain drive. The steering is controlled with a tiller rather than a steering wheel, which was common during that  period of time.
This 1898 Runabout is owned and enjoyed by Ted and Marguerite Lund of Merritt, BC.
Merritt's First Fire Engine In 1927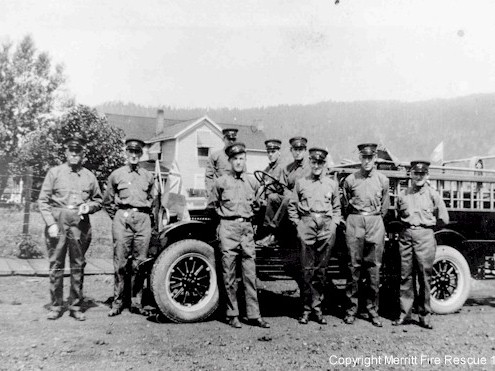 Fire Department Tender Their Resignation to Council 
Resignation to Take Effect November 10, 1926
Unless Requests of Firemen Granted-Council Appoints Committee To Meet Fire Chief.
At the regular meeting of the City Council, held last night. The most important Communication to be dealt with and a mighty important one to the people of Merritt. It was one from Fire Chief N.J. Barwick. Notifying council that unless their requests for better fighting equipment, were granted. They were tendering their resignations to take effect on November 10th 1926.                                 
Following is the communication:
His Worship The Mayor and Alderman of The City of Merritt:
Gentlemen:
We received your letter of October the 22nd, in answer to our letters of June 8th and also of October the 14th, we asked for better firefighting equipment.
At a regular Fire Dept. meeting, held in the Fire Hall on the 28th of October, we as a body did not approve of the action you have taken. If you will take into consideration we have advance 45% of the cost of the equipment.
However that is up to you gentlemen, for we feel we do not care to carry on with the very poor equipment you have at present. Therefore as a body, tender our resignation to take effect on the morning of November the 10th, 1926.
Signed on behalf of myself and Fire Boys.
N.J. Barwick (Information: Merritt Herald and Merritt Museum)
Handsome New Fire Truck Arrives In Merritt, BC
January 28, 1927
Shows Off At the 25th Anniversary OF The  Nicola Valley Cruisers Show and Shine 2019
The new fire truck for the City of Merritt Fire Brigade, arrived at the local Kettle Valley Railway depot on Monday evening, and its addition to the fire fighting equipment for the local fire boys should be a valuable acquisition.
The truck was supplied by the American La France Fire Engine Company, who lost no time in shipping the truck when the order was finally placed with them by the Merritt City Council. Indeed it was not expected to arrive from the works at Toronto until the first of February.
The truck is modernly equipped for the use of both hose and chemicals. It is mounted upon a General Motors Chevrolet one truck chassis by the R.F. Barrett firm of this city. The value of this fire truck to the local fire department should be excellent. This added assistance to the fire boys will be fully appreciated by all citizens. (Information: Merritt Herald and Merritt Museum)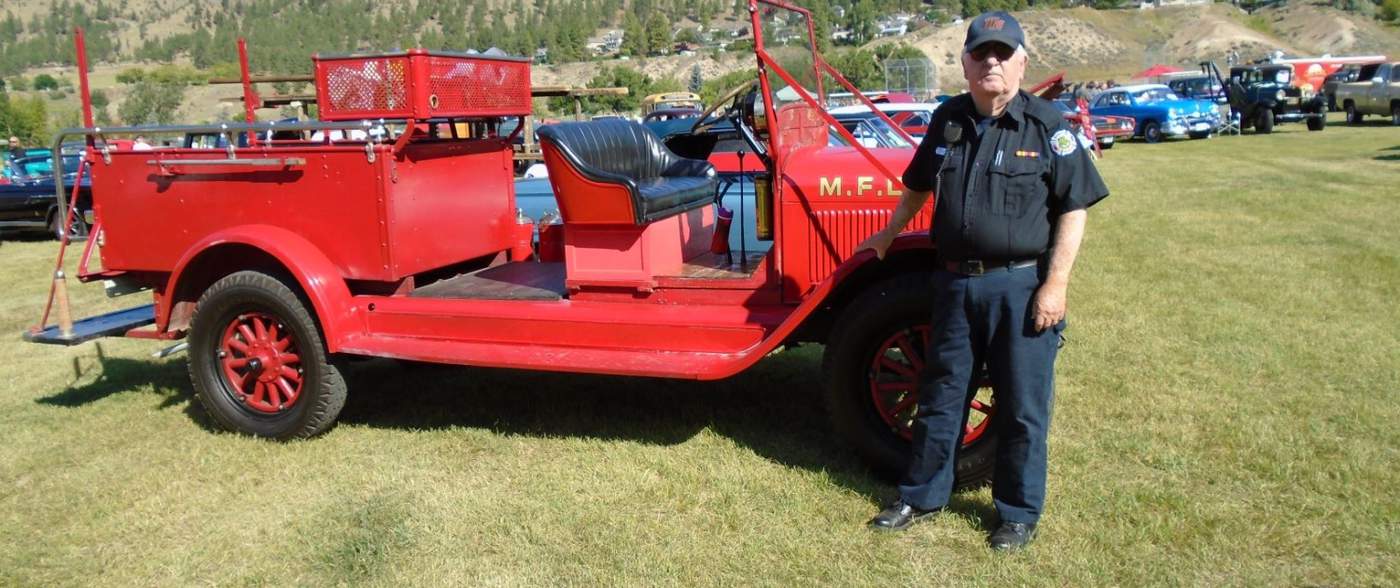 Bob Wilson a paid on call fireman is pictured along side the 1926 Fire Engine.
This fire engine serviced the community up until 1960.
Maintaining a vintage vehicle

in its original condition is a fine art. This engine has been well maintained as well as parts being replaced with off the shelf originals.
This particular fire engine is known as a chemical car. The plan is, to hopefully replicate the Soda Acid Tanks that were used in this era.
Sulphuric acid, when combined with bicarbonate of soda forms a chemical reaction which produces carbon dioxide. When mixed, the pressure created forces the mixture out of the chemical tank and propels it onto the fire.
"It was a very good show, lots of variety of vehicles and happy people" (Yvonne Tessier)
You never know what you might see at the Nicola Valley Cruisers car show. 2019 saw over 150 cars registered. So watch for details and get those engines polished and revved and ready to cruise back to Merritt, BC Canada for the Nicola  Valley Cruisers car show in 2020.
"Great Show" (Ken Bramham)
Nicola Valley Cruiser's 25th Annual Show 'n Shine
Merritt BC Canada Car Show

Latest posts by Melvina White
(see all)
https://experiencenicolavalley.com/wp-content/uploads/2019/08/carshow4.jpg
581
1030
Melvina White
https://experiencenicolavalley.com/wp-content/uploads/2018/05/merrit-nicola-logo-01-300x254.png
Melvina White
2019-08-16 23:55:32
2023-04-17 04:35:48
Nicola Valley Cruiser's 25th Annual Show 'n Shine