The Three Seven Eight Skateboard Company in Merritt, BC
The Three Seven Eight Skateboard Company
Skateboarding in Merritt BC in the Nicola Valley
"Jay and Tobey would like to say thank you to their amazing customers, friends, and family who have made The Three Seven Eight Skateboard Company in Merritt BC what it is today."
A Hidden Little Gem
When skateboard shopping you will find that The Three Seven Eight Skateboard Company in downtown Merritt, BC provides an array of skateboard merchandise, knowledge and experiences. The locally owned and operated skateboard shop services all of the Nicola Valley. 
Falling in love at a young age
As with most kids, Jay got hooked on skateboarding when his older brother, Dave, introduced him to the sport. Jay loves the creativity involved with skateboarding.  Both in the actual physical activity side of the sport, as well as, the product art work side of things.
When dreams become reality
For as long as Jay could remember he wanted to have a skateboard company or own a skateboard shop. He knew when the construction started on the Merritt skate park, it was now or never. That's when Jay and his wife, Tobey,  opened up their shop in the Spring of 2005. They will be celebrating 15 years, coming up, in the Spring of 2020.
Nicely done Jay and Tobey!
Not just boards sold but so much more
The Three Seven Eight Skateboard Company offers the top brand boards in the skateboard industry and focus mostly on regular street skateboards, although they do a little bit of business in snowboards.and longboards.
The Three Seven Eight Skateboard Company in Merritt BC Merchandise
In addition to a variety of boards, the shop also sells apparel, footwear, sunglasses, hats, backpacks, and accessories. Their in-house line of "378" apparel and skateboards is always a great seller. The customers love supporting a small business these days, and their 378 line creates a sense of community and family. The amazing customers and friends are the reason that Jay and Tobey can continue to keep their doors open.
The Future is looking bright for 378!
Jay and Tobey's future plans for the shop is to continue to make their shop the best they can. Staying true to what they have been doing.  Continuing to offer the best brands in the skateboard industry and also expanding on their own 378 line.  Check out their Facebook page. An online store possibly down the road but they're still on the fence right now.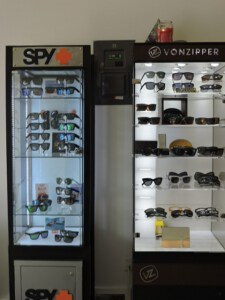 Skateboarding in Merritt BC
When I asked  the question of the best places to skateboard in Merritt, Jay's response was that it was a tricky question…the BEST place to skateboard in Merritt would have to be the skateboard park.
However, the FUNNEST place to go skateboarding is anywhere in the streets where there are unique obstacles. Skateboarding has always been and always will be the best in the streets.
Heartfelt Thank You's all around
In conclusion, Jay and Tobey would like to say thank you to their amazing customers, friends, and family who have made The Three Seven Eight Skateboard Company in Merritt BC what it is today. They'd also like to thank anyone who prefers to buy from a small business when they can, it truly makes a difference in a community. Lastly thank you to Experience Nicola Valley for asking us for this blog article.
Contact Info
The Three Seven Eight Skateboard Company
2149 Quilchena Avenue
Merritt, British Columbia
Call (250) 378-8179
The Three Seven Eight Skateboard Company in Merritt BC
Skateboarding in Merritt BC in the Nicola Valley
https://experiencenicolavalley.com/wp-content/uploads/2019/08/378-window-logo2.jpg
404
800
House Member
https://experiencenicolavalley.com/wp-content/uploads/2018/05/merrit-nicola-logo-01-300x254.png
House Member
2019-08-20 16:09:56
2019-08-20 19:51:03
The Three Seven Eight Skateboard Company in Merritt, BC