Festive White Hot Chocolate – Merry Christmas

Festive White Hot Chocolate – Merry Xmas
Festive white hot chocolate is a decadent twist on a winter warmer you may not have tried yet 
With a few simple ingredients, this creamy indulgent treat takes your winter holiday experience to a delectable new level
Who doesn't love sipping on festive white hot chocolate, something warm and creamy, after being outside? Especially with out chilly winters here in Canada. I think everyone has a staple that they reach for when they come in from the cold. For some it may be a warm coffee or tea. However, you can rest assure, in my home, we are usually sipping on hot chocolate or apple cider after a romp in the snow. Why not make a fun twist on a childhood classic and give this one a try today.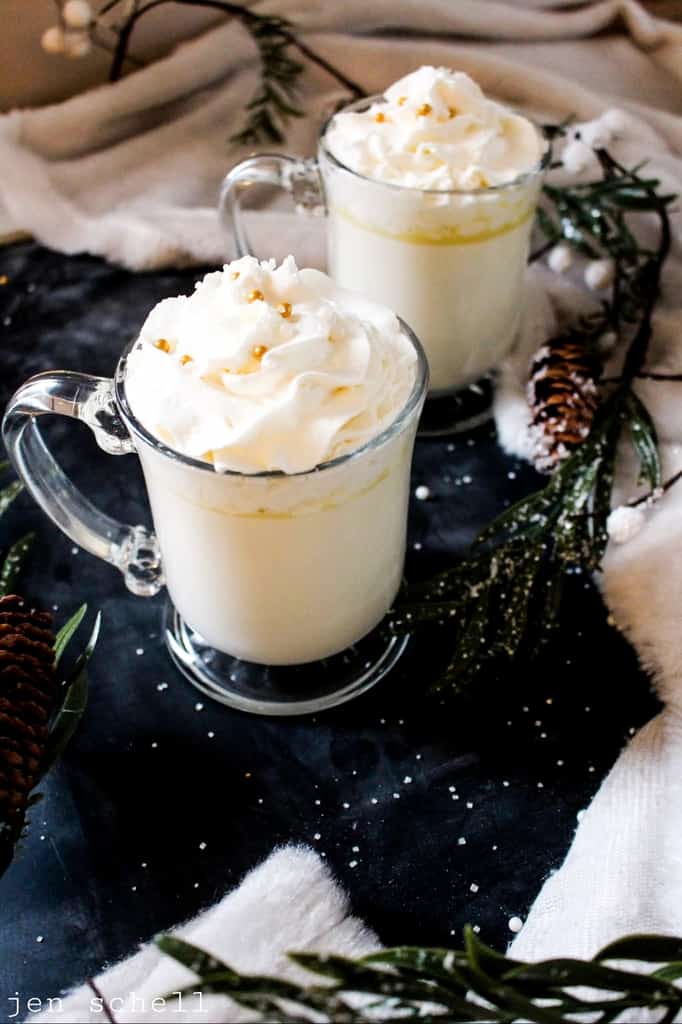 White Chocolate In The Great White North
Warming up after being outdoors is nothing new to us Canadians.  But have you ever considered trying white chocolate? Do you like it? Have you ever even tried it? White chocolate is not technically chocolate so its a great caffeine free option if you were not aware of that.
What I do know is that the kids will sleep good that night, after you have tuckered them out from being in the snow. Lastly, white chocolate is creamy and sweet, a less bitter option of its dark and delicious cousin. 
White Hot Chocolate Recipe & Method
6 oz of White Bakers Chocolate Squares
395 grams of White Chocolate Chips
4 Cups of Water
3 cups of Powdered Milk
Pinch of Salt
2 tsp of Vanilla Extract
1 Cup of Half n Half 
Extra Toppings for Hot Chocolate: 
Festive Sprinkles, Marshmallows, Whipped Cream, Toasted Coconut, Oreo chunks or more white chocolate chips.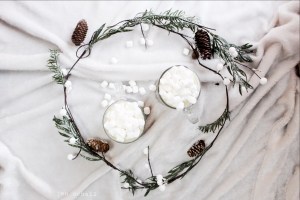 Method:
Add all the ingredients ( except the extra add ins ) to a pot. We are going to slowly stir and warm everything up together. Whisking or stirring frequently, we want everything smooth and melted together for maximum flavor.
Keeping an eye on the heat we do not want to bring this to a boil. Serve warm with your marshmallows and maybe some extra chocolate chips. Or with a generous serving of whipped cream and sprinkles. In addition I think Oreo chunks would also look and taste amazing!
Do You Like It Honey?
Famous last words right? I turned to my husband Kyle and asked him if he would like some of our festive hot cocoa. To which he replied "Sure!" I gave him a steaming mug of the liquid sweet syrupy goodness and he drank it silently and walked off. Curious my treat drink was a flop to him, I followed him and asked him that fateful question "Do you like it honey?" to which he replied that it was "OK".
OK?! Shocked and thinking that my drink for the blog was quickly tuning into a flop… I mustered up the courage to ask him, "Would it taste better added to half coffee?" To which Kyle quickly smiled and said "oh you bet!" I think adults may or may not appreciate adding this to half coffee creating a while hot chocolate mocha. 

 Winter Experiences With Experience Nicola Valley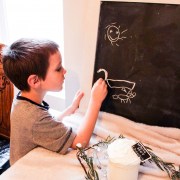 Winter in Logan Lake and the Nicola Valley is honestly boastful. We enjoy many indoor and outdoor fall/winter activities. To learn what to do and who is who please follow the Experience Nicola Valley Bloggers. It is always a good idea. They work hard to find activities and experiences that you and others will enjoy all year round. If you are looking for inspiration as to what to do before you enjoy a mug of this festive white hot cocoa, check out this link here. 
Rest assured in my home we are usually sipping on something warm after a romp in the snow. Why not make a fun twist on a childhood classic and give white hot chocolate a try today. 
Hot Chocolate in Logan Lake BC
Nicola Valley Bloggers
Merritt British Columbia Canada Top Travel & Adventure Guides
"Experience Community Program" (small and rural community authentic content marketing program) is a product of the EH? Tourism Marketing Group. Contact us for more information on this program at media(at)ehcanadatravel(dot)com.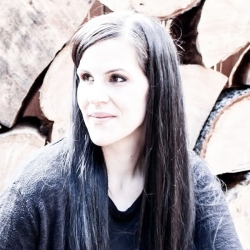 Latest posts by Jennifer Schell
(see all)
https://experiencenicolavalley.com/wp-content/uploads/2020/11/White-Hot-Chocolate.jpg
853
1280
Jennifer Schell
https://experiencenicolavalley.com/wp-content/uploads/2018/05/merrit-nicola-logo-01-300x254.png
Jennifer Schell
2020-12-01 05:29:43
2020-12-14 05:14:10
Festive White Hot Chocolate – Merry Christmas