Easy Smores Dip – Camping Treats for Children, Big and Small

Camping  Treats for All Seasons
Smores is delicious snack for any time of the year in British Columbia 
Easy Smores Dip –  Summer treats when in Canada brings on so many amazing experiences. A huge part of summer in British Columbia is R&R, and a big part of that relaxing could be sitting around a campfire enjoying smores. Our beautiful  province is blanketed in lush mountains and heavily forested areas, and not many things comes close to the joys of sitting around a campfire, enjoying family and friends under the stars, snacking on smores.  It just might be the unofficial food of camping for kids. 
Easy Smores Dip Helps With Fire Safety
However, smores is not just a campfire treat, no…  you can have smores anywhere and anytime. And if you live anywhere where campfire bans are usually in effect, and for good reason, there are alternatives. This summer was one to remember for so many people who were displaced during evacuations. For this reason we even had the children's Great Grampa stay with us during the Logan Lake fires. 
Crackling Fires And Warm Summer Nights 
So how do you enjoy this tasty seasonal delight? Pop it in the over of course! As a result you can now enjoy it for all 12 months of the year. Easy Smore dip satisfies that deep craving crackling fires and warm summer nights. Smores are decidedly  a flavor of a Canadian summer that can make a place for so many happy memories. It's so easy and a great dip to have kids help in the kitchen with. With a little supervision kids can easily make this easy smores dip quickly and safety of home. This dip goes from prep to table in 20 mins or less.
Smores Can Be Quite Sticky If You Aren't Prepared
Easy smores dip is almost a cheater meal. First off if  you are new to the world of smores let me give you an idea of what these are to you. Smores are a gooey fire roasted marshmallow and chocolate square smooshed together between a cookie or graham wafer cracker. The method is usually quite simple. But can be a very exciting food item to make, especially if you have any child under the age of 4 around the campfire awaiting a delightfully sticky snack. To make this treat in theory so simple yet super tricky.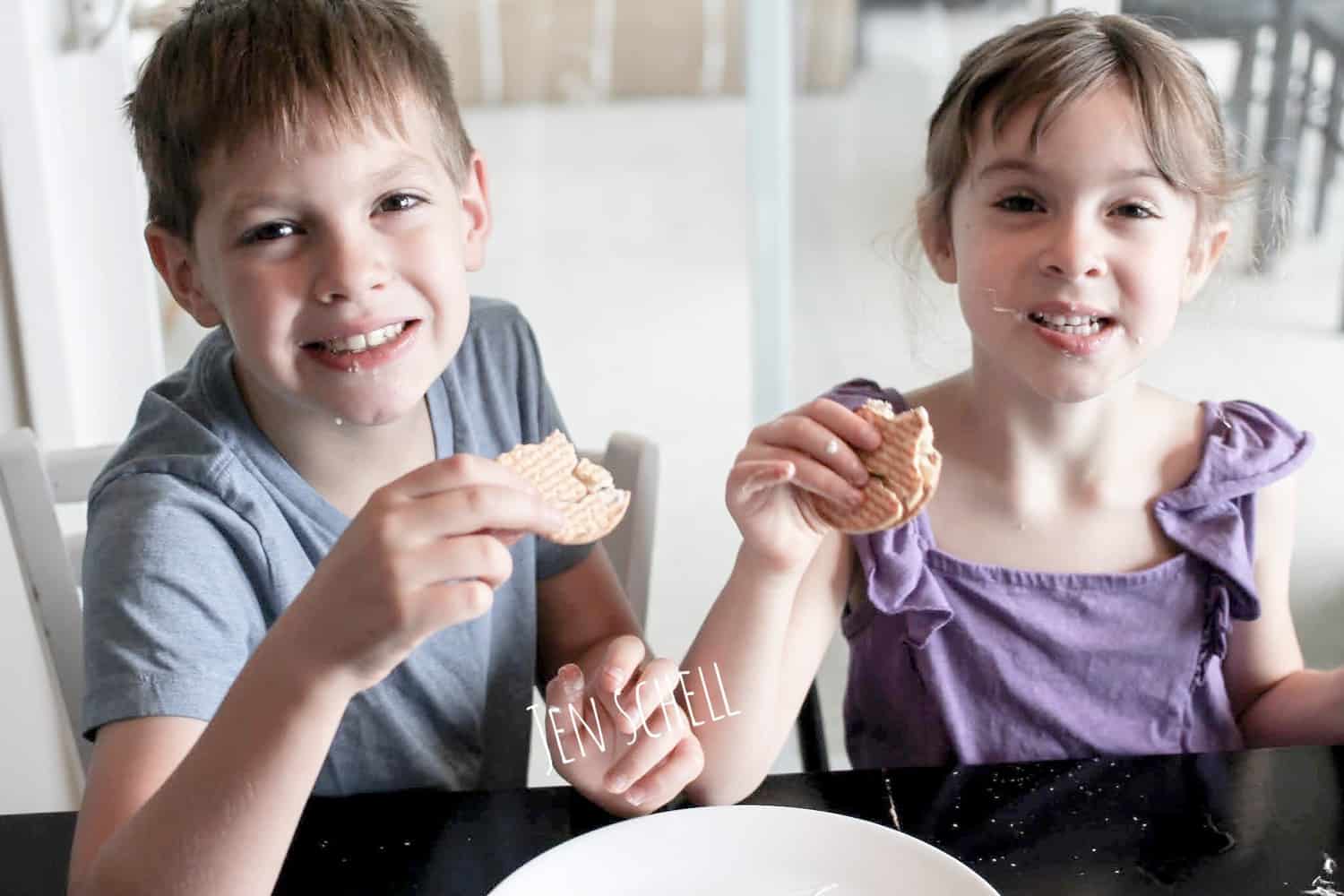 Easy smores dip ingredients and tips and tricks.
Directions
Lightly grease whatever sized pan of your choice. I used my tiny cast iron for a more camp like theme.
Coarse chop roughly 3 cups of chocolate. We ended used a giant frozen Toblerone we had saved since Christmas. 
Then you can lay the marshmallows on top. Enough to cover the pan.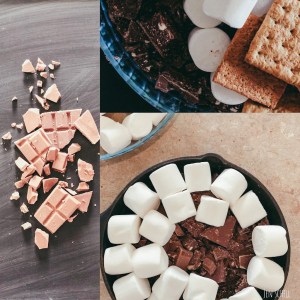 Easy Smores Dip Baking Instructions
Oven temp – 400
Place in oven for 5-7 mins. Watching the marshmallows closely
While that's baking assembly is a breeze for this easy smores dip. Simply place graham crackers on a board or tray. In addition you can dip and dunk cookies, pretzels, or fresh fruit. Be cautious if you are dipping straight from the pan. It holds the heat and can burn. Parental supervision is a great idea.
In Conclusion 
I would personally like to thank everyone involved in our summer and the fire efforts made here in our beloved province. Thank you to everyone doing your part and helping us all grow in being fire smart. Our hearts go out to those that have lost so much and to those brave men and women working tirelessly to help keep us all safe. Additionally making small tweaks as we practice fire safety  doesn't mean we can't still enjoy experiences. Easy smores dip certainly makes #nocampfirenoproblem! Exploring the great outdoors and making plans is easy when you follow the Experience Nicola Valley Crew! As always if you recreate this recipe give us a tag. The family and I would love to see your creations and connect.
Easy Smores Dip – Camping Treats in BC Canada
Nicola Valley Travel and Tourism Guides
"Experience Community Program" is a small and rural community authentic content marketing program. It is a product of the EH? Canada Marketing Group.  Contact us today to bring this award winning community program to your region.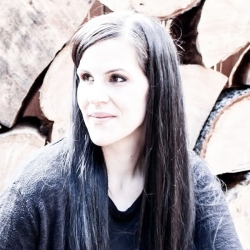 Latest posts by Jennifer Schell
(see all)
https://experiencenicolavalley.com/wp-content/uploads/2021/08/smore-feature-image.jpeg
442
1024
Jennifer Schell
https://experiencenicolavalley.com/wp-content/uploads/2018/05/merrit-nicola-logo-01-300x254.png
Jennifer Schell
2021-09-06 20:30:34
2021-09-06 20:30:34
Easy Smores Dip – Camping Treats for Children, Big and Small