Ranching in the Nicola Valley – Branding Day

Ranching in the Nicola Valley – Branding Calves
Branding calves on the ranch
"I feel very blessed to be working with such a great bunch of people"
There are so many things to consider if you are ranching in the Nicola Valley – branding day and calves is one of them.
Spring is here in Merritt BC Canada, the calves are born and now it's time to get things ready to start branding caves on the ranch. You want to do this before you send them to range or before anyone can take them.
There is so much you need to get organized and ready for branding day. Not only do you have to have your ropers and ground people lined up but you also have to make sure all your equipment is in working order. You also need to make sure you have all the necessary supplies for the day.
On top of all that your crew will need to be fed and kept hydrated throughout the day.
Today I am going to take you through a day of ranching in the Nicola Valley – branding calves. This is not like a typical written blog but a story through photographs. I really hope you enjoy.
Start of the day
Once the crew all know there jobs, fed breakfast which on this day consisted of coffee, tea, water, juice, muffins, bacon and egg or ham and egg on English muffins.
Breakfast done, now everyone is just getting ready to head out to gather the cows and calves.
Lunch Time
Another great meal consisting of fruit trays, vegetable trays, home made sausage rolls, sandwiches, muffins, all kids of little deserts and drinks. 
Final Group to be Branded
Supper Time
Now that all the calves have been branded. It's time to relax, tell stories and prepare for the amazing supper.
All in all a day ranching in the Nicola Valley – Branding Day is a day of not only full of hard work. It is also fun in seeing old friends, new ones and enjoying all the day had to offer.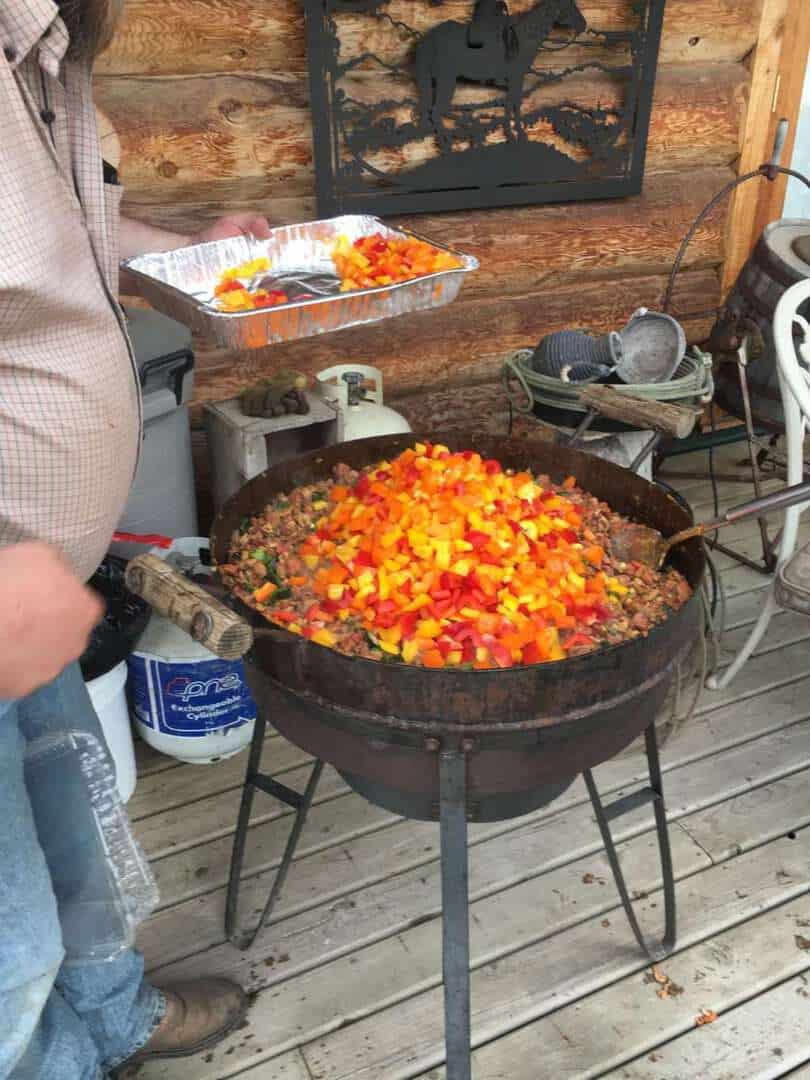 Adding peppers, oh my it's looking so good.
For more great blogs about Merritt and the Nicola Valley head over to Experience Nicola Valley web page.  Corena owner of  Calton Cattle Co is also at Creative Company in downtown Merritt with lots of wonderful western decor.
Ranching in the Nicola Valley – Branding Day
https://experiencenicolavalley.com/wp-content/uploads/2019/05/IMGP1954-FILEminimizer.jpg
768
1147
Michelle Bacon
https://experiencenicolavalley.com/wp-content/uploads/2018/05/merrit-nicola-logo-01-300x254.png
Michelle Bacon
2019-06-17 09:28:07
2020-03-11 23:00:58
Ranching in the Nicola Valley – Branding Day