Buffy Sainte-Marie Country Icon – Country Music Hall Of Fame Inductee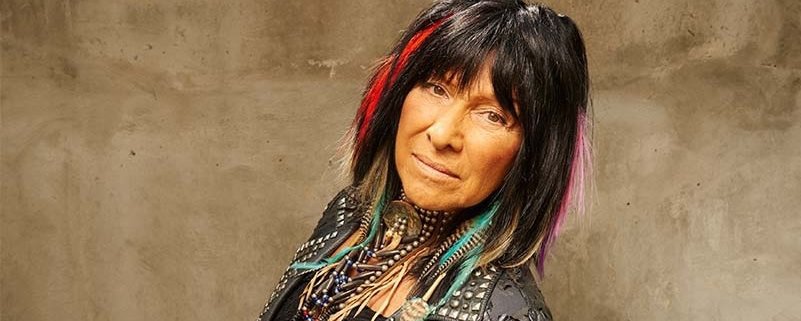 Buffy Sainte-Marie Country Icon
Canadian Country Music Hall Of Fame Inductee On The Merritt, BC Mural Walk 
Buffy Sainte-Marie Country Icon – Where and How It All Began


Academy Award winner Buffy Sainte-Marie's audacious attitude to life on and off the stage has inspired people around the world for over five decades. Buffy Sainte-Marie is truly a Country Music Icon.
Buffy was born Beverly Sainte-Marie on Feb. 20, 1941, on the Piapot Cree First Nation reserve in the Qu'Appelle Valley, Sask.
After the sudden deaths of both of her parents, Beverly was adopted by family relatives, Albert and Winifred Sainte-Marie, who were part Mi'kmaq.
Reserved as a child Sainte-Marie spent much of her childhood hiking through the woods writing poetry. She taught herself to play piano at age 3 and began setting her poems to music at the age of four.
"As a little kid when I was three, I discovered a piano and I found out it made noise and I was fascinated and taught myself how to do what I wanted to do on it." (Buffy Sainte Marie)
The Piano and Guitar
Once she discovered a piano and found out it made noise, it fascinated her. Teaching herself how to do what she wanted to do on it. She could play fake Beethoven, as well as do other things with strange chords that other people didn't use but she liked.
At 16, she taught herself guitar which would become her instrument of choice. Ultimately inventing 32 different ways of tuning the instrument, creating sounds and techniques completely unique to her music.
Buffy was so inquisitive that she would even take apart the vacuum cleaner and try to create her own headphones, by hooking its tubes to the broken record player.
Sainte-Marie majored in teaching as well as Oriental Philosophy at the University of Massachusetts Amherst in 1959. Graduating in the top ten of her class in 1963.
The Search For Heritage
Buffy's teen years were difficult. Although her adoptive mother was half Mi'kmaq Indian. Buffy grew up knowing little about Indian history or about her own people. In her mid teens, she  began researching her Indigenous heritage. She took a trip to the Piapot Reserve in Saskatchewan's Qu'Appelle River Valley, to learn more about the Cree firsthand.   
"In 1964, on a return trip to the Piapot Cree reserve in Canada for a powwow, she was welcomed and (in a Cree Nation context) adopted by the youngest son of Chief Piapot, Emile Piapot and his wife, Clara Starblanket Piapot, who added to Sainte-Marie's cultural value and place in native culture." – Wikipedia
The warm welcome she received from her Cree relatives left her with a deep impression. She discovered a greater sense of security as well as a community better than she had ever known.
 New Music Experiences
"My teachers told me music was lines and notes and paper"
My teachers told me music was lines and notes and paper. I never disagreed with them. I just learned to keep my head down and avoid conflict. Then I'd go home and play my own fake-classical music."
Sainte Marie started playing songs for the girls in her dorm as well as her housemother Theresa de Kerpely, who was from Europe. Theresa encouraged me to listen to singers from other countries.
So, from the start of playing for other people, I was absorbing and reflecting, on a very wide world culture. International students at the university were a big influence on me."
New York City
Sainte-Marie's friends encouraged her to perform publicly and eventually she found herself in New York City in the early days of the counterculture movement. She tried her hand at song writing and began singing in coffeehouses in Greenwich Village. As a result Bob Dylan heard her sing and urged her to perform at the Gaslight, a famed folkie hangout..
 It wasn't long and she was playing around the world at folk festivals, coffee houses, concert venues and in fact Indigenous communities. Buffy Sainte – Marie was becoming a country icon
She was already performing "Universal Soldier" in these coffeehouses in 1963, but she was banned from singing it on the radio and TV. Donovan would make it a huge hit and help it crossover into the mainstream in 1965. (Andrea Warner)
Buffy developed bronchial pneumonia and almost ruined her voice. While recovering from the infection, she became addicted to codeine. On the other hand her subsequent struggle to get clean became the basis for her song, "Cod'ine."
Sainte-Marie's first record, It's My Way!, was released in 1964.
The album included "Universal Soldier." A song that is about individual responsibility for war and how the old feudal thinking kills us all."  The song was popular becoming  a peace anthem with the anti-Vietnam War movement.
Songs Singing A Statement
"I wasn't concentrating on myself as a singer." "I probably should have been concentrating more." "Later on, I learned to sing."
Sainte-Marie doesn't sugar coat the truth, nor does she shy away from hard realities. The songs that she was writing, she thought people should hear, but also deserved to hear. Buffy  knew she was reflecting some points of view that weren't being verbalized. But they were being felt by fellow students.  Titles included topics about Native American stuff. As well as love songs with more feeling and depth than just 'I'm going to die if I don't get you in bed tonight.
At the time, she didn't consider herself much of a singer, but audiences loved her. Billboard even named Sainte-Marie the best new artist of 1964. The songs were the source of her confidence. Buffy Sainte – Marie was a country icon.
Buffy didn't think she was much of a singer. Although this may be true, it was  because of the songs, and their statements, she had the nerve to step out onto a stage and sing the people the songs.
Sudden Fame Overwhelming For Buffy Sainte-Marie Country Icon
The sudden fame was overwhelming for Buffy.  She went to Spain to spend three months alone. She didn't tell anyone, not even her manager. He found out where she was when he got her bills for the tickets.
Since her ground-breaking debut, It's My Way!, the Cree singer-songwriter was a trailblazer and a tireless advocate, an innovative artist, and a disrupt or of the status quo. This was a much needed get your head on straight break for Buffy. When she got back it was full steam ahead with no signs of slowing down.
The End of The 60's Era
"I wanted to give people Indian 101 in six minutes."
In 1965, she released her second record, Many a Mile. It featured the commercial hit, Until It's Time for You to Go. The song became a big hit for Elvis Presley in the early 70s. As a matter of fact. More than 200 artists ultimately covered the song. (Including Cher, Willie Nelson, Barbra Streisand and others) in 16 languages.
Sainte-Marie's third album, 1966′s "Little Wheel Spin and Spin", indicated the future direction of her music. Little Wheel made room for the electric guitar as well as some string arrangements, and it became her first album to reach the Billboard Top 100 Pop Charts, peaking at 97.(Andrea Warner)
It also features the heartbreaking song. "My Country 'Tis of Thy People You're Dying". "I wanted to give people Indian 101 in six minutes."  It's a long song. But Indian 101 has never been presented to the North American public, let alone anywhere else."(Andrea Warner)
Buffy Sainte-Marie Country Icon 1967 Features
 1967's Fire & Fleet & Candlelight.  Sainte-Marie's fourth record, featured a full rock band. Not only with orchestration but also  two covers of Joni Mitchell songs, including "The Circle Game."
In fact, Sainte-Marie helped Joni Mitchell get her break: "Joni also came from Saskatchewan and was being ignored by the folk bosses who ran the record companies.
Buffy Sainte-Marie Country Icon 1968 Hi Light's
Later that same year, Billboard labeled Sainte-Marie the patron saint of "non-hippy hipsters," based on her show at the Philharmonic, where she received a 10-minute standing ovation from the crowd.
"Chet told me that one time somebody asked him if he could read music and his answer was, 'Not enough to hurt my playing."I loved that! It always stuck with me and gave me the confidence to know that my way of playing music is okay." (Buffy Sainte-Marie, Chet Atkins)
Sainte-Marie worked with acclaimed country musician and producer Chet Atkins. For her fifth album, in 1968 "I'm Gonna Be a Country Girl Again". She has talked  a little about their friendship and how they bonded over playing and writing by ear rather than reading music.
That year, Sainte-Marie was asked to appear on an episode of the TV western, the Virginian. In the write-up of Sainte-Marie's biography, It's My Way!, she made two demands when director Leo Penn, (Sean Penn's father) came calling:
"First, she insisted that the studio cast Native actors for all the Indian parts ('No Indians, no Buffy'). She also advocated that the writers bring complexity to her own role. She told them, '[I'm] not interested in playing Pocahontas.'" (Buffy Sainte-Marie)/Leo Penn)
Buffy Sainte-Marie Country Icon The Close of 1969
"At a certain point, I realized that I was too early with some songs. Other times, I was right on time." (Buffy Sainte-Marie)
1969's Illuminations was wildly experimental, electronic and a huge flop. But it was also totally ahead of its time.
 "It wasn't until many years later that [1969's synth-heavy] Illuminations was named 'one of the albums that set the world on fire' [by The Wire magazine].
The album also featured her beautiful collaboration with fellow Canadian, Leonard Cohen, in which she set his poem, "God is Alive Magic is Afoot," to music.


Buffy Sainte-Marie Country Icon 1970's Era Of Movies and TV Soundtracks
Sainte-Marie started getting more involved with movie and TV soundtracks. 1970's Performance is a super weird little film starring Mick Jagger, with music by Jack Nitzche (Sainte-Marie's future collaborator and husband). This  tune from Performance features Sainte-Marie and Ry Cooder. 
"The Circle Game", Joni Mitchell's cover was in the opening credits, of the 1970 film. "The Strawberry Statement", about the counterculture and student protests of the '60s.
Buffy wrote the title song in 1970 for the film Soldier Blue, which depicted the brutal slaughter of the Cheyenne village by Colorado State Militia.
Sesame Street
In late 1975, Sainte-Marie was asked to guest star on Sesame Street. At first she said, she had no interest in doing a children's TV show, but reconsidered after asking "Have you done any Native American programming?" She ended up, appearing regularly on Sesame Street from 1976 to 1981.
"Indians still exist". "We are not all dead and stuffed in museums like the dinosaurs. With the help of Big Bird and Oscar and friends, we put out this simple message of reality three times a day to the children of 73 countries of the world, providing them with positive realities, before racism and stereotyping ever had a chance to set in." (Buffy Sainte Marie")
Dulcey Singer, the producer wanted her to count and recite the alphabet. Of course Buffy had her own idea and  wanted to teach the show's young viewers that, "Indians Still Exist".  She regularly appeared on Sesame Street over a five-year period, breastfeeding her first son, Dakota "Cody" Starblanket Wolfchild, during a 1977 episode. As a matter of fact, it was the first representation of breastfeeding, ever aired on television. Sesame Street even aired a week of shows from her home in Hawaii in January 1978.
The Albums Continue Throughout the 1970's
Sainte-Marie's record label put significant pressure on her to do something more commercially viable for her seventh album. Because Illuminations tanked so bad financially. She released "She Used to Wanna Be a Ballerina", in 1971.
Sainte-Marie released enough records between 1964 and 1969 that  she had enough material for her first "Best of" compilation album. And there was enough left over that she was able to release a "Best of" volume two in 1971.
In 1979, Spirit of the Wind, featuring Sainte-Marie's original musical score including the song "Spirit of the Wind", was one of three entries that year at the Cannes Film Festival. The film is a docudrama about George Attla, the 'winningest dog musher of all time,' as the film presents him, with all parts played by Native Americans except one by Slim Pickens. The film showed on cable TV, in the early 1980s.  It released in France in 2003.
Buffy Sainte-Marie Country Icon The Decade Of The 1980's
Sainte-Marie was using Apple and Macintosh computers as early as 1981 to record her music. Buffy co-wrote the song "Up Where We Belong". With Will Jennings and musician Jack Nitzsche. Joe Cocker and Jennifer Warnes performed it for the film An Officer and a Gentleman. It received the Academy Award for Best Song in 1982. Cliff Richard and Anne Murray later covered the song on Cliff's album of duets, Two's Company.
In the early 1980s one of her native songs was the theme song for the CBC's native series Spirit Bay. She appeared in the TNT 1993 telefilm The Broken Chain. It took place entirely in Virginia. In 1989 she wrote as well as performed, the music for Where the Spirit Lives. A film about native children being abducted and forced into residential schools.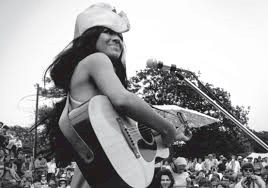 The Decade Of The 1990's
Sainte-Marie voiced the Cheyenne character, Kate Bighead, in the 1991 made-for-TV movie Son of the Morning Star, telling the Indian side of the Battle of the Little Bighorn, where Lt. Col. George Custer was killed.
In 1992, after a sixteen-year recording hiatus. Sainte-Marie released the album Coincidence and Likely Stories.  Recorded in 1990 at her home in Hawaii, on her computer. She sent the recording  to producer Chris Birkett in London, England. The album included the politically charged songs "The Big Ones Get Away" as well as "Bury My Heart at Wounded Knee".
Also in 1992, Sainte-Marie appeared in the television film The Broken Chain.  Her next album followed up in 1996 with Up Where We Belong, an album on which she re-recorded a number of her greatest hits in a more unplugged and acoustic versions, as well as including a re-release of "Universal Soldier".
Art In The Mix
Glenbow Museum in Calgary,  Winnipeg Art Gallery,  Emily Carr Gallery in Vancouver as well as the American Indian Arts Museum in Santa Fe, New Mexico, all display Buffy Sainte Marie's art.
In 1995, Buffy's Music and voice was the feature of an episode of HBO's Happily Ever After. It is an animated cartoon series of fairy tales for children. Buffy was the feature in the episode about Snow White  also titled "White Snow". White Snow is a young Native American Princess who is saved by a young Native American Prince. Buffy wrote the theme song and also sings the song and is the voice of the mirror on the wall.
"Every word is true," Emily says in the introduction"
In 1995, the Indigo Girls released two versions of Sainte-Marie's protest song "Bury My Heart at Wounded Knee" on their live album 1200 Curfews. Recorded at the Atwood Concert Hall in the Alaska Center for the Performing Arts in Anchorage, Alaska. "Every word is true," Emily says in the introduction. The studio recording is the second version, on disc two.
The Decade of The 2000's
In 2002, a track written and performed by Sainte-Marie, titled "Lazarus", was sampled by Hip Hop producer Kanye West.  Cam'Ron and Jim Jones of The Diplomats performed it . The track is called "Dead or Alive".
In June 2007, she made a rare U.S. appearance at the Clearwater Festival in Croton-on-Hudson, New York.
In 2008, a two-CD set titled Buffy/Changing Woman/Sweet America: The Mid-1970s Recordings released, compiling the three studio albums that she recorded, for ABC Records and MCA Records between 1974 and 1976 (after departing her long-time label Vanguard Records). The first re-release of this material. Meanwhile making a comeback to the music scene in Canada, in September 2008.  At the same time, it resulted in the release of her studio album Running for the Drum. Produced by Chris Birkett (producer of her 1992 and 1996 best of albums). 
Between 1997 and 2009, Sainte-Marie dedicated her time and money to the Cradle board Teaching Project. She traveled extensively, performing during this time in Sweden, Denmark and France.  In addition she appeared at the Ottawa Folk Festival in 2002. Universal Soldier," her signature song,  was inducted into the Canadian Songwriters Hall of Fame in 2005.
More of The 2000's
Buffy independently released Running for the Drum (2008), a collection of 12 new songs. It featured American blues musician Taj Mahal on piano and won the 2009 Juno Award for Aboriginal Recording of the Year, as well as four Canadian Aboriginal Music Awards.
Buffy Sainte-Marie: A Multimedia Life (2006), an hour-long documentary featuring archival footage and interviews with several well-known musicians, was also nominated for a 2009 Juno Award for Music DVD of the Year.
The Decade of The 2010's
Sainte-Marie has lived in Hawaii for many years but continues to record and tour well into her seventies. Her album Power in the Blood (2015), recorded on her Gypsy Boy label and distributed by True North Records, won the 2015 Polaris Music Prize as well as 2016 Juno Awards for Aboriginal Album and Contemporary Roots Album of the Year. Sainte-Marie was also featured on the single re-mix of her song "Working for the Government" by fellow Polaris nominee A Tribe Called Red, and received the Spirit of Americana/Free Speech in Music Award from the Americana Music Association in 2015. (Canadian Encyclopedia)
Sainte-Marie's 19th album, Medicine Songs (2017), features a mix of new material, such as "You Got to Run (Spirit of the Wind)," a collaboration with Tanya Tagaq, and re-recorded older songs, including "Starwalker," "Little Wheel Spin and Spin" and "Bury My Heart at Wounded Knee." The album drew positive reviews, with NOW magazine's Michael Rancic observing, "Another artist might show signs of disappointment or uncertainty when faced with the notion that not much has changed in half a century, but on Medicine Songs, in the face of the unchanging nature of the oppression she's expressed through her music, Buffy Sainte-Marie has chosen to be just as determined, unflinching and constant in her own art." Medicine Songs went on to win the 2018 Juno Award for Indigenous Music Album of the Year. (Canadian Encyclopedia)
Buffy Sainte-Marie Country Icon Biography
In 2012, Blair Stonechild's award-winning biography, Buffy Sainte-Marie: It's My Way, was published by Fifth House.
Years of Awards of Buffy Sainte-Marie Country Icon
Juno Awards
•Inductee, Canadian Music Hall of Fame (1995)
•Best Music of Aboriginal Canada Recording (Up Where We Belong) (1997)
•Aboriginal Recording of the Year (Running for the Drum) (2009)
•Aboriginal Album of the Year (Power in the Blood) (2016)
•Contemporary Roots Album of the Year (Power in the Blood) (2016)
•Allan Waters Humanitarian Award (2017)
•Indigenous Music Album of the Year (Medicine Songs) (2018)
Canadian Aboriginal Music Awards
•Lifetime Achievement Award (2008)
•Album of the Year (Running for the Drum) (2009)
• Female Artist (2009)
• Song Single ("No No Keshagesh") (2009)
• Songwriter (2009)
Aboriginal Peoples Choice Music Awards
• Folk/Acoustic CD (Running for the Drum) (2009)
• Music Video ("No No Keshagesh") (2010)
Others
 New Artist, Billboard magazine (1964)
 Academy Awards Original Song, (1983)
 Golden Globe Awards Original Song, (1983)
 British Academy of Film & Television Arts (BAFTA) Award Original Song, (1984)
 International Artist, Charles de Gaulle Award (1993)
 Lifetime Achievement Award, Saskatchewan Recording Industry Association (1994)
 Native American Philanthropist of the Year (1997)
 Best Performance in a Variety Program or Series (Buffy Sainte-Marie: Up Where We Belong), Gemini Awards (1997)
 Officer, Order of Canada (1997)
The Awards Keep Coming
 Contemporary Gospel Recorded Song of the Year, Dove Awards (1998)
 American Indian College Fund Lifetime Achievement Award, (1998)
 Lifetime Achievement Award, National Aboriginal Achievement Foundation (1998)
 Inductee, Canada's Walk of Fame (1999)
 Queen Elizabeth II Golden Jubilee Medal, Government of Canada (2002) – (2012)
 Inductee ("Universal Soldier"), Canadian Songwriters Hall of Fame (2005)
 Canadian Country Music Hall of Fame Inductee, (2009)
 Governor General's Performing Arts Award, Government of Canada (2010)
 Spirit of Americana/Free Speech in Music Award, Americana Music Association (2015)
 Polaris Music Prize (Power in the Blood) (2015)
 Canadian Songwriters Hall of Fame Inductee,(2019)
 Companion, Order of Canada (2019)
Doctor Honorary Degrees
• Fine Arts, University of Massachusetts (1983)
Laws
Regina University (1996)
Carleton University (2008)
Vancouver Island University (2016)
Lethbridge University of  (2017)
Dalhousie University (2018)Letters
Letters
Lakehead University (2000)
Emily Carr University of Art and Design (2007)
Wilfrid Laurier University (2010)
University of British Columbia (2012)
Humanities, University of Saskatchewan (2003)
Music, University of Western Ontario (2009)
Fine Arts, Ontario College of Art and Design (2010)
Canadian Songwriter's Hall Of Fame
"I'm honoured to be recognized in the company of so many Canadian songwriters that have inspired me." (Buffy Sainte-Marie)
Cree singer, songwriter, educator AND social activist Buffy Sainte-Marie, was an inductee into the Canadian Songwriter's Hall of Fame at the SOCAN Awards in Toronto, on April 1, 2019 

Buffy Sainte-Marie Country Icon Featured on The Merritt, BC Mural Walls
"I never set out to be courageous or political, I just wanted to tell my stories as authentically as possible, and bring light to the truth."
Buffy Sainte-Marie has earned countless awards during her 50 plus years as a singer songwriter, musician, indigenous rights activist and educator.
Although we are proud of all her awards, the award Merritt, BC Canada is most proud of is her induction into the Canadian Country Music Hall of Fame in 2009.
Even though Buffy has never entertained us in Merritt. Her music as well as her presence is heartfelt within the community in more ways than one. Buffy's induction into the Country Music Hall of Fame is telling the story of her music and the challenges she has faced over the years.
Sainte-Marie's career isn't just defined by a 50-year span of making popular music. She has also been an advocate for indigenous people throughout the artistry of her songs.  The outspoken words of Sainte-Marie led to her being allegedly blacklisted from radio stations in America by Presidents Lyndon Johnson and Richard Nixon. Despite the blacklisting, Sainte-Marie continued to experiment with music and technologies, using an early synthesizer to record her 1969 album, Illuminations, and again later using Apple II and Macintosh computers in the 80s.
Visit Buffy Sainte-Marie's Mural In Downtown Merritt, BC Canada
Buffy's mural can be found on a row of Murals at the Corner of Granite and Voght Street in behind the stage at Spirit Square.
It is a great honor to have her in The Country Music Hall of Fame and her Mural on our Mural Walk in Downtown Merritt, BC Canada.
The 78-year-old performer also has several Junos, a Polaris Prize, a Governor General's Performing Arts Award, and is an Officer of the Order of Canada. This is a small mention of the awards she has earned. This blog is also only a portion of what she has accomplished.
Buffy is still performing and can be followed On:
Website: http://buffysainte-marie.com/
Facebook: https://www.facebook.com/BuffySainteMarie/

Latest posts by Melvina White
(see all)
https://experiencenicolavalley.com/wp-content/uploads/2019/08/buffy-saint-marie.jpg
331
801
Melvina White
https://experiencenicolavalley.com/wp-content/uploads/2018/05/merrit-nicola-logo-01-300x254.png
Melvina White
2019-08-29 18:53:59
2020-11-11 22:02:16
Buffy Sainte-Marie Country Icon – Country Music Hall Of Fame Inductee