Canadian Country Singer Pioneer – Ian Tyson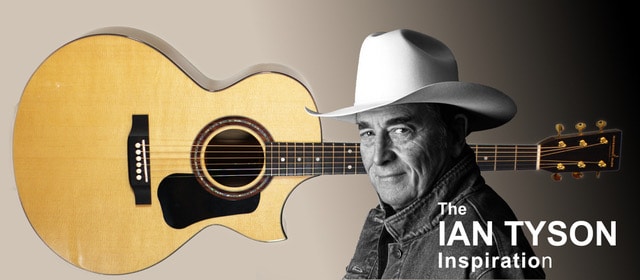 Ian Tyson Web Site
Canadian Country Music Singer – Ian Tyson


A Canadian Country Music Hall Of Fame
Inductee
Ian Tyson Canadian Country Music Singer Pioneer – Five Decades Plus
Canadian Country Music Singer Pioneer Ian Tyson walks with a stiff-legged cowboy gait to the centre of the stage. A preamble to his performance. The walk is an illustration, of what being a cowboy is all about. Falls off horses, bruises, broken bones as well as a reminder that, the cowboy life is not the glamour of the old western movies. Just listen to some of the great recordings performed by Ian Tyson.  An artist who has become a pioneer icon — a timeless singer with a bruised voice who tells stories with the unvarnished luster of truth.
For one thing, Ian Tyson is  an Internationally acclaimed Canadian Country Singer – Songwriter Pioneer. He has created some of Alberta's and Canada's most enduring standards, not to mention a career spanning over five decades. His music has inspired such renowned artists such as Bob Dylan, Neil Young and Gordon Lightfoot. Consequently, over the years, Tyson has continued to create music that captures life in the west through vivid descriptions of Alberta and cowboy culture. Not to mention, a leading spokesman for western pride including helping establish a unique soundtrack to capture the Alberta experience.
Victoria British Columbia – 1933
Born in Victoria, British Columbia in 1933, the second child of George and Margaret Tyson, Ian grew up in Duncan, BC. His Father, who immigrated from England in 1906 owned a small farm. Ian learned how to ride horses on this farm.
Beginning And End of Rodeo Career
He left home as a teenager,  for southern Alberta where he followed and competed in the Rodeo Circuit. A foot injury put him in the Calgary hospital. It was while recovering that he learned how to play the guitar.
The Musical Journey Begins Of A Canadian Country Singer Pioneer
He made his singing debut at the Heidelberg Café in Vancouver in 1956 as well as  played with a rock and roll band, The Sensational Stripes. After graduating from the Vancouver School of Art in 1958, Tyson made his way to Toronto to pursue a music Career.
It was during the 60's folk boom that he met singer/songwriter Sylvia Fricker. As a result, they formed the duo "Ian and Sylvia. On the positive side, as Ian & Sylvia, they were the Canadian stars of the early '60s folk boom. "Ian and Sylvia" enjoyed great success. They were playing all over the country receiving rave reviews and playing to sold-out crowds. One of their high lights was playing New York's Carnegie Hall.
The duo married in 1964. Forming what was to become one of the most influential country acts in the industry, both in Canada and abroad. They recorded over a dozen timeless albums as well as wrote some of Canada's best-loved songs, including Ian's "Four Strong Winds" as well as "Someday Soon"  including Sylvia's "You Were on My Mind". All things considered, some of the most famous artists of our times have covered these songs countless times.
Four Strong Winds
It was during this time that Four Strong Winds was released. The title track became an instant hit. Over 50 versions were recorded in the first five years after its release. It has remained a folk standard. Neil Young recorded Four Strong Winds in 1979.  "It is the most beautiful song, I have ever heard in my life." Johnny Cash recorded the song, shortly before his death. He included the song on his posthumous album released in 2006. The song has also become an Alberta standard. A 2005 radio listener's poll named Four Strong Winds the greatest Canadian song of the 20th century. (Alberta Order Of Excellence)
During the British Invasion
Ian and Sylvia evolved into pioneers of country-rock during the British Invasion.. Their band, Great Speckled Bird, rivaled the Byrds and other groups which helped create modern country, a decade before the Urban Cowboy phase of contemporary "new traditionalists".
Television Years
Ian and Sylvia formed the iconic country rock band "Great Speckled Bird". At the same time, Tyson hosted the national Canadian television music show, "Nashville North." The show was later renamed "The Ian Tyson Show" from 1970 to 1975. Sylvia Tyson and the Great Speckled Bird appeared often on the series.
Back To Ranching
After hosting television music show from 1970 to 1975, the music and marriage of Ian and Sylvia had ended. It was now or never. Disillusioned with the Canadian country music scene. Tyson realized the time had come to return to his first love – training horses in the ranch country of southern Alberta. He once again made Alberta his home, settling in Pincher Creek where he began ranching and living the life about which he was so proud to write and sing.
The Time Of Country And Cowboy Music
"It was a kind of a musical Christmas card for my friends" he recalls. "We weren't looking for a 'hit' or radio play or anything like that."
In 1980, Tyson met Calgary music manager and producer Neil MacGonigill. In  1983. After three years, in spite of working his ranch, Tyson decided to concentrate on music. To begin with, the album Old Corrals & Sagebrush, a mixture of traditional cowboy songs and new western music, was well received.
On the other hand he found it a challenge to combine his two separate lives in new songs that explained the reality of "western culture" and the mindset of a cowboy in a sometimes-alien world. His breakthrough album, 1986′s Cowboyography, earned platinum status in Canada, as well as earned him his first JUNO Award.
All of a sudden, the cowboy renaissance was about to find expression at the inaugural Elko Cowboy Poetry Gathering in 1983. To put it another way a small coterie of saddle makers, rawhide braiders, cowboy poets and pickers came together in a small cow town in northern Nevada. Not only was he invited to perform his "new western music" at the gathering, as well as,  Tyson has missed only one or two gatherings in the 30-plus years since.
The 1987 album Cowboyography contained two songs that were later chosen by the Western Writers of America as among the Top 100 Western Songs of all time: "Navajo Rug" and "Summer Wages".[36]


On The Road
As soon as Tyson's music became popular, he began traveling and performing at concerts across North America. At the same time a busy Tyson stayed true to his roots. Maintaining Alberta as his home as well as working on his ranch in Pincher Creek. As a matter of fact the gravel road that runs from his present ranch in the foothills of the Rockies is the inspiration for Tyson's 2005 album, "Songs from the Gravel Road". As a result, by releasing this album at the age of 71, Tyson has shown that an active cowboy life keeps his creative pulse beating. Not to mention, his discography remains an enduring collection of Canadian classics.
Inductions And Awards Of A Canadian Country Singer Pioneer
Canadian Country Music Association 
Male Vocalist of the Year 1987
Single of the Year – Navajo Rug  1987
Album of the Year – Cowboyography 1987
Vocalist of the Year (Male) 1988
Induction into Canadian Country Music Hall of Honor 1989
Video of the Year – Springtime in Alberta 1991
Juno Awards  
Country Male Vocalist of the Year 1987
Inducted into Juno Hall of Fame (with Sylvia Tyson) 1992
 Big Country Awards
 Outstanding Performance (male) 1975
Best Country Album – Ol'Eon/A&M Records 1975
Top Country TV Show – The Ian Tyson Show 1975
Artist of the Year 1988
Top Male Vocalist1988
Album (Best)- Cowboyography 1988
Country Music Association of Calgary
Male Vocalist of the Year 1989
Alberta Song of the Year – Fifty Years Ago 1989
Top Alberta Single of the Year – Fifty Years Ago 1989
Favorite Calgary and Area Country Entertainer 1989
Miscellaneous
Four Strong Winds named All Time Favorite Canadian Country Songs 1988
Readers Poll – COUNTRY MUSIC NEWS
Finalist, World Championship Cutting Horse Futurity, Fort Worth, TX 1989
INDUCTION Canadian Country Music Hall Of Fame 1989
Country Music Association of Calgary 1989
     – Alberta Male Vocalist of the Year
     – Top Alberta Single of the Year (Fifty Years Ago)
    –  Song of the Year (Fifty Years Ago)
    – Harcourt, Calgary and Area Country Entertainer
More Awards
 Song of the West Reader's Poll for Best Album of the Year: "And Stood There Amazed" 1991
First Male Country Vocalist to Achieve Two Gold Albums in Canada 1992
ASCAP Country Award (Someday Soon) 1992
Honorary Dr. of Athabasca University 1993
RECIPIENT- Order of Canada 1995
Prairie Music Awards – Outstanding Country Recording (Lost Herd) 1999
American Cowboy Culture Awards – Western Music Award 2000
Strong Winds voted Canada's No. 1 song of the 20th Century 2000
Prairie Music Hall of Fame 2001
Honorary Dr. of Law – University of Calgary 2001
Western Heritage Wrangler Award – Outstanding Original Western Composition for "Bob Fudge" 2002
Governor General's Performance Arts Award 2003
BCCMA Hall of Fame 2006
Alberta Order of Excellence 2006
Mariposa Folk Festival Hall of Fame 2006
CBC Radio Listeners' Poll declares Four Strong Winds the Number One Canadian song of the 20th Century 2006
Honorary Dr. of Letters – Thompson Rivers University 2007
ASCAP Citation of Excellence 2008
Western Music Hall of Fame 2008
Western Horseman Magazine's Horseman of the Year Award 2009
Resonance Award – presented by Canadian Museum of Civilization for a lifetime's contribution to Canadian music. 2009
First Recipient of the Charles Russell Heritage Award (C.M. Russell Museum, Great Falls, MT) 2010
The Diamond Jubilee Medal from Her Majesty, Queen Elizabeth II in honour of the 60th anniversary of her reign.  2012
Doctor of Laws (honoris causa) – University of Lethbridge  2015
Fellowship, Glenbow Museum, Calgary, AB  2015
Association of Country Music in Alberta (ACMA) – Hall Of Fame 2017
Songs from the Gravel Road TV Documentary
• 2011 – Bronze Medal – 54th New York Festival's International Television & Film Awards 2011
• 2011 – Gold Remi Award – Best TV Documentary – 44th Houston Independent Film 2011
 
Alberta Recording Industry Association
Male Performer of the Year 1987
Country Artist of the Year 1987
Song of the Year – Navajo Rug 1987
Album of the Year – Cowboyography 1987
Single of the Year 1988
Best Country Artist on Record 1988
Male Recording Artist of the Year 1988
Composer of the Year 1989
Performer of the Year 1989
Some Top Honors
Ian was inducted into the Canadian Country Music Association Hall of Honor and Hall of Fame in 1989. To the Juno Hall of Fame in 1992, the Canadian Broadcast Hall of Fame in 2000, as well as the Prairie Music Hall of Fame in 2001. Ian Tyson was inducted into the Mariposa Hall of Fame in 2006.
Tyson  holds honorary doctorate degrees from the University of Calgary and Athabasca University. He became a member of the Order of Canada in 1994.
Tyson became a recipient of the Order of Canada in October 1994. In 2005 CBC Radio One listeners chose his song, 'Four Strong Winds' as the greatest Canadian song of all time, during a radio series titled "50 Tracks: The Canadian Version". (Biography)
He was inducted into the Alberta Order of Excellence in 2006 as well as 2003 including receiving a Governor General's Performing Arts Award.
Connecting With People
"Tyson said, "I made it a point to reach as many people as possible through my music, including people not directly from the ranch culture." (Ian Tyson)
As a matter of fact, Ian's goal has been to write songs to which different people could all relate. Not only but also the popularity and longevity of his many albums, along with the awards and recognition that followed, are proof that Tyson has been able to achieve that goal.
Ian Tyson tells the story of rural Alberta and today's West, above all through his music. He reveals the challenges of a rancher's life, the beauty of the Rockies as well as the cowboy's strong work ethic.
Passion, Talent and Inspiration Of A Canadian Country Singer Pioneer
As has been noted the path of Tyson's career serves as a model for Canadian musicians starting out in the industry today. In short, his dedication to music and his style is firmly recognized. By always focusing on his home as well as his passions. Tyson serves as a mentor for new artists, such as Albertan Corb Lund.
In addition Tyson has used his skill and passion for music to benefit the community. To emphasize, performing at fundraising concerts across Alberta, Canada and internationally to raise awareness of and support for many causes. In particular, including child safety and education. As a compassionate rancher and environmentalist, Tyson has also joined his fellow Southern Albertans in work to preserve the natural landscape of rural Alberta.
Life Challenges
"I fought the sound system and I lost" (Ian Tyson)
Life has not been without its difficulties, however. In 2006, he seriously damaged his voice after a particularly tough performance at an outdoor country music festival.  As a result,  a virus that took months to pass, his smooth voice now hoarse, grainy, had lost much of its resonant bottom end. Generally speaking, after briefly entertaining thoughts that he would never sing again, he began relearning and reworking his songs to accommodate his "new voice." To his surprise, audiences now paid attention as he half-spoke, half-sung familiar words, which seemed to reveal new depths for his listeners. (Biography)
Summary of a 63 year Canadian Country Singer Pioneer
Ian Tyson is now 84 years old. He's still going strong. Still touring, recording, as well as running the Tyson ranch in Pincher Creek, Alberta Canada. At the same time continuing to writing about love, horses, and the landscape he loves. He released his most recent single "You Should Have Known" in September 2017 on Stony Plain Records, the label that Tyson's released fifteen albums with since the '80s. The song unapologetically celebrates the hard living, hard drinking, hard loving cowboy life and joins his favorites hits such as "Four Strong Winds," "Someday Soon," "Summer Wages" and more. (Biography)
"Your Eighties Is Not A Time For Sissies" (Ian Tyson)
Tyson doesn't look backwards at six decades plus of a career that's earned him countless awards, the Order of Canada, and a devoted following. He faces the audience, as he faces the future, with a mixture of optimism and resignation. Your eighties, Tyson tells people, is not a time for sissies.
An announcement in July 2019 stated that Ian Tyson and Sylvia Tyson would be inducted into the Songwriters Hall of Fame. They will be inducted individually, not as a duo. The Canadian Broadcasting Corporation article stated that "the duo's 1964's hit, Four Strong Winds, has been deemed one of the most influential songs in Canadian history".
Canadian Country Singer Pioneer – Ian Tyson A Canadian Country Music Hall Of Fame Inductee On The Downtown Merritt BC, Canada Mural Walk
Performing at The Merritt Mountain Music Festival in 2005, and returning to Merritt BC Canada in 2010, to perform and support the Walk Of Stars as well as the Canadian Country Music Hall of Fame Galas. Ian Tyson earned his spot on the wall. The mural of Ian Tyson can be found on the back of the stage in Spirit Square on the corner of Granite and Voght Street.
Ian Tyson – Canadian Country Singer Pioneer Plays The Infamous Merritt Mountain Music Festival
The crowd was gathered in the white lawn chairs in the VIP section right in front of the stage. They were waiting in anticipation for the "One of A Kind – Authentic and Durable Headliner for the night Ian Tyson."
Backstage. Tyson runs through the vocal warm up routine he's done numerous times throughout his five-decade career. He stretches his arms and legs. And then his vocal cords. He tunes his guitar and then saunters to the stage.
Taking the stage, he starts singing his songs about the west. His voice picks out just the right notes as his fingers pick out the chords. This isn't honky-tonk over-produced country and western twang. We were getting real ballads about places and legends, and a world that is slowly vanishing.
Like most Ian Tyson shows the evening was closed out to a roaring crowd with "Four Strong Winds." For a true Ian Tyson Fan this is the song to wait for.
Ian Tyson Canadian Country Singer Pioneer Headlines The 7th Annual Walk Of Stars Gala
The seventh annual Merritt Walk of Stars (MWOS) gala, a fundraiser for the Canadian Country Music Hall of Fame, kicked off with a free show in Spirit Square, from some top names in the industry.  It was followed by a world-class concert that night at the Civic Centre where Ian Tyson was The Headliner.
When Tyson finally raised his white cowboy hat and waved to fans, it was to an enthusiastic, well-earned standing ovation.
Tyson performed in the afternoon as well as signed his mural painted by Michelle Loughery during the day at Spirit Square. The public were invited to meet him as well as the rest of the performers. Fans were able to see the artists on stage, get autographs, and get right up close with them.
"These murals are a great way for visitors to walk the downtown area. We enjoyed our visit, stopped at a few shops, and bought a souvenir too… Nice small town touch". (Don H Kirkland Washington)

Canadian Country Music Hall of Fame Merritt Attractions – Take The Walk
Visit downtown Merritt in the beautiful Nicola Valley, Merritt, BC and take part in the Canadian Country Music Hall of Fame, Merritt, BC Mural Walk. The Canadian Country Music Hall of Fame includes Hall of Fame Inductees as well as CCMA Award Winning Artists.
True country music fans will want to start the downtown mural tour at Merritt's National Attraction. The Canadian Country Music Hall of Fame, situated on Quilchena Avenue in The Country Music Capital of Canada.
The Merritt Mural Project was created in 2005. The Merritt BC Murals were part of a successful program called, the "Merritt Youth Mural Project". A project designed for working with local young artists and " youth at risk". Merritt Murals were painted by muralist Michelle Loughery.
"It is important for Merritt to continue to grow as the Country Music Capital of Canada." (Ron Sanders President: Country Music Hall Of Fame)
Walk Of Stars Hand Prints
In addition, while on your mural tour, visit the many handprints of country artists situated throughout the town.
Hundred's of International Country Music Artists have performed at the annual Merritt Mountain Music Festival. As a result, those stars  left their mark permanently, by placing their handprints (or, in one case, footprints) and signatures in concrete stars. As a result, in 2003, those stars became the basis for the Merritt Walk of Stars. In addition, by 2005 more than 100 bronzed stars, created from the concrete impressions, were displayed throughout the community. (Canadian Country Music Hall of Fame)
Above all, the handprints will continue to grow with the Rockin River Music Fest, and add to the existing legacy of the stars that have visited and performed in Merritt, BC.
"If you love Country Music…. All over the downtown area are painted murals of Country Music Stars. Also on the sidewalks are plaques of Country Music stars who have apparently visited and played in Merritt. A worthwhile walk around the town to see."

(Melody K. Montana USA)
Discover and experience the natural beauty and attractions in Merritt and the Nicola Valley!
Follow Canadian Country Music Singer – Ian Tyson

Latest posts by Melvina White
(see all)
https://experiencenicolavalley.com/wp-content/uploads/2019/08/ian-tyson-guitar.jpg
280
640
Melvina White
https://experiencenicolavalley.com/wp-content/uploads/2018/05/merrit-nicola-logo-01-300x254.png
Melvina White
2019-09-09 00:14:51
2020-05-29 02:34:44
Canadian Country Singer Pioneer – Ian Tyson