Merritt and Nicola Valley Art Shows

Merritt And Nicola Valley Art Shows
A review of a summer of Art and Culture Shows in what has been a great display of community artistic talents
"Get-in-the-mood for fall art!"
Nicola Valley Art Shows in Merritt BC attract locals and visitors to the region! The Courthouse Art Gallery puts on a new show almost every month. We often choose themes for our shows that compliment what is happening in our community. Our locals enjoy the mirroring of our themes. This strategy helps visitors get to know our local interests and history.
More Nicola Valley Art Shows
Merritt Arts and Culture, and lots of it, has been happening in the Nicola Valley since I last wrote a Gallery blog! In February, we had a fun community show called The Art of Sound. We really enjoyed drumming with Raven Ritcey at our Open Mic night at Kekuli Cafe. And experiencing Singing Bowls with Gale Simpson, right in the Gallery.
In addition to that, in March, we honoured four long time artists in our Nicola Valley. One of our young artists, when he heard who was coming, gave the show its title….
Living Legend Contribute To Nicola Valley Art Shows
Evelyn Armstrong, Pius Chong, Doug Strand and Jackie Stibbards have been contributing to the art and culture scene in the valley for decades. Moreover, all of them are still creating art in their own way. The community had an opportunity to catch up with these artists at an Artists Talk at the Courthouse Art Gallery.
Personal History Of Art In Merritt
As a result we heard stories about their artistic beginnings, their journeys in the art world, and then the inspirations for the work they are each doing now.  Firstly, Pius Chong created a wood sculpture with bright blocks of colour. Secondly, Doug Strand brought human figure sketches.  Evelyn Armstrong displayed a series of photos of water in different states with ecological commentary. And lastly Jackie Stibbards exhibited a variety of work, from photos, to mixed media scrapbooks.
For April, we switched it up, bringing in one of the valley's younger artists, Michelle Lonsdale…
Wondernatural
Michelle Lonsdale has taken part is several of our Nicola Valley Art Shows at the Courthouse Gallery! 
She brought a touch of whimsy to the Art Gallery. For example Michelle offered up thoughtful twists in much of her work, like her black buggy in a meadow. Moreover Michelle was on hand when her past art teacher, Shannon Dunn, brought a high school class to see her exhibition.

We also had an Artist Talk with Michelle and really enjoyed her discussions about art, and her process.
From this young artist, we segued to even younger aspiring students from our local high school, participating in the School District 58 Arts Festival….
Create-Communicate-Connect
School District 58 once again held their Arts Festival mid spring. They brought the artistic expression of our youth in the public schools to our community. Performance art, music, and visual art made their way into our Civic Centre, the Kekuli Cafe Open Mic, the Secret Door Gallery and to the Courthouse Arts Gallery.
The Merritt Senior Secondary School art students had the opportunity to display their varied work at our Nicola Valley Arts Gallery in the old courthouse. The theme Create-Communicate-Connect showed up in the drawings, paintings, and 3D art for the short show.
Certainly a lot of work by the students and teachers, a lot of reward for the community!
Following the exhibition showcasing our young local talent was an inspiring show by an artist who has made her way in the art world her whole life! And her art style is perfect for our Nicola Valley….
Forever West
Artist Faye Gustafson moved to our Merritt BC Canada community, with husband Ian Brooker, after several years of  participating in our local arts programs, like past Art Walks. Faye's work in sketches and oils is made for our western community!
"The cowboy way of life has always appealed to my soul" says Gustafson.
"I love the endless stories of the people who lived way back when, and the excitement the modern cowgirls and cowboys still enjoy!"
Consequently Gustafson has exhibited her work in Canada and United States, Japan and Australia. Additionally she holds several awards for her artwork. We were very happy to exhibit her work in a single-artist show in our Gallery.
After that, the Nicola Valley Arts Gallery pulled together a show with other community groups to remember a heritage building in the valley….
Murray Church In The Nicola Valley
A well attended show by the Nicola Valley Community! This exhibition of art and artifacts honoured the place the historic Murray Church played in our valley. When the Murray Church was destroyed in a fire so many people felt the loss. The loss elicited so many memories. As a  result this show elicited stories going back decades, from far and wide.
We appreciated the artists and photographers who came forward with newly created depictions of the church. The past paintings drawings, and photographs touched many people. We especially loved the inspired presence of the original organ from Morva Murray.
Also we were very grateful for the participation of the Trinity United Church members, like Linda Baird, who contributed story boards, artifacts, art and memories. In short, a big kudos goes out to Amrit Samra for his dedicated work with us, and over the past years with the Murray Church.
After sharing memories of a much-missed historical building, we spun off a fun art activity in town. We put on a show creatively reusing items and making them better, more useful, and more beautiful than they were before….
Upcycle
During the summer, artist Shirley Reynolds organized an art event for the whole business community, the Chair Walk. Fifteen local artists were invited to upcycle a chair each. They were matched with downtown businesses, and displayed over the month of July. The chairs were put on auction to fundraise for the Downtown Theatre project and the Nicola Valley Arts Council. They were great! Very creative! Shirley's chair project was a great success.
We invited the artists to bring their chairs to the Arts Gallery for our August show. And a call-out brought a wide variety of upcycled items from other artists and artisans. From paint sprayed garden pots to a 1st Nations art decorated corner shelf by artist Leonard George. Also there were blinged lamps and Cindy Trent's golf club coat hooks. The locals outdid themselves! As a result of the displays, some visitors to the gallery were motivated to get into upcycling themselves!
Next, inspired by both the Fall Fair at the beginning of September, and the "Mayor's Gala of the Arts" at the end, the Gallery's September show combined the themes….
Swing Into Fall
Get-in-the-mood for fall art! On display at the Courthouse Gallery were many of the Photography winners of our celebrated Fall Fair. The photos were displayed on free standing dividers flanking fall paintings by local artists Robert Moretti. All the paintings nearby were depictions of fall themes and colours. Art by beloved local artist Bev Veale, young Wyatt Collins, and almost new-to-town Dave and Sue Barber.
And to enhance the swing dancing event coming, we created a 40's themed boudoir with swing dance art on the wall and big band music playing. In short, thanks to all our contributors like Diane Wandler and Barb Sayles, and artists Judy Young and Jen Artibise! Fun!
And for the Arts and Culture scene in the Nicola Valley….
End of September 2019… Swing Dance in Merritt BC!
Nicola Valley Community Arts Council and its community partner put on a fabulous "Mayor's Gala of the Arts"! It took a year of planning to pull it off, with NVCAC Execs, Jane Bartle and Mischelle Pierce leading lots of volunteers. Consequently, over 200 people enjoyed the lively music of an 18 piece swing band. There was dancing, socializing, beverages and beef.
A highlight of the evening for me was the pop up Art Gallery at the Gala event. While I looked after the show at our Courthouse Arts Gallery, the President of the NVCAC Jean Kiegerl, and artist extraordinaire, Cassandra Dolen, put together a beautiful display of art by several of our local artists. 
As a result of the Gala's fun and success, there have been lots of requests for a repeat next year!
Lots of Nicola Valley Art Shows at the Old Courthouse on Nicola Avenue!
On the other hand we haven't even talked about Art in the Park and the community art installations. Or Open Mic night, and other programs we have run at the Gallery and other community venues over the past months!
As a result I am happy to play catch up a little, here on our fab Experience Nicola Valley blogging website!
So I am very happy to have directed and curated these Nicola Valley Arts Gallery shows…fun, interesting, informative, and inspiring! And so many artists, photographers, artisans, and talented community members!
Therefore, I am looking forward to my next blog! Already in the middle of a new show, "Fractured Reflections", with fine woodworking and mirrors by Fred Tomlin. A must see! Show dates Oct 11 to Nov 9, hours Thursday to Saturday, 12-6pm.
Join the NVCAC Arts Council! Annual General Meeting, Wednesday 7pm, Oct 23rd, at the old Courthouse.
Contact nicolavalleyartsgallery@gmail.com
Jano Howarth
Arts Gallery Director and community supporter!
Art and Culture Things To Do:
Firstly,  visit our Website Nicola Valley Arts Council
Secondly, like our Facebook Page Nicola Valley Arts Gallery
Lastly, check out the Creative Community
Merritt and Nicola Valley Art Shows
Nicola Valley Art Gallery and Culture Shows is what has been happening in and around Merritt BC Canada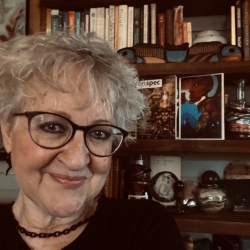 Latest posts by Jano Howarth
(see all)
https://experiencenicolavalley.com/wp-content/uploads/2019/10/0045-IMG_4404-e1571378960287.jpg
1080
1080
Jano Howarth
https://experiencenicolavalley.com/wp-content/uploads/2018/05/merrit-nicola-logo-01-300x254.png
Jano Howarth
2019-10-19 18:28:51
2020-07-14 19:09:21
Merritt and Nicola Valley Art Shows