Camping in Merritt BC and the Nicola Valley
Camping in Merritt BC and the Nicola Valley
Harmon Lake in the Kane Valley
This is the second time around for this blog on Camping in Merritt and the Nicola Valley.  I previously released this in the winter but decided it might be more interesting to those looking for a great spot to camp without over crowding.  The site at Harmon Lake is a Forestry Recreation Site and therefore there are no reservations taken.  Mid week is usually the best time to arrive as the weekends can be quite busy.
My favourite spot for camping in Merritt BC Canada
I have talked about camping in Merritt BC and the Nicola Valley before but this time I want to introduce you to one of my top spots – Harmon Lake in the Kane Valley.  I know we have shifted into winter and camping is probably not high on your list of things to do, but I need to get this down on paper now so you can file this under–"remember for camping season" 
What do you like to do when camping in Merritt BC?
We like to start our day with a delicious breakfast.  There is nothing better than eating pancakes with homemade blueberry syrup and bacon beside a beautiful lake while camping in Merritt BC and the Nicola Valley! Scrambled eggs and gourmet sausages are pretty good too.
Post breakfast activities
After breakfast we grabbed our bikes and headed out on a little trip along Kane Valley Road.  There are many lakes to see on this road with wild life on either side, especially birds for people who are into this activity.  Bikes can also be used on the 55 kilometers of x-country ski trails with the added bonus of picnic tables and pit toilets in various places along the trail.  These facilities are not maintained in the summer so please be kind to your fellow adventurers and leave the places clean.
We interspersed our activities with some serious reading and outstanding meals.  As well, we filled in our night time with Board Games and sitting around the fire.
"There is nothing like sitting around the campfire and reading a good book"–Andrea Reynolds
How to get to Harmon Lake in Merritt
From Merritt, BC you take the Okanagan Connector (Hwy 97C) towards Kelowna for approximately 14 kilometers.  You will see the sign for Harmon Lake (if you missed that sign look for the x-country ski sign–it will get you to the same place). Make the right turn onto Kane Valley Rd and follow it approximately  8 kilometers.  At this point you have a decision to make.  On the left you will see the entrance to the east campground.  If you stay on Kane Valley Rd for about 800 meters you will come to the West Campground. (link to map)

Heading west 
The west campground in my mind is prettier than the east campground and the sites are further apart.  The down side is that it can be windier than its counterpart.  The east side has more amenities such as the boat launch, the campground host, access to the lake and hiking trails.
What you need when you are camping at Harmon Lake
My family prefers non motorized activities and so we bring our bikes, kayaks and hiking boots

If you like motorized vehicles there are plenty of places to use your ATV, dirt bike or fishing boat with a small motor.
Hiking in the Kane Valley
Hiking is one of our favourite things to do.  The easiest hike is the shoreline trail that takes you around the lake.  One of the bonuses of this hike is that it is located in a Forestry Recreational Area. It has an interpretive site that provides a lot of information on the eco systems of the lake area.  This is an easy hike and takes about 45 minutes to an hour.
There are 55 kilometers of ski trails with varying levels of difficulty.  They all provide a great forest experience. Times of these hikes vary with length and difficulty.
Kayaking on Harmon Lake
Harmon is great for this activity.  The lake is small so you are usually not far from any edge of the lake so you really don't have to worry about falling in the Lake!  It is a beautiful lake but it seems even prettier when you are looking on shore from your Kayak
When all is said and done it is easy to see why one of my favourite places to camp in Merritt and the Nicola Valley is Harmon Lake.
Harmon Lake is camping in Merritt BC
Nicola Valley Campgrounds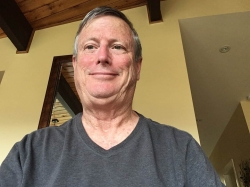 Latest posts by Tom Reynolds
(see all)
https://experiencenicolavalley.com/wp-content/uploads/2019/11/shoreline-trail-tom-reynolds.jpg
674
1365
Tom Reynolds
https://experiencenicolavalley.com/wp-content/uploads/2018/05/merrit-nicola-logo-01-300x254.png
Tom Reynolds
2019-11-24 20:01:22
2021-07-04 23:46:03
Camping in Merritt BC and the Nicola Valley