George Jones – Country Music Legendary Icon

George Jones
Country Music Legendary Icon Mural In The Nicola Valley
George Jones Featured On The Walls of The Merritt BC Downtown Murals

George Jones' career began in 1954. During his six decades as a professional singer-songwriter, he achieved international fame for his long list of hit records, as well as his distinctive voice.
Jones was frequently referred to as the greatest country voice in the history of country music. He had the ability to immerses himself completely into the lyrics, and convey many emotions while drawing in the listener,  letting them feel the emotions like they were living them. He could make you cry with a single note or a simple phrasing.
"It's never been for love of money. I thank God for it because it makes me a living. But I sing because I love it, not because of the dollar signs." (George Jones)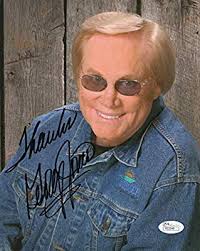 George Jones and Some Hard Times
George Jones Born on Sept 12, 1931 in a log cabin, on an oil patch settlement in a remote Texas region known as the Big Thicket and was raised in Saratoga Texas.
Jones was the eighth child of George Washington Jones, a pipe fitter and shipyard worker who played guitar and harmonica. Clara Jones his mother a church pianist, played piano in the Pentecostal Church on Sundays.
The sounds of gospel and country music dominated the modest household — and the abusive rages of George's father, who turned to alcohol to drown his pain when his sister died from a fever.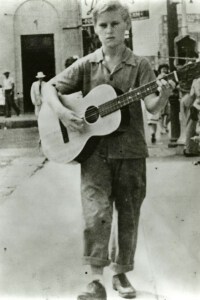 "We were our Daddy's loved ones when he was sober, his prisoners when he was drunk," the singer wrote in his 1996 autobiography, "I Lived to Tell the Tale."
First Step To A Journey
Born in to poverty he became one of the most financially successful country music artists ever. George got his first guitar from his father at the age of nine. He learned to play it at church.
From poverty beginnings and playing on street corners to Nudie Suits and sold out shows. George never ceased to amaze those listening.
 At 11-years-old, Jones started making money as a guitar player and singer in front of a local church.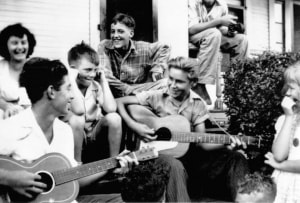 The influence of Hank Williams' songs, heartache as well as  joy, and the honky-tonk songs of Ernest Tubb became a major source of inspiration for George.
Hank Williams and Lefty Frizzell, heavily influenced George in his formative years. Jones quickly adopted the twisting and turning of syllables, words and phrases, of Lefty Frizzell.
Second Step To The On Going Journey
After his divorce to Dorothy Bonvillion whom he had a daughter with. George did a stint in the United states Marine Corp from 1951 – 1953. He was inactive 1954 –  1956 and officially discharged in 1956.

During his Military service he was stationed in in San Jose California. He was able to satisfy his passion by singing and performing in all the local bars.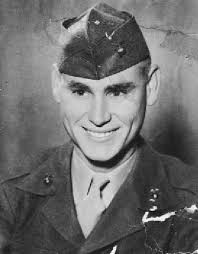 Discovered by "Pappy Daily", co-owner of Starday Records Jones signed with the label in 1953. A partnership that lasted for years, Daily also became Jones producer and manager.
Jones first single "No Money In This Deal"  released in 1954 received no attention. Three more singles released that year failed to gain any notice.
Shirley Ann Corley became George's second wife in 1954, with whom he had two sons. The marriage endured ups and downs until it fell apart for good in 1968.
George Jones – The Voice Of An Angel
"George Jones was an imperfect man with a perfect voice. He lived like a devil and sang like an angel." (Ian Crouch New Yorker)
"Why Baby Why" hit the charts in 1955. This was the beginning of Jones positioning himself as one of the most influential singers in country music history. He would become the master of romantic disillusionment that would become his artistic signature.
Jones was on the road to success. Daily secured him a spot on "The Louisiana Hayride", where he was co-billed with "Elvis Presley" and "Johnny Cash".
He would never leave the top of the country charts, even though his personal life and professional life would suffer continual turmoil.
After joining The Grand Ole Opry in 1956. He would produce a number of hits in the next decade, including "White Lightning," "She Thinks I Still Care," and "The Race Is On."
George released "White Lightening" in May of  1959. It would be his first number-1 single of his career. Staying at number-one for five weeks the song remained on the charts closing out the decade.
Travels Of The Singing Angel Continue
A part of Jones career that is often overlooked is his success as a songwriter. He wrote or co-wrote many of his biggest hits. Jones most favourite song writing collaborator was his childhood friend "Darrell Edwards."
Famed artists recorded songs written or co -written with George Jones. "Window Up Above" was a smash hit for Mickey Gilley.
"Seasons of My Heart" written by Jones and Darrell Edwards (a hit for Johnny Cash, and recorded by Willie Nelson as well as Jerry Lee Lewis.

"You Gotta Be My Baby" and "Don't Stop The Music" on his own and co-wrote "Color of the Blues" ( by Loretta Lynn and Elvis Costello), "Tender Years" and "Tall, Tall Trees" (co-written with Roger Miller). (Wikipedia)
Jones signed with United Artists in 1962 and scored one of the biggest hits of his career, "She Thinks I Still Care". His voice had grown deeper during this period and carved the singing style that became uniquely his own.
George cut an album of duets with Melba Montgomery, including the hit "We Must Have Been Out Of Our Minds". Jones was also well on his way to gaining a reputation as a notorious hell-raiser. (Wikipedia)
On tour Jones was always backed by the 'Jones Boys'. Johnny Paycheck was the 'Jones Boys' bass player in the 1960's before going on to his own stardom in the 1970s.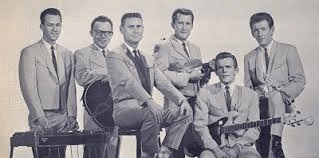 In 1964, Pappy Daily secured a new contract with Musicor records. For the rest of the 1960s, Jones would score only one number one (1967's "Walk Through This World With Me") but he practically owned the country music charts throughout the decade.  A number of significant hits include "Love Bug", 1964's "The Race Is On", as well as the 1969 duet album with Gene Pitney.
Nearing The End of The 60's Decade
Jones' binge drinking and use of amphetamines on the road caught up to him in 1967 and he had to be admitted into a neurological hospital to seek treatment for his drinking.
Jones would go to extreme lengths for a drink. The most famous drinking story concerning Jones occurred while he was married to his second wife Shirley Corley.
Jones recalled Shirley making it physically impossible for him to travel to Beaumont, located 8 miles away, to buy liquor. Because Jones would not walk that far, she would hide the keys to each of their cars. She did not, however, hide the keys to the lawn mower. Upset, Jones walked to the window and looked out over his property. He later described his thoughts in his memoir:
"There, gleaming in the glow, was that ten-horsepower rotary engine and under a seat, a key glistening in the ignition. I imagine the top speed for that old mower was five miles per hour. It might have taken an hour and a half or more for me to get to the liquor store, but get there I did." (George Jones)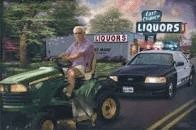 Jones closed out the 1960's decade with  solo efforts as well as collaborations receiving enthusiastic responses. He married Tammy Wynette and was ready for the next decade and what a decade it would be.
George And Tammy The Reigning King And Queen of Country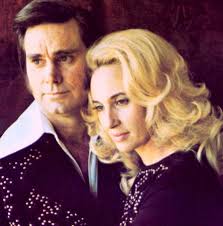 Jones wrote: "I felt rage fly all over me. I jumped from my chair, put my hands under the dinner table, and flipped it over. Dishes, utensils, and glasses flew in all directions. (Auto Biography)
Jones and Wynette met because their tours were booked by the same agency and their paths sometimes crossed.  Wynette was married to songwriter Don Chapel, who was also the opening act for her shows at the time. The three became friends.
Jones went to their house for supper and while she was fixing the meal Wynette and Chapel got into a heated exchange with Chapel calling his wife "a son of a bitch". See quote.
"After the table flip, Don and Tammy's eyes got about as big as the flying dinner plates." Jones professed his love for Wynette on the spot and the couple were married in February, 1969.
Nearing The End With Musicor
At about the same time George and Tammy married. George was unhappy with the sound of his Musicor records and tensions were building between Jones and producer Pappy Daily. Jones blamed Daily for his sound and left Musicor. He had to fulfill his contract with Musicor before they would let him sever all ties.
In the middle of 1971 Jones severed all ties with Musicor and Daily. He signed away all his rights to the Musicor recordings and signed with Epic in October 1971. Billy Sherrill at Epic Records became Jones producer.
Jones and Wynette became known as "Mr. & Mrs. Country Music" in the early 1970s, scoring several big hits.
Kicking Off A Successful Career At Epic
Sherrill and business partner Glenn Sutton are rumored as the defining influences of the countrypolitan sound. A smooth mix of pop and country music that was popular during the late 1960s and throughout the 1970s. A far cry from George's honky tonk roots.
Billy Sherrill was known for his string-laden productions and his precise, aggressive approach in the studio. Under his direction, musicians were there to obey his orders and that included singers. Jones was accustomed to the relaxed style of Dally, the complete opposite of Sherrill. As a result, they got off to a shaky start. The pair soon developed a fruitful working relationship. Sherrill turned Jones into a full-fledged balladeer.
In Sherrill, Jones found the producer capable of creating the weepy arrangements his voice deserved and his torment demanded…He summoned for Jones the sighing strings that almost made the misery of albums like 1974's The Grand Tour and 1976's Alone Again sound better than happiness could possibly feel.
Unlike most singers, who might have been overwhelmed by the string arrangements and background vocalists. Jones' voice, with its frightening intensity and lucid tone, could stand up to anything.
The success that Sherrill had with Jones proved to be his most longest-lasting association.
Jones and Wynette's Turbulent Years
In October 1970, shortly after the birth of their only child Tamala Georgette, Jones was committed to The Watson Clinic in Lakeland, Florida. He was kept there to detoxify for 10 days before being released with a prescription for Librium.
Jones managed longer stretches of sobriety with Wynette than he had enjoyed in years. However, as the decade wore on the erratic behavior worsened.
One time I woke up at one o'clock in the morning to find George gone: "I got into the car and drove to the nearest bar 10 miles away. When I pulled into the parking lot there sat our rider-mower right by the entrance. He'd driven that mower right down a main highway… He looked up and saw me and said, 'Well, fellas, here she is now. My little wife, I told you she'd come after me."
Prior to his relationship with Tammy. Over the years, George earned his drinking and drugging reputation by living his songs. His personal life continued to spin out of control. His previous reputation as "No show Jones", or showing up drunk would once again be his reputation until he quit drinking for good in 1999.
Jones and Wynette's marriage started out with promise. They had great success with a number of their duets reaching the top ten. They both continued to do well on their own with Jones releasing several top charting singles. Tammy gave birth to their daughter at this time and by all appearances, all seemed to be well.
However behind the scenes George continued his battle with drugs and alcohol. The marriage was in trouble and would end once and for all on March 21, 1975.
Late 70's Dark Times For Jones
In the late seventies, Jones spiraled out of control, falling apart both physically and mentally. A manager named Shug Baggot introduced him to cocaine before a show because he was too tired to perform.
Despite the severe abuse George continued to make interesting music. He began flirting with Rock and Roll, covering Chuck Berry's "Maybellene" with Johnny Paycheck as well as recording a duet with James Taylor.
By February 1979 he was homeless, deranged, and destitute, living in his car. He weighed under a hundred pounds. It took him more than two years to complete My Very Special Guests, an album on which Willie Nelson, Linda Ronstadt, Elvis Costello, and other famous fans came to his vocal aid and support.
In June 1979, he appeared with Waylon Jennings on Ralph Emery's syndicated radio program and at one point Jennings cracked, "It's lonely at the top." A laughing Jones replied, "It's lonely at the bottom, too! It's real, real lonely, Waylon."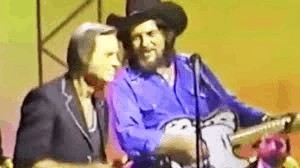 Despite his unreliability, Jones was still capable of putting on a captivating live show. On Independence Day, 1976, he appeared at Willie Nelson's Fourth of July Picnic in Gonzales, Texas in front of 80,000 younger, country-rock oriented fans. A nervous Jones felt out of his comfort zone and nearly bolted from the festival but went on anyway. He wound up stealing the show. The Houston Post wrote, "He was the undisputed star of this year's Willie Nelson picnic…one of the greatest."
Jones began missing more shows than he made, including a highly publicized date at the Bottom Line club in New York City. When he finally played the Bottom Line in 1980, the New York Times called him "the finest, most riveting singer in country music."
The 80's Comeback And Life Turnaround
It's no secret that Jones had a long history of alcohol and cocaine abuse, as well as broken marriages that were punctuated by episodes of violence. After an enormous run of early success, by the late '70s he was virtually washed up, having earned the nickname "No Show Jones" for his penchant of simply not showing up for planned performances.
In 1980, a 3-minute song changed his life. His long time producer, Billy Sherrill, recommended he record "He Stopped Loving Her Today," a ballad by Curly Putnam and Bobby Braddock.
The song took more than a year to record, partly because Jones couldn't master the melody, which he confused with Kris Kristofferson's "Help Me Make it Through the Night," and partly because he was too drunk to recite a brief, spoken interlude ("She came to see him one last time/And we all wondered if she would/And it kept running through my mind/This time he's over her for good.")
The last words Jones said about "He Stopped Loving Her Today" was "Nobody'll buy that morbid son of a bitch".
Although he had disliked "He Stopped Loving Her Today" when it was first offered to him, Jones ultimately gave the song credit for reviving his flailing career. Stating that "a four-decade career had been salvaged by a three-minute song".
Love Conquers
His life changed after he met Nancy Sepulveda in 1981. After they married in 1983, the straight-laced Nancy Sepulvado Jones righted his messy finances, helped him address his drinking, kept his drug dealers at bay, and helped revive his ailing music career.
"I saw a lot of good in a man who was being totally destroyed."
I'd heard the horror stories," Nancy Jones disclosed to PEOPLE, "but I'm of the opinion you don't believe it 'til you see it. I ended up seeing plenty of it, but we just clicked. I saw a lot of good in a man who was being totally destroyed."
"They say love can change the world," the country legend continued. "I'm here to testify that it changed one man. 
Thanks to Nancy's love and guidance, George enjoyed career success once more with duets "Hallelujah, I Love You So" with Brenda Lee and "Size Seven Round (Made of Gold)" with Lacy J Dalton. As a solo recording artist, he enjoyed multiple popular singles from his 1985 album Who's Gonna Fill Their Shoes and his last solo Top 10 country hit came with 1989's "I'm a One Woman Man."
Despite George's career rebound, his still wrestled with his personal demons. "George was the sweetest man you could meet. But when George would drink, there was a devil that jumped inside of him," Nancy admitted.
Ridding The Demon
In 1999, an impaired George Jones ran his SUV into a bridge near his home, suffering a lacerated liver and a severely bruised lung. After spending 13 days trapped in the hospital, he made a lasting deal with God. 
"He said, 'God if you let me get over this, I'll never touch a cigarette or liquor again,'" Nancy reminisced. "I was warm all over. This time he meant it."
That experience shook him enough to remain sober until his death from hypoxic respiratory failure on April 26, 2013. George and Nancy Jones celebrated 30 years of marriage before his passing at age 81.
"God put me with him to help him get the devil out of him," his widow concluded. "God put me there to do a job and I did it."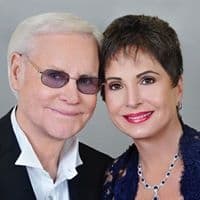 Quotes about George Jones:
"When you look at all formats of music, George Jones is the most unique stylist, bar none" – B.B. King
"He is a true icon of country music. George Jones is to country music what Spencer Tracy is to movies. He is a true American folk-hero and we all love him."
 –Burt Reynolds
"If we could all sing like we wanted to, we'd all sing like George Jones." –Waylon Jennings
"Most people's voices are a gift from God. With George Jones, I think it started out as a gift from God and then they built a body around it because anybody who has ever wanted to sing country music wants to sound like George Jones" – Garth Brooks
"I bask in the glow of having worked (read played) with George Jones. Gram Parsons must be smiling." – Keith Richards
Jones Love of Traditional Country Music
"I sing top songs that fit the hardworking, everyday loving person. That's what country music is about," Jones said in a 1991 AP interview. "My fans and real true country music fans know I'm not a phony. I just sing it the way it is and put feeling in it if I can and try to live the song." (George Jones)
Jones tirelessly defended the integrity of country music, telling Billboard in 2006. Jones also went out of his way to promote younger country singers that he felt were as passionate about the music as he was. "Everybody knows he's a great singer," Alan Jackson stated in 1995, "but what I like most about George is that when you meet him, he is like some old guy that works down at the gas station…even though he's a legend!"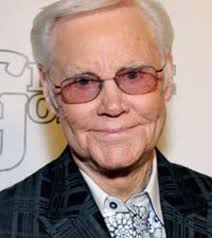 Summing Up The Life Of George Glenn Jones A Country Music Legend
Battling his personal demons along the way, Jones amassed an impressive musical legacy that earned him a 2012 Grammy Lifetime Achievement Award, among many other honors. He died in 2013, at the age of 81. 
Jones recorded over 900 songs, and charted more than any other music artist, almost exclusively on the country charts; Jones never charted a hit in the general top 40 of the Billboard Hot 100 or any equivalent all-genre chart. As a solo artist, Jones had just three hits make the Billboard Hot 100, the highest-charted of which, "White Lightning", peaked at number 73. A duet with Gene Pitney also made number 99 for one week. On the country charts, Jones (either solo or as part of duet) placed nearly 150 songs on the charts, including thirteen number 1 country hits.
There is no doubt that GEORGE JONES helped set the standard for modern country music. It is impossible to overstate his impact as one of the architects of the country music sound. 
George Jones Merritt Mountain Music Festival 1993
Thousands of country music fans were subjected to stormy, rainy conditions on the first and last day of the First Annual Merritt Mountain Music Festival in Merritt, BC.
Legendary country singer George Jones wrapped up the Merritt Mountain Music Festival on Sunday night, July 11, 1993, in front of thousands of die hard country fans who managed to stick it out through the rain.
The legend didn't disappoint. He performed a show in Merritt, BC Canada that could have been on the stage of The Grand Ole Opry. George Jones was a real true hard core country entertainer and legend.
Merritt, BC Canada Mural Walk and Attractions
Visit downtown Merritt in the beautiful Nicola Valley, Merritt, BC Canada and take part in the Canadian Country Music Hall of Fame Mural Walk. Although the Canadian Country Music Hall of Fame includes Canadian Hall of Fame inductees as well as CCMA Award winning artists. The Hall of Fame is also the host of the Merritt, BC Mural Walk which also includes artists from Canada's neighbours that have performed in Merritt at the infamous Merritt Mountain Music Festival.
Start the downtown mural tour at Merritt's National Attraction. The Canadian Country Music Hall of Fame, situated on Quilchena Avenue in The Country Music Capital of Canada.
The Merritt Mural project was created in 2005. The Merritt, BC Murals were part of a successful program called, the "Merritt Youth Mural Project". A project designed for working with local young artists and "youth at risk". Merritt Murals were painted by muralist Michelle Loughery.
George Jones Mural can be found on the wall in Spirit Square, situated on the corner of Voght Street and Granite Avenue.
The Walk of Stars Murals really added to the character of the small town of Merritt, BC. Makes the town feel like country music. (Denis O – Port Coquitlam, Canada)
The information for George Jones was obtained through Wikipedia and George Jones Biography.
Featured Country Music Musician : George Jones

Latest posts by Melvina White
(see all)
https://experiencenicolavalley.com/wp-content/uploads/2019/10/george-jones-tourism-merritt2.jpg
454
1000
Melvina White
https://experiencenicolavalley.com/wp-content/uploads/2018/05/merrit-nicola-logo-01-300x254.png
Melvina White
2019-11-17 22:13:56
2019-11-17 22:13:56
George Jones – Country Music Legendary Icon