Merritt Winter Attractions and Adventures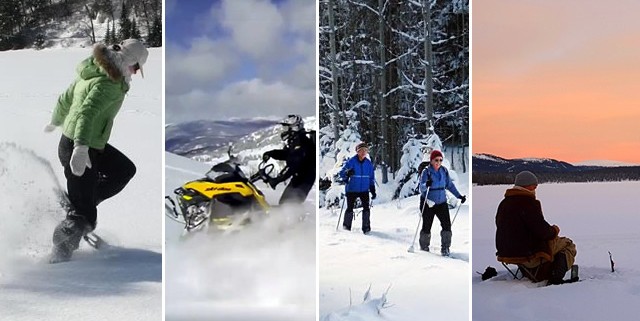 Merritt Winter Attractions and Adventures
Top Winter Things To Do and Activities in Merritt BC
"… we have learned that Merritt BC Canada could very well become a top winter adventure destination in Canada!"
Merritt Winter Attractions! Yes, Merritt has many. As a result we have highlighted 5 Merritt winter attractions and adventures worthy of your time this season. In fact, Merritt winter adventures, is a hidden gem in British Columbia. However, people are beginning to take notice more and more with the increased search engine presence educating travelers on the first-class winter adventures available here in the Nicola Valley. Haven't you heard?
"Merritt BC Canada is "Adventure Ready"!
Powder Winter Attractions
The Nicola Valley – with its vast wilderness backcountry forests, network of gravel roads and hundreds of lakes – is an ideal playground for enjoying snow and ice winter adventures. Most noteworthy our snow is generally light powder snow. What does that mean? It means it is easy to maneuver around in the snow making for good winter adventure conditions. As a result many regions in British Columbia experience fog, rain and clouds during the winter months… Merritt tends to see sunshine more than most.
"Merritt is a hidden gem for winter attractions and adventures. When the world learns what Merritt has to offer, winter enthusiasts will converge on this small winter wonderland in a heart beat." Greg Girard
Experience Community Program
For just under 2 years I have had the opportunity to work with the many good people at Tourism Nicola Valley and in the community of Merritt, BC, Canada. Together we are building a stronger and more versatile 4-season tourism industry under the "Experience" brand. The "Experience Community" program is a very successful small and rural content marketing program we here, at eh Canada Travel, have introduced to the community on Merritt. Hence, now we have a group of positive and passionate locals participating in the marketing of their community through story telling and experiences via a living website and community blogsite.
"This has been the best thing that has happened in Merritt in the last 10 years!" Shelley Sanders – Canadian Country Music Heritage Society.

Creating Jobs In Merritt
We have learned that Merritt BC Canada could very well become a top winter adventure destination in Canada! Bold right! Well I believe it and many around me believe it too. A stronger Merritt winter attraction and adventure season has many benefits including establishing a consistent flow of new money into the community therefore supporting the current stores, accommodations, and restaurants… as well as, attracting new stores and services to the community. Consequently, there is that "creating jobs" thing too. That is pretty important. Where is the bad in that? There is none.
Learn Through Positive Partnerships 
In working with the front line businesses in the community we have met so many good people and key stakeholders who have taught us so much about the Nicola Valley. Some of the associations we have been fortunate enough to work with include Tourism Nicola Valley, Vision Merritt,  Community Futures, Canadian Country Music Hall of Fame, and Chamber of Commerce. Therefore, these are the groups we would recommend working with on any Merritt BC decision making process. It has been a positive experience working with them. They are really, the true ambassadors of Merritt BC Canada!
What To Know About Merritt Winter Attractions
The top winter things to do in Merritt BC, based on my humble opinion, are listed below. I have selected 5 Merritt winter attractions and adventures which will "Wow" your socks off. Included below are links which connect you to maps, tips, photos, videos, contact information and plenty of descriptive text. The links to the preferred Merritt resources below provide you everything you need to know to plan and book one of Merritt's first-class winter attractions and adventures.
5 Merritt Winter Attractions and Adventures
MERRITT SNOWMOBILING / SLEDDING
Throughout the Nicola Valley snowmobiling is getting a lot of positive press lately. Therefore more and more people are finding out about their little snowmobile retreat. In fact, Merritt sledding has made a few top magazines in British Columbia for snowmobiling.
"Sledding around Merritt is an adventure worth seeking out." Snoriderswest.com 2016
The Merritt snowmobiling adventure destination most noteworthy in this region is the Coquilhalla back country. You have heard of the Coquihalla Highway but did you know the backcountry is a hot spot for snowmobiling? Likewise there are other sledding destinations in the region as well. Stoyoma, Honeymoon Lakes, Hooshum Ridge and, near by, Thynne Mountain (Brookmere) are considered worthy sledding destinations as well. If you want to ride steep and deep or enjoy a day of boondocking, you'll find plenty of sledding action in and around Merritt and the Nicola Valley.
CLICK TO LEARN MORE ABOUT SLEDDING IN MERRITT.
MERRITT CROSS COUNTRY SKIING
First of all remember these 2 words – Kane Valley. That is all you have to do to get your next xc ski fix in the Nicola Valley. Why is this important? Because cross country skiing in the Nicola Valley starts and ends on the Kane Valley xc ski trails. The valley has over 50 kilometres of groomed trails ideal for wilderness Nordic skiing. Consequently, the trails are well marked with signage, decorated with shelters (warming huts) and there are washrooms on site too.
CLICK TO LEARN MORE ABOUT CROSS COUNTRY SKIING IN MERRITT.
MERRITT SNOWSHOEING
In our minds snowshoeing has always been a winter version of summer hiking. It is in many ways winter hiking. Likewise snowshoeing involves exploring the same summer trails but provides a winter perspective to the scenery. Personally, there is nothing more satisfying than seeing your adventures through a seasonal lens. Finally snowshoeing trails are available in the Kane Valley region of the Nicola Valley. Plan properly, and one can also snowshoe the vast network of hiking trails and gravel roads available in the backcountry.
CLICK TO LEARN MORE ABOUT SNOWSHOEING IN MERRITT.
MERRITT ICE FISHING
If you are new here, there is one thing you should know. Throughout the Nicola Valley there are over 200+ lakes! Yes, you heard me right, 200. As a result the word is getting out that you can ice fish, "A lake a day for as long as you stay" when visiting Merritt BC. Merritt ice fishing season starts in mid-December as the colder weather sets in and 6 inches of hard ice covers the lakes. And… do not forget to get your fishing licence.
CLICK TO LEARN MORE ABOUT ICE FISHING IN MERRITT.
MERRITT WINTER ENTERTAINMENT
After the days filled with enjoying our first class Merritt winter attractions and adventures you deserve some quality down time. What better way to enjoy the nights than by attending some of our great entertainment venues and dining establishments. Certainly one of the many pubs, restaurants, open mics, spas, junior hockey game, live music, art galleries, and/or community events will entertain you and your group. Hence why Merritt is a good host day and night. Therefore the community will keep you active and entertained during your winter vacation here in the Nicola Valley.
CLICK TO MEET OUR ENTERTAINMENT ATTRACTIONS IN MERRITT.
Top Winter Things To Do In Merritt BC Canada
Best Merritt Winter Adventures
Latest posts by Greg Girard (Guest Blogger)
(see all)
https://experiencenicolavalley.com/wp-content/uploads/2019/11/banner.jpg
343
640
Greg Girard (Guest Blogger)
https://experiencenicolavalley.com/wp-content/uploads/2018/05/merrit-nicola-logo-01-300x254.png
Greg Girard (Guest Blogger)
2019-11-10 21:46:31
2019-12-04 22:09:00
Merritt Winter Attractions and Adventures