Wedding Anniversaries 
Celebrating 50 Years of Marriage
Anniversary Special
On any given day there is likely to be wedding anniversaries in Merritt BC.  But there is one that is especially dear to my heart and that is mine and Shirley's.  This summer, in Merritt British Columbia, we celebrated our 50th Anniversary, which in this day and age, has become rare.  However, it is not so among our friends.
Where My Wedding Anniversary Began
At the end of 1969 and the beginning of 1970 most of my friends were celebrating their 21st birthdays. One of those birthdays was being celebrated on January 3rd, 1970.  So that meant we had a party on New Year's Eve and on January 3rd. It was decided we should go to Oil Can Harry's Night Club in downtown Vancouver, BC, Canada on January 2nd.  As I was not seeing anyone at the time I did not have a date but my friends came to the rescue and arranged a blind date for me.  That blind date was Shirley and the rest is history.
The Wedding
Our wedding was a very lavish affair because Shirley's Dad wanted to have a massive celebration.  We, on the other hand, would have preferred a more intimate affair.  So we gave him a list of "must haves" and then told him if he wanted to invite others he could do so but he had to prepare and send the invitations.  As a result we had a very large group helping us celebrate.
The Journey to Celebrating Wedding Anniversaries 
The most often question asked us is how did we do it? Well from my perspective the major secret is finding the right person as your partner and I have to say I hit the Jackpot.  I don't think I could have found someone who was more suitable.  She is kind, loving and patient.  She is also flexible as our initial plan did not work out.  I was going to teach and in the summers we were going back to Oregon State University so she could complete her degree.
We had to regroup and develop a new plan.
The Next Steps
We started out in a basement suite in East Vancouver, living below an Italian family.  They were so kind to us.  However, prices were starting to rise so we felt it was necessary to get into the housing market.  As a result we purchased a townhouse near Steveston in Richmond BC.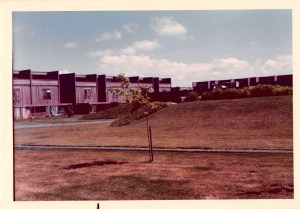 Our Richmond Home
Tom Reynolds Photo
Our Careers
I then started my 33 year career  in Municipal Government as an accounting clerk.  The fog in Richmond was a major hazard to my commute to Coquitlam so we bought a house out that way. Our Children were born in this house.
After Coquitlam I spent 7 years in the City of Port Moody as Deputy Treasurer.  Shirley was working in the insurance field. However it became time to advance my career so I took a job in Williams Lake, which turned out to be a great place for families.  We spent the next sixteen years doing what families do, bringing kids to soccer, hockey, baseball, art, music and Job's Daughters. Needless to say those years flew by.
Shirley had lucked into a great job at the orthodontist's office.  She had a great employer who let her sneak out to attend school events.  We were able to get away on weekends because the office was closed on Fridays at noon.
Times Are A Changing 
Unfortunately, the City was so eager to have Wal-Mart come to town that they were prepared to meet the large retailer's wishes despite protests from the community.  Council's decision impacted us and I could no longer feel comfortable working for this group.  Hence our move to Merritt.
Merritt BC Here We Come
The year was 2003 and by this time we were empty nesters.  We had bought a "fixer upper"  in a great neighbourhood by the forest and overlooking the Nicola Valley.  It turned out to be a smart move as we quickly made friends and got involved in the community through our volunteering.
We have been here almost twenty years.  So if you want to know why we love it,  head over to the stories on  Experience Nicola Valley and travel information on Experience Merritt to see all the things that make this place so special.
Wedding Anniversaries Our Special One
When our kids asked us what kind of party we wanted for our fiftieth anniversary I said I would like just a small gathering and Shirley agreed.  Our celebration was a destination party in the North Shuswap.
We were fortunate to be able to rent a luxurious cabin just across from the lake which provided great water fun for all our guests.
However, it is important to note that the big part of any wedding anniversary celebration is the food.  Unfortunately I didn't get a picture of the feast but I assure you it was delicious.  In any case, I do have a picture of the cup cakes my daughter made.  The icing represents the colours of our wedding.
While our group was small, they came from Calgary, Spokane, Redmond, Ladner, Langley, Richmond and Vancouver.
The last celebration of the day was the lighting of sparklers around the fire pit.
In conclusion, we leave our story of our wedding anniversary with a photo of us fifty years after the photo at the top of this article.
Wedding Anniversaries 
Celebrating 50 Years of Marriage
Anniversary Special
Merritt British Columbia Canada
Nicola Valley Travel and Tourism Guides
"Experience Community Program" is a small and rural community authentic content marketing program.  Therefore it is a product of the EH? Canada Marketing Group.  Contact us today to bring this award winning community program to your region.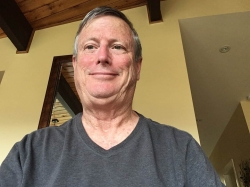 Latest posts by Tom Reynolds
(see all)
https://experiencenicolavalley.com/wp-content/uploads/2022/11/TScupcakes.jpg
844
1500
Tom Reynolds
https://experiencenicolavalley.com/wp-content/uploads/2018/05/merrit-nicola-logo-01-300x254.png
Tom Reynolds
2022-11-13 20:00:35
2022-11-13 20:00:35
Wedding Anniversaries