First Nation Traditional Foods and Lodging in the Nicola Valley

 First Nation Traditional Foods in Merritt BC
Nicola Valley British Columbia Canada First Nation Traditional Foods & Lodging
"We harvest berries in the traditional Nicola Valley areas, as well as, fish and hunt using the old ways and new ways."
What type of First Nation traditional foods and lodging in the Nicola Valley have helped my people endure the hot summers and cold winters? My people, through many generations, have experienced the changing seasons of the Nicola Valley for generations. The extremes of our Nicola Valley weather systems have taught us many survival skills and have played a large part in growing our appreciation of our lands. How did the First Nation people survive is a journey I would like to share with you? 
My Ancestors Were Nomadic During The Spring, Summer, And Fall Seasons
My ancestors used to live throughout the Nicola Valley territory traveling in groups. Living a nomadic life on the move provided my people the food necessary to last through the long cold winter months. Families would gather together in our seasonal villages and enjoy cooking over the open  fire, and celebrating our traditions.
We lived on berries …
First Nation traditional foods in Merritt and throughout the Nicola Valley consisted of berries like Saskatoon berries, huckleberries, choke cherries and soap berries.
And We Hunted And Fished…
My ancestors' diet wasn't limited to just berries. No… we also fished and hunted wild game. During the fall seasons, my First Nation people would fish the mighty Fraser River. My people of our village would catch enough fish to survive the long winters. During the entire year, dependent on the weather, village hunters pursued wild game while hunting with bows.
 

How Did My People Preserve Their Traditional Foods In Merritt BC?

    In the early days of my people we often preserved our traditional foods by drying it on specially made mats of tule reeds. Tule reeds were gathered during the winter months on the shores of nearby lakes. Properly prepared these reeds were used for drying and preserving many of our First Nation foods. My people would also make larger mats from the tule reeds to double as floors in their makeshift lean-to's during the warmer months.
How Did The 

Nlaka'pamux

 People Carry All This Food?
As gathers and hunters we required transportation of our goods. Before the introduction of horses to our culture by the Spaniards, my people would use dogs to transport our goods. Because we lacked horses at that time my people would walk to and from,  here and there with their dogs. The dogs would be saddled with food packed in ceder root baskets.
Where Did My People Live Back Then?
My First Nation ancestors used all sorts of materials from the land and waters. Because of our nomadic nature we were often in need of a portable shelter.  In the summer months we used temporary shelters because of the ease of transportation moving from location to location. These portable lean-to's were created out of fir boughs and tule mats. If the location required a longer stay my people would build these lean-to's with cedar bark. 
What About The Winter? 
Those summer temporary shelters wouldn't hold up to the long winters of the Nicola Valley. During the winter season our shelters would take on new materials to create a new kind of shelter more durable to the winter conditions.  This new shelter covered in earth is called a pit-house. In our first Nation tongue Nlaka'pamuxcin it is called a "Sheeiskin". 
Lots of thought and planning went into these structures. They would spend weeks looking for a proper location, then, when they found an acceptable spot, the community would work together and help build a pit house.
The sheeiskins were typically conical in shape with a hole in the center, which would let the campfire smoke escape through the hole.  The First Nation men would enter down a ladder through the same center hole. while the women would enter through a side entrance. Each First Nation pit house could usually hold up to 3-4 families.  There are locations in the Nicola Valley where you can still see the pit houses left behind from old sheeiskins, like at Monck Provincial Park.
Traditional Ways Are Still Around
Our First Nation traditional foods and lodging made it possible for my ancestors to survive the four seasons of the Nicola Valley. 
Today we still harvest berries in the traditional areas and fish and hunt using the old ways – as well as the new. Our respect for our elders has never wavered.  Elders are given first servings of any food we have gathered, and they are the keepers of our history often sharing their stories of our traditional and cultural ways.
A questions I have for you:
What is the traditional name of the First Peoples in my own area?   
Please feel free to contact me with your answers. I always love learning about new cultures. 
Or, if you also are Nlaka'pamux, share your stories with me!
See you later!  
(In many First Nation's languages there is no word for "Good-bye", as that word may be interpreted as I will never see that person again.)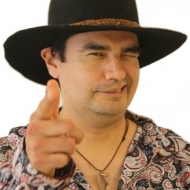 Latest posts by Gerome Garcia
(see all)
https://experiencenicolavalley.com/wp-content/uploads/2019/01/first-nations-cover.jpg
630
1200
Gerome Garcia
https://experiencenicolavalley.com/wp-content/uploads/2018/05/merrit-nicola-logo-01-300x254.png
Gerome Garcia
2019-01-22 12:51:46
2019-02-21 09:10:03
First Nation Traditional Foods and Lodging in the Nicola Valley