Bike Rentals in Merritt BC – An Interview with Breathe Bikes

Bike Rentals in Merritt BC
Bikes, kayaks and paddleboard rentals – Breathe Bikes
Bike rentals in Merritt BC includes kayaking and paddleboards when talking with my fellow blogger and Breath Bikes business owner, Travis Fehr. Travis is the proud owner of Breathe Bikes in Merritt BC Canada.  The bike shop is a good starting point in Merritt for mountain biking, kayaking and SUP rentals during your summer visits to the Nicola Valley. 
10 Questions For A Merritt BC Bike Shop 
I asked Travel Fehr (bike shop owner) 10 questions about his Nicola Valley business. So pull up a stump and have a read about the only bike store in Merritt BC Canada.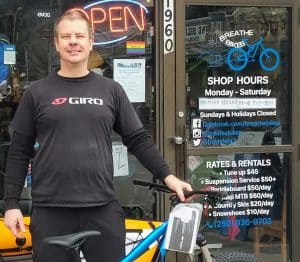 Q1: Why did you want to start Breathe Bikes?
A: I have been working in bike shops for over 3 years and I got to the point where I wanted to be the boss. I was working in Camrose Alberta in a bike shop.
" I wanted to move away from the harsh winters of the prairies because I grew up in Saskatchewan. My family and I wanted to move to some place where the Winters weren't so harsh and some place where they had excellent biking trails but no bike shops and Merritt fit all the those things."
Q2: What did you do before you started Breath Bikes?
A: Before working in bike shops I was in the transportation industry in the Lower Mainland for many years. After realizing that I lost my passion for my career, I asked myself why should I keep doing what I don't have a passion for?
Q3: What has been your biggest hurdle as a business owner?
A: Continuous learning. Being in business as a sole proprietor, you have to wear so many hats. Because there are so many things you have to know. You have to be open to learning and polishing your skills. It's definitely a hurdle, but it's also rewarding. I feel good when I am always learning. It keeps you motivated that's for sure.
Q4: How long have you been in operation?
A:  We opened here in May of 2013, I can't believe it's already been 6 years.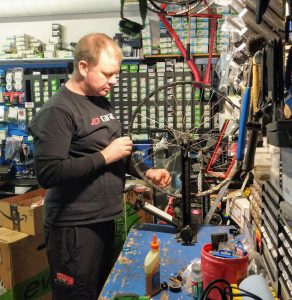 Q5: What sets you apart from the competition?
A: There is some competition with the big box stores. but the obvious difference is that I specialize in higher end bikes and bikes that are a little bit different in their specifications. As well, I offer full service and maintenance on all of those bikes. I also like to think that I am connected to my community.  
Q6: What is your best selling model?  
A: The hardtail mountain bike is my best selling model.
Q7: Besides bikes what else do you sell?
A: Cross country skis, snowshoes, kayaks, paddle boards and our newest product is stunt scooters. We not only sell them but people can rent them too. We also sell bikes, of course. Oh and we also do bike repairs!
Q8: What has been your biggest accomplishment so far?
A: I don't want to sound like I'm patting myself on my back but I like to help those in need, when I can and in any way I can. Kids Christmas bikes. I donate kids bikes that have been used, I rebuild them. I'm really proud of that.
Q9: What is your company's goals?
A: TAKE OVER THE WORLD!!! No but seriously, I want to grow my business, to see more growth of Merritt by encouraging active transportation and recreation culture of Merritt and the surrounding area. I would like to see that grow as well as see my business grow with it. I also want to stay grounded. Because sometimes you see businesses start small and get big and then they tend to lose their heart in that process. I don't want that to happen, so I want to stay grounded and community focused and keep it real.
Q10: If you had ONE piece of advice for someone just starting out a business, what would it be?
A: Stay Positive! There's going to be obstacles, setbacks and the only defeat is to give up.

Well my friends, that is Travis Fehr and Breathe Bikes . 
Another feather in his cap was that Travis also helped fix up and rebuild the bike park in Central Park. This is complimented by his dedication to develop, maintain and design mountain bike paths in and around the Merritt area. To top it all off he is also a member of Council for the City of Merritt.
Some of the mountain biking events, of which, Travis is an active supporter of some of Merritt's biggest mountain biking races include the Merritt Crown and the Epic 1000. 
So if you are driving through the Nicola Valley from out of town or even out of the country and are itching to go for  quick bike ride. Be sure to stop by and see Travis at Breathe Bikes just down from the Coldwater Hotel.
Thank you so much for you time, I now return you to your regularly scheduled scrolling
Bike Rentals in Merritt BC Canada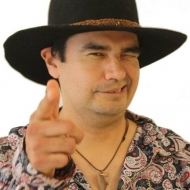 Latest posts by Gerome Garcia
(see all)
https://experiencenicolavalley.com/wp-content/uploads/2019/02/Breathe_Bikes-Front-door.jpg
1080
1666
Gerome Garcia
https://experiencenicolavalley.com/wp-content/uploads/2018/05/merrit-nicola-logo-01-300x254.png
Gerome Garcia
2019-04-26 16:50:30
2020-11-11 21:48:53
Bike Rentals in Merritt BC – An Interview with Breathe Bikes