Geocaching in the Nicola Valley
The fastest growing "sport" in the world?
There is an active group of geocachers in the Nicola Valley.
Geocaching is probably the fastest growing "sport" in the world. I use quotations because it isn't a sport in the classic sense. There is no competition, in fact there is probably more cooperation and camaraderie involved in this sport than any other. Essentially it is a world-wide treasure hunt. Anyone, from the age of wonder, before they can walk, to so old they can barely walk, can participate. Enjoy Geocaching in the Nicola Valley!
There are many different levels of difficulty. Starting with, "park & grabs" to one I know of that requires a three day hike to reach it. There are some that require scuba diving or mountain climbing skills!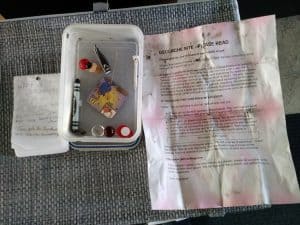 No diving or hanging from a rope off a cliff, there are over 3 million geocaches worldwide. You won't run out of the fun too soon. 
History
Geocaching started on the day that the U.S. government deregulated the system of satellites that circle the globe. A GPS could then be used to identify where you were on the earth, to within a few feet. Someone, I'm not sure who, hid an object, identified it's coordinates, and published it to a few friends. It was found very soon after and the new game was spawned. Today, one of the goals of almost all serious geocachers is to find the original cache. It is still active after all these years!
Nicola Valley Connection
There is an active group of geocachers in the Nicola Valley. Over the years we have hidden over 250 caches within a reasonable distance of Merritt. I have hidden more than 50 caches myself. A group of us went out two ago, with the idea to find 100 caches in one day. We did it easily, on a dirt road, off the Coquihalla Connector, and ended up in Summerland! We saw some incredible country, and got some wonderful ice cream before heading back to the Nicola Valley. 
I organized and then compiled a book, A Taste of the Valley, as an educational initiative. High school students interviewed seniors in the Nicola Valley and then recorded those stories. Each story in the book has a geocache attached to it. Twenty-nine of them appear on Geocaching.com, but there are several more that only appear in the book. Some of them have never been found! Geocaching in the Nicola valley could be a great goal for geocachers looking for a challenge!
Personal & Family Benefits
One of the characteristics of the game that grabbed me right away was that anyone, of any age could play. It is a wonderful activity for families, especially for grandparents and the grandkids. Four of my own grandchildren did their first geocache when they were babies. They pawed through the little trinkets in the containers and traded for what they liked. Everyone loves to find something and sometimes the caches are works of art.
I've seen Chinese puzzle box caches, containers that require you to find a key and fake rocks! My wife makes them for me! I've seen gnomes sprinkled throughout the forest that eventually led to the cache, a large gnome city! What has been most important for me has been the time I get doing something fun with my family. I mean, you can't play video games all day, every day! You can't even waterski or go for a run every day. Almost everyone will enjoy a treasure hunt to break up the monotony of watching TV!
Equipment Needed
All you need for the game is a hand-held GPS, or a cell phone. Then register yourself for a free Geocaching.com membership. That will give you access to the website and the millions of caches available worldwide. The whole Nicola Valley awaits your first attempt to find a geocache. Go for it!
International Connections
As I've stated there are millions of little treasures hidden around the world. From Inuvik, to Cape Dorset, to the Nicola Valley, South America, Europe, Asia, Australia, even Antarctica, they're everywhere. My wife and I have geocached all over the western hemisphere and every place we go we meet other geocachers. One day, in Berlin, we ended up with three groups of geocachers trying to find the same cache. It turns out that Germans, Spaniards and Canadians can enjoy the sport despite language issues! We managed to talk about Geocaching and our holidays for several minutes. That is another reason I love geocaching, those international connections!
Physical Fitness
My wife and I love to hike and geocaching, particularly in the Nicola Valley, gives lots of opportunity. The Kane Valley Ski Trails, Tom Lacey Memorial Trail, Sugarloaf Mountain and other sites abound in hiking and geocaching opportunities.

Geocaching in the Nicola Valley
There are many caches in the city of Merritt, the valley and the surrounding hills. Within the town there is a huge, fourteen stage multi-cache centred around the many murals in town. There are caches that focus on the coal mining and ranching history of Merritt. A series of caches, that teach about the food and medicinal plants of the First Nations people.
There are caches that will take you to incredible vistas.
Other caches show the hopes, passions, and dreams of the people who called, or call, the Nicola Valley home.
Great sport! Join in to the geocaching treasure hunt.
And hunt for some of the geocaches here in the Nicola Valley that have never been found!
Guest Blogger: Jeff Bloom
Jeff Bloom was born and raised in Kamloops, British Columbia. He played a year of professional baseball before returning to Kamloops, getting married, finishing his education and becoming a teacher. He and his wife Gail have raised their two children in Merritt and now enjoy their grandchildren. Jeff has taught elementary school in the valley for 43 years and most recently has published one children's picture book, with more to follow soon.
Geocaching in the Nicola valley has been one of Jeff's passions over the years.
https://experiencenicolavalley.com/wp-content/uploads/2018/07/2012-08-02-23.40.06.jpg
1080
810
House Member
https://experiencenicolavalley.com/wp-content/uploads/2018/05/merrit-nicola-logo-01-300x254.png
House Member
2018-07-26 23:24:00
2019-02-21 08:37:13
Geocaching in the Nicola Valley