Nicola Valley Creativity in Action. Merritt Art and Artists.

Nicola Valley Creativity in Action
Creatives in the Nicola Valley Gather, Carefully
What local creative projects do you know are happening?
Nicola Valley creativity is in action. The community is buzzing with creativity. As the curator at the NV Arts Gallery I have my finger on the pulse of arts happening in and around the town of Merritt.
At least that's what I wish. Beyond my mandala of gallery action and the programs we run, there is a lot going on out there. Just like our recent exhibition, The Art of Covid, showed, creativity persists in our Nicola Valley inhabitants. No matter what the conditions. 
And I can't keep up with all the arts action in the community. Visual arts like paintings, pottery, and fabric arts are happening everywhere.   Dance seems to be alive and kicking. Online possibilities are taking the place of in person, and inaction. Creativity persists.
Music in the Valley
Some community art expressions, like music events, have dropped off. But I know music is being made…You Tube, Facebook, Spotify all have local music happening. 
Open Mic music is kept up by Al and Denise. Robert Bertrand posts music, and Bobby Garcia lets us know about his latest releases on Facebook. Richard Lepinski writes an original song a month, and posts them to his You Tube channel, along with cover songs. Lilly Parks hooked us up to her channel and we've got her on our playlist.
I miss our weekly Open Mic Night at Kekuli Cafe, but local musician Denise Kearney and I stay in touch, talking about how and when the music action in town will open up.
What Creative Projects are happening?
I can't tell you everything that's happening arts wise here in the Nicola Valley, but I get to talk to, and hear about, people who are immersed in creative projects.
I enjoy it because inspiration is often a part of the conversation. If inspiration is present then commitment and action are usually not far behind.
Since I am committed to taking action, almost monthly with new shows, I wanted to flesh out two upcoming summer shows with working titles Body Art and The Art of Clothing. 
Meet Up for  Summer Inspiration
I called Kelly Reid for a meet up. Kelly manages her son Joel's art which we carry in our Gift Shop. Kelly is a creative herself, turning Joel's art into bags, Tshirts, and cards. And she is full of art appreciation and ideas.
I knew we could generate some ideas for the summer shows. We invited Olivia Nendick, an artist still in high school who has just applied for a Gallery art show for next fall. She had told us that she hunts down one of a kind fashion.
Besides the of-course! summer tie dye outdoors event we had already come up with, our trio decided to gather thrift store finds for artists to creative-up, and keep an eye out for mannequins. Got one we can use?
We figure we'll plan an early workshop to get creative with articles of clothing (think beads, embroidery, patches, fabric paint). Stay tuned.
Creative Circles
We like the idea of local artists' works printed on silk scarves (imagine Jean's red post office or Leonard's blue bear. Or Herta's flowers). 
We'll hunt down the leather workers, bead makers, hair, tattoo and henna artists, and see if Colleen Waddell will do some fun air brush make up on a July Saturday afternoon.
Fashion design drawings, sketches of hairstyles, photos of tattoos for our Gallery walls.
And Olivia is going to take on a mannequin for the Art of Clothing show. Can't wait.
Got ideas? Want to participate?
Know a local you think could contribute to either of these shows?
The Body Art Show is by invitation, but we are looking for body artists so get in touch. And the Art of Clothing is a community show, so get busy! We have limited space but we love to fill it.
More Shows
Before those summer shows happen there are three shows in the works. MSS is putting on a show "Unmasked". Then the Clubhouse group is going to show all the art they've been doing during sessions with several NVCAC artists. 
And in June we are welcoming long time artist Judy Young, once involved with the Valley Visual Artists. Judy always contributes something amazing to our community shows so I'm looking forward to her one-person show coming up.
Following Covid protocols
We are Covid careful, but we are still in action with the arts, learning mad Zoom skills, planning Gallery shows, manning the Gift Shop, having socially distant meetups, putting on workshops. 
And… I just heard that the Farmer's Market will accept artisan vendors as well as the produce essentials. Art is essential! Will we participate? Or just head over to enjoy what other locals are setting up? 
At the NV Gallery and Gift Shop, we know a lot of what's happening in the arts in our community. And when you read our Experience Nicola Valley blogs,  the paper, as well as, watch Facebook and listen to our friends and colleagues like I do, it is easy to see Nicola Valley creativity in action. 
| | | |
| --- | --- | --- |
| Susan and Fiona, Fabric Art Fun | Cliff McDougall Powwow photography | Artists Herta and Shirley |
| Artisan Angela Ho designs clothes | Cindy Trent setting up her "Looking Forward" Art quilt show | Clubhouse Art Program |
The arts are alive and well in the community! I'm inspired….
Jano Howarth 
Arts and Culture Blogger for Experience Nicola Valley
| | |
| --- | --- |
| Artist Pat Tombe burns a design into one of his fab wooden bowls | Watching Richard Lepinski on Youtube |
Nicola Valley Creativity in Action
***
Award Winning Nicola Valley Travel and Tourism Guides
"Experience Community Program" is a small and rural community authentic content marketing program. It is a product of the EH? Canada Marketing Group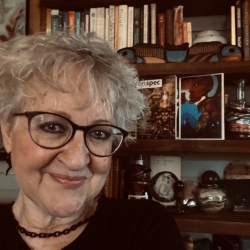 Latest posts by Jano Howarth
(see all)
https://experiencenicolavalley.com/wp-content/uploads/2021/04/Cindy-Camera-scaled-e1619636094556.jpg
486
1024
Jano Howarth
https://experiencenicolavalley.com/wp-content/uploads/2018/05/merrit-nicola-logo-01-300x254.png
Jano Howarth
2021-04-26 03:58:02
2021-04-28 18:55:12
Nicola Valley Creativity in Action. Merritt Art and Artists.