Art in Merritt BC – Art Gallery and Gift Shop New Location

Art in Merritt BC
Art in Merritt BC was on the move in October 2020.
Let's get artistic in Merritt 
Art in Merritt BC at the Art Gallery and Gift Shop moved to 2051 Voght Street after almost 20 years at the old Courthouse on Nicola Avenue. The Nicola Valley Community Arts Council took the plunge and took over enough space in the heritage Jackson building to have an office, a Program Space, our Gift Shop and a Gallery Exhibition space.
After our move, Art in Merritt BC is Back in Action
Two weeks of moving and intense action to spiff up the place, and we were back in action. In a big way!
At least, for our restricted Covid 19 times. We are still waiting for a return to full workshops and music events. Even Friday night Open Mic is on hold!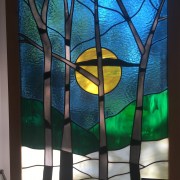 1st Art Show in the New Space on Voght Street
On Oct 15/20, we held our first Art Show in our new space in Merritt BC,  "Art for the Love of It". Prolific local Artist Jean Kiegerl filled the walls with her work, past and present. Joining her was the creative stained glass duo Glenn and Susan Parkinson of Twin Willows.
The Gift Shop space, adjoining the Gallery, was full of artisan work, from pottery to weavings, so there was lots to look at! Locals and visitors flocked in, masked and socially distant. We doubled our usual show numbers!
Art and Music Reception
A week into the Art Show we held a Reception, held over 6 hours and by invitation, to manage the social interaction we are used to at our events. And for only the 2nd time this Covid year, we enjoyed live Reception music. This time Paul Mozin and Desiree Dunbar played us a little jazz. (I would do that again!)
Shop local!
In mid November, when our first Art Show in our new digs came to
an end, we switched up to our 5th Winter Artisan Show.
30 local artists and artisans filled the whole spacious space with gifts- practical, creative, fun and beautiful works. And in a year when there were no craft fairs to go to,  we had a flow of people in for the weeks leading up to Christmas Eve.
Who's who at our Arts Council?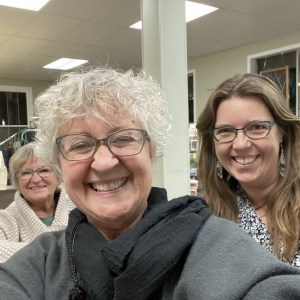 I really want to talk about the people in the Arts Council, and all our artists and artisans! We have a motivated group making decisions in our Nicola Valley Community Arts Council. It was a lot of work and decision making to get us down to our new space from the old Courthouse. For now, I'll just send kudos out to everyone who made this move, this change, happen.
Thanks everybody!
Active Arts in Merritt BC, 2021
We are looking forward to an active Arts year here in the Nicola Valley! For more on our NVCAC and Art in Merritt BC, visit here.
After a short holiday break, we are open again January 8th, 2021!
Our extended hours are Wednesday to Saturday, 11-6pm
Sunday 12-4pm
NVAC Facebook and Instagram
Thanks for stopping by! Jano Howarth
Remember…Express yourself!
Art Gallery in Merritt BC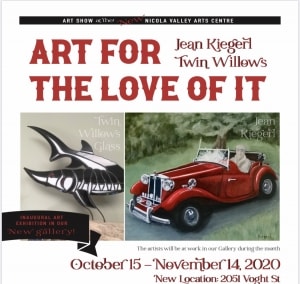 Merritt, BC, Canada
Nicola Valley Bloggers
Merritt British Columbia Canada Top Travel & Adventure Guides
"Experience Community Program" (small and rural community authentic content marketing program) is a product of the EH? Tourism Marketing Group. Contact us for more information on this program at media(at)ehcanadatravel(dot)com.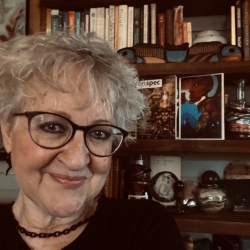 Latest posts by Jano Howarth
(see all)
https://experiencenicolavalley.com/wp-content/uploads/2021/01/0011-image3-scaled.jpg
1024
768
Jano Howarth
https://experiencenicolavalley.com/wp-content/uploads/2018/05/merrit-nicola-logo-01-300x254.png
Jano Howarth
2021-01-17 18:59:56
2021-01-25 21:09:15
Art in Merritt BC – Art Gallery and Gift Shop New Location