Merritt Ice Fishing in the Nicola Valley – Fishing BC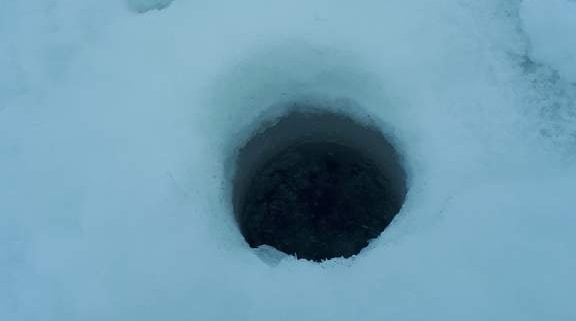 Merritt Ice Fishing – Fishing Nicola Valley
A Lake A Day As Long As You Stay
A day ice fishing with friends and cousin at Marquart Lake
Merritt Ice Fishing is a great example of why we cherish our year-round fishing destination and winter wonderland. With over 200 lakes to choose from in and around Merritt and the Nicola Valley. We chose Marquart Lake. Who would ever think you would be able to catch a fish through a 10 inch hole and a 12 inch thickness of frozen ice.  I am sure the ice was thicker at some of the lakes higher up the mountains but this lake was perfect for a newbie.
Merritt Ice Fishing in The Nicola Valley
For one, who has only fished in an open body of water, the anticipation and excitement of trying to catch a fish through a 10 inch hole in 12 inches of thick ice was an experience like no other. Although fishing is is a great outdoor sport that is relaxing and fun, ice fishing is a unique experience adding a whole new dimension to excitement and pleasure. I didn't exactly get to experience catching a fish myself, on this first ice fishing expedition but I did see evidence, that pulling a fish up through that 10 inch hole is how it works. It is a little difficult to put this experience into words, but I can definitely say this. I can see a healthy addiction blossoming real fast.
Let's Go Fishin'
Jay and Dana my cousin fishing guides picked me up and we were on our way. The weather was overcast and snowing, although beautiful when we arrived at Marquart lake, About 10 minutes east of Merritt, BC. Situated on the Lundbom Lake forestry road.
Once we stopped, the cousin guides took 2 big sleds out of the back of the truck. They started loading it with stuff that made me wonder of we were going fishing for a week. Although they had  filled me in a little about the process of ice fishing. They forgot to tell me about the getting ready part. Like what has to happen before you get to the lake.
Answers To The Before Fishing Questions
They started out with. "Don't let the cold stop you from having a fun filled day of fishing." Ice fishing is a safe winter sport but it does involve a bit of preparation. All you need is some safety tips and tricks, a bit of basic equipment, some warm gear,  and you're in business.
First Things First
Along with a fishing license, some minor safety equipment and tips are first on the list. It is important to learn to check the thickness of the ice.  Use a spud bar (a long piece of steel, about 4-5 feet in length with a tapered point at the end,) or an auger to check the thickness. If you are able to hit the ice twice in the same spot with a spud bar and the ice remains solid, you know it will be safe to step on it in that area. If you can break through it, the ice is to thin. Continue testing as you walk out onto it. Don't ever assume all ice is safe because it can be inconsistent thicknesses throughout the lake. Watch for rotten ice. You can spot rotten ice by its discoloration, cracks, holes and any water flows underneath it may have.
Some basic rules to follow for ice thickness:
A minimum of 4 inches for people
At least 6 inches for snowmobiles and sleds
A minimum of 7-12 inches for light cars
At least 14-16 inches for full sized trucks
Bare Bone Gear For Fishing
According to the cousin ice fishing guides you will be needing some unique gear and some gear with a different twist:
Ice fishing Rod – 24- to 36-inches will make sense for an ice jigging rod when  you hover over an eight to 10 inch hole in the ice. 
Reel – popular ice fishing reels are spinning and inline. Even though spinning reels may be the most common, that doesn't mean they're the best. As the inline reels continue to gain ground, they will easily become the go to reel for ice fishing.
Rod Holder – Rod holders are a handy little gadget. There are a couple of choices. Some fit conveniently on the rim of a five-gallon bucket. The  stand-alone model  elevates your rod and reel just off the ice for easy positioning over the hole. Try both designs and decide which one best suits you.
Lures – Trying to find the fool proof lure is nothing less than a process. You have to try various lures to figure out what will work for you. I was told the three best places to get the lures you need to try or need for Merritt and the Nicola Valley was from Ponderosa Sports , Gun Fishing located in Merritt. Lucky Bug Lures  Products and information can be found in above sporting stores as well as on-line. You will need some hooks, split shot weights and a bobber (optimal).
Bait – Worms, Corn, Maggots, Krill, Shrimp.
Staple Tackle – line clippers, fish grabbers, pliers, hooks, sinkers, weights etc…
Ice Fishing Must Haves
Auger and Ice Scoop – Ice auger is what you use to cut the hole in the ice. Gasoline or battery powered augers takes the physical labor out of hole cutting and allow you to cut more holes than you would by using a hand Auger. Augers come in a variety of sizes to create holes ranging from four inches to 8 inches in diameter or larger. Make sure you have a strainer-type ice scoop, to scoop ice shavings and snow out of the holes.
Some Handy Extras
Ice fishing exposes a unique set of weather challenges for both the fisherman and his or her equipment. Let's just say, ice fishing is one of those sports where preparation is just as important as the action of fishing itself.
Ice Fishing Shelter – it's vital to your comfort, and even your survival, when you're out in cold for extended periods of time. Of all the gear that you need on an ice fishing adventure, your ice tent may be the most important.

Seat/bucket – Five-gallon buckets are a must piece of equipment. You can use them to carry gear, rest rods, and store your fish. The bucket caps are designed for your seating comfort while you patiently sit and stare at that rod watching for the big hit. The cap also doubles as storage for tackle storage.
Propane Heater – When ice fishing, a propane heater is sort of a must-have item for your tent. It takes the chill out of the air and lets you sit and watch that rod in comfort.
Comfy Chair – You're likely going to be sitting for a large part of the day if you're ice fishing. So your best bet is to choose a chair that is easy to carry, offers custom options when it comes to comfort, is sturdy enough to withstand 200 pounds in weight and can collapse easily for transport.
Sled –  An ice fishing sled is often overlooked. Sleds are a rugged and light polyethylene tub designed to haul all of your fishing gear and glide over ice and snow. Pick a size that should be able to  carry everything you need to go fishing. You might need 2 but 1 should be good if you choose the right size.
Electronics for Ice Fishing
One of the advantages to having fishing electronics is to help you find fish faster and mark hotspots for future trips. Having the cream of the crop equipment on the ice makes for a more comfortable, successful on the ice/water.
Fish and Depth Finder – Knowing how to use a fish finder for ice fishing is an essential part of your electronic gear. The first step is keeping the hole free of slush and finding bottom by using your depth finder. After you find bottom, slowly drop your lure down the hole. You should be able to find and see your lure as you slowly lower the lure. As you continue to lower the lure further down the water column, it will be easier to find. Reason being the depth-finder cone angle widens as the depth of the water increases. One advantage to using a sonar while ice fishing is you can move until you find or see fish. You are not going to catch fish that are not below you. Fishing without a Fish Finder is like looking for the needle in the haystack.
Underwater Fish Camera – An underwater fish camera is an essential tool to be able to  get a full picture of your fishing conditions. Underwater fishing cameras are great for ice fishing. Giving you a real-time video of fish and terrain, they also provide a better view of the lake bottom, including weed beds, and any fish swimming by. 
Dressing For The Fish
One thing I figured out real quick is that Mother Nature isn't one of the most hospitable hosts I've ever come across. Assuming I was dressed pretty warm with a few layers. I was starting to freeze in about 3 hours. This encouraged me to do some investigating about exactly how to dress for ice fishing.
Cousin Guide Jay said, "Who do you think you're dressing for? The fish don't hold fashion shows."
Ice Fishing Dressing Tips
Base Layers – Base layers keep your bodies warmth close to the skin. Long underwear is the most basic base layer and works fine. New advanced fabric base layers are lightweight and very thermally efficient.
Outer wear – Despite fishing from an ice shelter. Proper pants and jackets are important,  The best ice fishing jackets and pants are Insulated, windproof, and waterproof. 
Headwear – At minimum, you should wear a quality stocking hat. Even better are fur or fleece lined hats with ear flaps. Balaclavas are even better, as they have complete face and neck coverage.
Gloves – Fingers need protection from the cold and wind. Ice fishing gloves are waterproof, and have flip open finger covers to make dealing with fishing line easier. Gloves that have wrist coverage and can slide up underneath your jacket sleeves are ideal.
Boots – Insulated, waterproof boots are best for ice fishing. Keeping your feet warm is key to keeping the rest of you warm.
The End Of The First Merritt Ice Fishing Experience
Ice fishing is definitely a magical, social, exciting fun filled adventure that tends to get overlooked as a winter activity. Up until now I didn't have a clue about ice fishing. This experience has opened my eyes to what a healthy, natural outdoor sport it is. A simple sport that you don't need a boat for and little gear to get started. While this is true at the beginning, I can see adding the bells and whistles as you get hooked on ice fishing.
With Merritt having A Lake A Day As Long As You Stay it is inevitable that Merritt, BC is an Ice Fishing Destination.
Fishing Contest – Enter before March 30th, 2021
ICE FISHING PHOTO CONTEST
Win a $100 Gift Certificate for fishing gear and an opportunity for your photo to be used showcasing our Nicola Valley ice fishing season on the Fishing the Wild West TV Show with Wes David (30+ Million Viewers).
More Information and Entry Form:
Merritt Ice Fishing Destination
Fishing Nicola Valley
Nicola Valley Travel and Tourism Guides
"Experience Community Program" is a small and rural community authentic content marketing program. It is a product of the EH? Canada Marketing Group. Contact us for how to bring this program and training to your community. 

Latest posts by Melvina White
(see all)
https://experiencenicolavalley.com/wp-content/uploads/2021/02/20210206_110358-002-Fish-hole-scaled-e1613936408410.jpg
332
576
Melvina White
https://experiencenicolavalley.com/wp-content/uploads/2018/05/merrit-nicola-logo-01-300x254.png
Melvina White
2021-02-28 20:21:39
2021-04-25 20:10:40
Merritt Ice Fishing in the Nicola Valley – Fishing BC