Merritt Dance Studio – Love To Dance

Merritt Dance Studio
The Love To Dance Academy in the Nicola Valley
In these times, we "bring the joy of dance into homes".
The Merritt dance studio, Love to Dance Academy, contributes to the art and culture in our Nicola Valley.
I invited dance teacher, Lizette Nel, to talk about her work when we connected here in Merritt BC Canada …
How and when did your Merritt Dance Studio start?
I took over the local dance studio in December 2012 as the previous ballet teacher here in Merritt, Linda Sanford, was looking forward to retirement. The name, Linda's Dance Studio, was changed to Love To Dance Academy in January 2013.
I started teaching in 2012. We had only 12 little ballet students in a lovely compact dance studio on the top floor of the beautiful old Courthouse in Merritt, BC.
Since then a strong dance program has been developed and the Love To Dance Academy now offers classes in four different dance genres to dancers of all ages.
There are recreational classes for those who want to dance for fun and exercise as well as classes for the more serious dance student who would like to do dance exams and participate in in dance festivals and competitions. 
Therefore, at the end of 2018, there was an opportunity to move to bigger premises and with the help of volunteers a second hand shop was converted into a spacious and fully equipped dance studio downtown.

Who is a part of Love to Dance?
The Love To Dance Academy is a project of the Merritt Dance Society, which is a non-profit organisation. The Merritt Dance Society consists of a wonderful, supportive Board of Directors.
I am the Head Dance Instructor and I developed and manage the dance program for the Merritt Dance Society.
Vanessa van Rensburg, regularly teaches Spanish Flamenco and jazz dance classes.
However, from time to time guest teachers are invited to do short courses and workshops or teach during dance camps.
 And of course, there are the many children, youth, and adults who come to the studio to dance!
How is the Merritt dance studio supported in the community?
It is very well supported by the Merritt community who loves attending our classes and our twice a year recitals.
Love To Dance fundraisers are well supported by the community and we are fortunate to always have enthusiastic volunteers to help whenever they are needed.
Tell me about the different dance genres you offer.
Currently our main dance genres are Ballet, Modern Jazz, Spanish Flamenco, and Latin Line Dance.

From time to time Love To Dance offers workshops or short sessions of other dance styles such as Hip Hop, Tap, Musical Theatre/Broadway, Contemporary, Highland Dancing, Bollywood and Country Line Dance.
You put on twice yearly performances. A lot of the dances are choreographed by you, Vanessa, and your Love to Dance dancers.
What are your inspirations for the themes and performance?
Life and what is going on around us… sometimes fun and sometimes deep and meaningful. We choose themes showing that we are different, but the same.
Your dance recitals are so enjoyable for the community!
Not only do we watch a themed story unfold onstage, but the Civic Centre is always full of beautiful displays focusing on the dancers and the culture of dance….
Can you share your dance background with us, Lizette?
Training:  I was introduced to the world of dance at age 5, in Johannesburg South Africa.  I did not like it, but fortunately my mom did not give up and reintroduced me to dance a year later.
In the beginning I was very shy and could not face an audience, but I loved the dancing and movement to music. However, I did all my dance exams and in my final year of school, I decided to become a dance teacher.
Work Experience:  Before coming to Canada, I owned and operated a successful dance studio in South Africa , where I successfully trained hundreds of young dancers and prepared them to enter exams, festivals and competitions with confidence, always striving for excellence.
 In addition to teaching and running a studio, I also provided mentorship for some dance instructors in South Africa. Consequently, I created an online dance network as a resource and networking tool for dance teachers, and was a founding organizer of the national "Eisteddfod of the Performing Arts", a prestigious dance event of its kind in South Africa
It continues to this day, attracting thousands each year.
I was also a judge for the National Society on Dance Teachers as well as a lecturer in the Movement Science Department of the University of Pretoria in South Africa.
 It was a journey for you to be here with us in the Nicola Valley. Can you tell us a little about that journey?
When I became aware of the possibility of teaching in Merritt BC Canada, I started the process of obtaining a work permit, a very long process.
I started teaching in the dance studio in the old Courthouse in December 2012. After teaching for a year, there was a delay in the renewing process of my work permit, and I had to return to South Africa for a few months.
The local students and their parents were very disappointed that we had to leave. The community wrote petition letters and did fundraisers. Fortunately everything got sorted out and we returned in August 2014, just in time for the new dance year to start.
What inspires you?
I've had five dance teachers. Two of them, Janet King and Dorothy de Witt still inspire me. Also the smiling faces and chuckles in the dance studio inspire me.
Our Merritt dance family's dedication and strong will to succeed inspires me even more.
Every new day and the fact that God's loving kindness starts fresh each day inspires me.
What support do you receive in your role in your Merritt Dance Studio?
I have strong support from the Merritt community.  I am very grateful for the many volunteers involved in the many Love To Dance activities. They make it possible for us to successfully present many extra dance opportunities and related activities.
My children in South Africa support what I do and always encourage me.

Without Herman, my husband, keeping things together in the background and the assistance and hard work of Vanessa, my daughter, the Love to Dance Academy will not be able to exist

How do you relax, and give yourself a break?
Gardening.
Favourite things about Merritt?  
Four definite seasons in a year!
Favourite Music?
Classical harp
What role does dance have in society?
I am particularly conscious of the benefits of dance and I promote my programs as a holistic tool for physical fitness, and mental, emotional and social health. We promote character building for youth and motor planning for seniors and people with disabilities.
In addition, dance develops physical strength, co-ordination, and good posture.
Dance improves self confidence and positive body image. Dance builds self discipline.
What effect do you feel Love to Dance has on our community?
Our young students learn to take charge of their lives by being responsible for scheduling and costumes and by managing their time wisely. They take pride in work well done, show leadership with younger dancers, and experience the value of teamwork and supporting others.
They are growing into mature, confident adults and they set an example which has a positive influence on younger dancers.
These positive effects are felt around our community.
Love to Dance brings together all ages, and the different ages interact and dance together in the recitals. It is a joy to see the older students take the young ones by hand and include them in the specially choreographed dances! I can feel and hear the pleasure in the audience around me at this collaboration of ages and levels of dance.
For the older dancers of 55 plus, in the program, "Dance for Lifelong Wellbeing," the benefits of dance include brain agility, fitness, improved balance and reduced stress. This contributes to their independent longevity, and their ongoing participation in the community.
 In this Covid 19 pandemic, we taught our students (and their parents) to be grateful, and to not give up. We taught them to not wait for it to pass, but to accept it and make the best of it. We put new things in place. Our students made it through 10 weeks of doing things differently and they've learned many new skills.  It was hard, but we all survived and we've all become stronger.
We hope that this will spread wider and have a positive influence on our community.
What challenges does your dance studio, Love To Dance, face?

We are challenged with how to catch up the three months during covid – recovery of financial loss over three months with little income, continued rental and utility, and other commitments.
The whole world is currently turned upside down and inside out. But we see these obstacles as stepping stones, not mountains.
In this time of Covid 19, how is Love to Dance managing to stay connected with the dancers and the community?
SET UP VIRTUAL DANCE STUDIO
When we had to close our physical doors at the end of the day on March 16, after just one day of Spring Dance Camp, we decided to explore the possibility of changing from a brick and mortar dance studio to a virtual dance studio.
We attended many webinars presented by four different dance associations and got ourselves set up for Zoom classes and coaching by video.
To keep the interest in dance going, we lowered our class fees to encourage attendance.
BALLET
To give our Royal Academy of Dance ballet students and parents hope, we continued to practice as if our exams, which were scheduled for April 29, were going to take place. 
Students could attend our Zoom ballet classes once per week and they could also make use of our private coaching by video option. 
This worked really well for some students, who had the full support of their parents. But as always happens, we unfortunately also had some dropping out ("stopping dance until the brick and mortar studio re-opens")…. 
Most dancers have lots of self-discipline and keep up their daily practice while they are placed under movement restrictions, but we notice that they still needed to see each other to feel connected and to be motivated. The weekly Zoom dance classes really help to create some sense of normalcy. 

SPANISH  FLAMENCO
Thirteen of our Spanish Flamenco dance students successfully completed their exams by video at the end of April. 
SENIORS
We also set up ZOOM exercise classes for our seniors to help improve their balance, posture and flexibility and also improve your sense of well being – physical, emotional and mental. Payment for classes is by donation.
None of this would have been possible without Herman, my husband. To set all of this up, was a steep learning curve and involved some expenses.
What is next for Love to Dance?
We want to expand opportunities and restructure the dance program to accommodate what is currently happening all over the world.  It will be a constant dynamic situation going forward.
Keep an eye on Love To Dance's current initiative that the members of Love to Dance Society can participate in.
Ongoing MEDAL TESTS
To further keep the interest in dance going we started having Medal Awards by video during the months of May and continue for June. This is open to everyone in Merritt and the Nicola Valley. Participants can enter Ballet, Jazz, Spanish and Folk/National dances – set dances and/or own choreography and interpretive dancing.
We noticed how the fun element and dancing with family members can bring the joy of dance into homes, so we added a section in which you can partner up with a sibling or parent or grandparent to dance a duet. 
Video submissions must happen before June 26 and participants will each receive a bronze, silver or gold certificate and medal in the beginning of July.
Merritt Dance Studio
Thank you, Lizette, for telling us all about the Love to Dance Academy! Many of us in the community are grateful to have an inspired dance studio here in Merritt.
Just one more advantage to living here in the Nicola Valley!
Support our art and culture in our community!
We hope to see the doors of the Love To Dance Studio open soon!
CONTACT LOVE TO DANCE
1976 Quilchena Avenue, +1 250 378 9898
www.lovetodanceacademy.com
LTDADANCE@GMAIL.COM
Facebook Love to Dance Academy
Instagram Love to Dance Academy, The Merritt Dance Teacher
Art and Culture Blogger, Jano Howarth
Merritt British Columbia Canada Top Travel Guides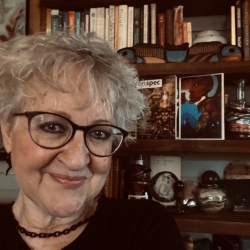 Latest posts by Jano Howarth
(see all)
https://experiencenicolavalley.com/wp-content/uploads/2020/06/LTD-Concert-Kids-scaled-e1594589524120.jpg
608
1449
Jano Howarth
https://experiencenicolavalley.com/wp-content/uploads/2018/05/merrit-nicola-logo-01-300x254.png
Jano Howarth
2020-07-12 21:35:16
2020-07-14 17:03:18
Merritt Dance Studio – Love To Dance