My Merritt Hair Salon during COVID-19

Hair Cut During COVID-19
Hair Styling in Merritt BC Canada
What you need for a good hair cut in the Nicola Valley during COVID19
Hair styling during Covid-19 has been none existent in Merritt BC Canada.  Normally I can go to my stylist every six weeks.  I have been self isolating for twelve weeks so my locks have gotten a little too long for my liking.
Merritt Hair Salon during Covid-19 is self administered
I have a great hair stylist who always makes me feel good about my hair when I leave her shop.  I have been going to her for many years now and she has never let me down.  While I like my hair short (I'm lazy), my wife likes it longer.  Kari did a great job in satisfying us both.
She works for a beauty parlor in downtown Merritt called Kruse 'N Style.  The owner has a unique set up as she not only provides the necessary beauty treatments she also sells clothes.  My co-worker used to tell me she was going to get her $150 hair cut.  I asked why they charged so much, she said the hair cut was an OK price but she couldn't pass up on the clothing!
A reluctant volunteer?                                                                             
When my wife and I got married back in 1972 we were as poor as church mice, so we did many things to cut down on expenses.  We bought cheaper cuts of beef, upped our chicken and pork quantities and ate a lot of pasta.  At one time we switched to eggs to get our protein but alas, you can eat only so many omelettes and souffles.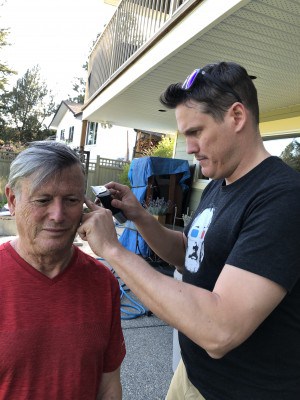 So in an effort to save money we decided my wife would cut my hair.  My wife is talented in many ways and I'm sure if YouTube existed back then I would of ended up with a great cut.  But unfortunately there was no YouTube and my hair style ended up being a little bit off.
Based on that experience I have been gun shy about having anyone work on my hair except a proper stylist.  However, as my hair got longer my wife again tried to get me to let her cut it.  Well that wasn't going to happen.  However, my son decided he new what was best for dear old Dad and sat me on a chair out on the back lawn. (I guess we can't afford a broom to sweep up the hair if we were inside.)
Merritt Hair Salon opens for business in my backyard during Covid-19
My son has this very fancy clipper that comes with various heads which allows him to control the length of the cut. 
For the short sides he chose a specific head and voila my sides are cut to a very short  even length.  Now he has to tackle the top which apparently has to be longer than the sides.  After a few minutes and adding some hair goop he declares that he is finished.  Here is the result.
Bring in the back up Hair Stylist
As you probably guessed this is not the look I was going for.  We had to bring in some assistance, armed with her YouTube video my wife joins the fray.  Look at the way she is handling the scissors.  Looks really good.
Just Kidding
The job is finished and it doesn't look anything like the electric socket style above.  In fact I can now say I have a modern up to date style.  I applaud my son and my wife for the great hair styling during Covid-19 but  must say that Kari will not be out of work.
My Merritt Hair Salon during COVID-19
Nicola Valley hair cuts

Merritt British Columbia Canada Top Travel Guides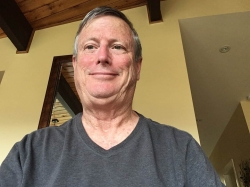 Latest posts by Tom Reynolds
(see all)
https://experiencenicolavalley.com/wp-content/uploads/2020/05/Tomscovid19hair-scaled-e1590425861772.jpg
776
1278
Tom Reynolds
https://experiencenicolavalley.com/wp-content/uploads/2018/05/merrit-nicola-logo-01-300x254.png
Tom Reynolds
2020-05-24 21:29:53
2020-05-25 16:57:54
My Merritt Hair Salon during COVID-19