Street Market Art – Merritt, BC 
Community Art in Merritt, Canada
Youth Take Leadership and make Summer Nights Street Market Art
Street Market Art is happening every Friday night for the whole summer. Amy Maclaren has laid out a plan for character creation – decorating crowns and hats, belts and sashes, masks, and even shoe fun. And her fellow workers, Amrit Ahuja, Felize Omori, and Alexia Clark are a part of the action on the downtown Quilchena block in Merritt Canada.
The Nicola Valley Community Arts Council is employing these four young people through the Youth Employment Program. So this summer, the arts community has help with all kinds of projects and programs!
From the Street Market, to Open Mic Nights, to Corbett Lake Paint Outs this young group is pitching in to make our summer events successful.
From Prep to the Market
First comes the idea of setting up an NVCAC gazebo at the Friday Summer Nights Market, and enlivening it with activities.
With Amy leading the way for this arts project, the activities planned are all about costume and character building. As a student in Costume Design, Amy's creative direction includes everything from coloured sketches to rainbowsequins.
Amy sources her materials for the market activities in town, materials accessible to everyone who lives here or are visiting the Nicola Valley.
Gazebo and other necessities are gathered and set up on Quilchena Avenue, the main block. Our first night's set up was a gusty wind challenge. Duct tape and bricks were in place before flowers and feathers. 
Merritt is a windy town, so the locals are prepared.
But after our first night, we are adding a few bungee cords and table clips to our bin.
The YEP workers get everything set up, and then two of them leave to set up and help at Open Mic. Amrit works the sound and Felize and Alexia welcome the audience there at the Kekuli Cafe..
Neighbours on the Street Market
There is room for over 20 vendors or non-profits to set up on the town's busy block. From a big food truck to gazebos, to small tables, the block is almost full. The Farmer's market is to the west of us. And a variety of displays is to our east. 
Janet Roth is overseeing the Love to Dance Academy's table. She is there to let people know what a great dance studio we have in town. And encourage memberships in the Love to Dance Society that supports it. 
Charlene Lively has set up the Pro Rodeo display, with information and some news about the High School event that was taking place just that weekend.
There are jewelry tables and displays of woodwork by local craftsman.
Tina has set up her Humble Hobo Hotdogs Stand at the end of the block. And there is a new Curried Chicken food truck that has line ups for their generous portions.
And there are baked good tables to pick up something sweet.
Music at the Friday Nights Market
We can hear country music coming from the speakers on the Canadian Country Music Hall of Fame, right on Quilchena Avenue, our main street.
And if we keep going, more music…
A favourite local group, the Strange Companions, have committed to several Friday nights at the street market for the summer. They have created a board of info and calls to action, like "Go on over to Open Mics…" Read while you stop to listen!
This group has been playing together for years, with musicians and singers coming and going. We never know who is going to show up when we know The Strange Companions are playing… 
Back at the NVCAC Gazebo
Amy and the Youth Employment workers lay out the week's art activity. Their first work was fancy name or character cards creation with foam letters, sparkles, and shape stickers.
The second week flower and birds were provided for crowns and embellishments like coloured feathers and foam sparkle stickers were attached to cowboy hats
Last week, the YEP workers got busy with face painting and created characters for the children coming by.
What's up this week?
Support from the NVCAC Directors and Members
Beside our art activity table, the NVCAC Directors set up a membership table under our gazebo, ready to encourage passersby to join our Arts Council and support the arts in all of the the Nicola Valley. 
Two active members, Director of Programs Mischelle Pierce, and artist and Gallery supporter, Gale Simpson, discuss all the arts action happening in town!
This week, right at the end of our Friday Nights Street Market, some good music and dancing is happening at the Adelphi Hotel. Some of our great country and western musicians play there regularly. And people come from far and wide to hear them and get up on the dance floor.
This weekend there was a group from Arizona dancing up a storm. Not sure if they were heading out to the Rockin River Fest event in the Valley. Or if they just staed in town and enjoyed the action right here on the main street.
Visitors from Hobart, Tasmania
It's Jasper! My grandson from down under. Jasper is chatting it up with Jane Bartle, NVCAC Treasurer, mom Lani, and president Jean Kiegerl. I think Jean is selling Jasper an Arts Council membership.
And I know Jasper ended up with enough RCMP Musical Ride tickets to take all of us! 
Jasper and family weren't the only visitors from out of town. We have travelers weekly, often from Alberta, the States, Europe, coming to experience the Nicola Valley.
Join us for some  Street Market Art!
Come down on Friday nights 6-9pm. See what's up, buy or make an embellished cowboy hat or flower crown. Check the current week's activity!
Sashes? Shoes art? What Street Market Art are we up to?
It's usually free, with people making donations to help us buy the next week's activity materials….
Go to Nicola Valley Arts Council Facebook page to check out the next event!
And be sure to come down and see us, listen to some music, grab some food, stop and chat. Make yourself a crown!
Jano, Arts and Culture Blogger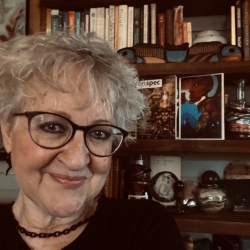 Latest posts by Jano Howarth
(see all)
https://experiencenicolavalley.com/wp-content/uploads/2018/08/Watermarked1502018-07-29-1921-3.jpg
1080
1080
Jano Howarth
https://experiencenicolavalley.com/wp-content/uploads/2018/05/merrit-nicola-logo-01-300x254.png
Jano Howarth
2018-08-08 03:30:30
2019-11-06 23:12:36
Street Market Art – Merritt, BC