Lynda's Cafe in Merritt, BC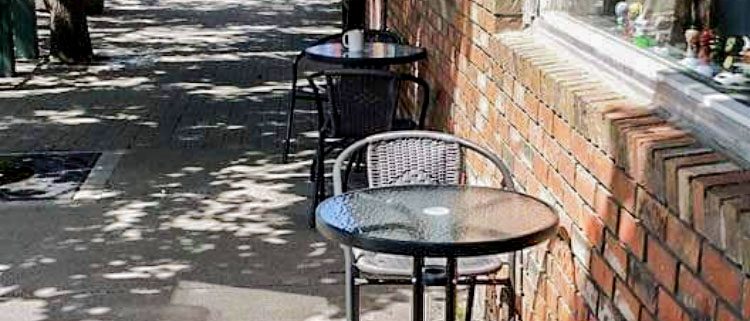 Lynda's Cafe in Merritt BC
Where friends meet to eat.
You have to try a piece of the homemade pies.
Tucked around the corner from the Adelphi Hotel is this quaint little Cafe called Lynda's Cafe in Merritt BC. Because it's so busy you know it's got to be good. Some of the locals seem to be there all the time. And don't let the location fool you, this is a very popular little cafe. Which I found out upon my arrival. 
I honestly never expected this little cafe to be as busy as it was. I have been here a couple times and it's always full. That has to tell you something. When you find a good cafe, you keep coming back. Lynda's Cafe in Merritt, BC won't disappoint.
Feeling Privileged
Being a blogger for Experience Nicola Valley makes me feel very privileged. I enjoy being able to share this cafe with you all. Please go, enjoy sharing a meal and having a few laughs along the way. Then share with your friends and family.
The Owner
Taking time to chat is very limited for Lynda as people are always coming and going. The whole time I was there the tables were full and at one point I thought that people were going to have to wait for a table. But, the customers are great and a couple that were finished promptly got up and allowed the new customers to have their seats. The food and service were wonderful.
Walking in.
As you walk into Lynda's Cafe in Merritt, BC you will find the atmosphere warm and welcoming.  Lynda will always be behind the counter or serving and joking with the regulars and other customers. It was such a great feeling, I was half expecting someone to yell "Norm" lol. The cafe has a real home town feeling where all the locals hangout and you make some great new friends. Which will eventually be thought of as family by coming back more often.
There are a lot of great choices on the menu and one of my favorite menu items is served all day, bacon and eggs. There is something about being able to have breakfast any time of the day or night. And after spying a meal from one of the other customers having burgers and fries, I will defiantly be having that on my next visit. It looked so good, almost made me wish I had ordered it this time. But, that just makes it better for my returning visit.
Bacon and eggs are not always easy to have made exactly how you like them. The cook did and amazing job. Eggs over easy and bacon cooked a little on the crispy side is how I like it done. It was perfect, I couldn't have been happier with my meal. I also had a glass of ice tea which was not to tart, nor to sweet. Something anyone can enjoy over and over.
Pies
When you have a look at the homemade pies it's hard not to want to dig right in. Pies made at Lynda's Cafe are all made from scratch, including the pastry. Just take a look at that strawberry custard pie, yummy.  Although you may be full from your meal, I would suggest taking a piece or two home to try late. Although I had to take my piece of pie home it didn't last too long. Let me know what you think of the pie on your next visit, I would love to hear.
One of the first thing you will notice is on the walls are some gorgeous wildlife paintings. There is a beautiful wagon wheel hanging from the ceiling that has been turned into a light fixture. And the window sills are full of the signature bobble heads. Take a look as you walk up. 
What's the story behind the bobble heads? You'll have to head into the cafe to find out by asking Lynda.
Lynda's Cafe in Merritt BC opened in Oct of 2013. Lynda has never looked back since opening. She thoroughly enjoys serving people, seeing them leave with full bellies and a smile on their faces. Joking around is another great thing about this cafe. There are always people smiling and laughing. This cafe has that home town, down to earth, family feeling while your here.
Room service
Lynda's Cafe also offers room service for the attached Adelphi Hotel. Lynda delivered a number of meals to the hotel while I was there. Lynda's Cafe serves meals at regular intervals throughout the day to the Adelphi Hotel.
Catering
Another service offered here at Lynda's Cafe in Merritt BC is catering. To find out more about what Lynda offers with her catering service please contact her at the restaurant.
Hours of operation
Linda's Cafe in Merritt, BC is open 7 days a week. Monday-Tues 7 am to 3 pm, Wed-Friday 7 pm to 7 pm, Saturday 7 pm to 2 pm and Sunday 9 am to 2 pm
Location
Lynda's Cafe is located at 2101 Quilchena Ave, Merritt, BC
For bigger groups call 1-250-378-0331 to make a reservation with Lynda's Cafe. 
Lynda's Cafe in Merritt BC made me feel very welcome and Lynda was so easy to talk to as well. I would recommend this little cafe any day of the week. The food and atmosphere are top notch in my opinion. And I will be back many times in the future.
Lynda's Cafe in Merritt B.C.
https://experiencenicolavalley.com/wp-content/uploads/2019/02/outside_seating_lyndas_cafe_summer.jpg
1080
702
Michelle Bacon
https://experiencenicolavalley.com/wp-content/uploads/2018/05/merrit-nicola-logo-01-300x254.png
Michelle Bacon
2019-03-01 22:54:21
2020-02-11 17:59:53
Lynda's Cafe in Merritt, BC