Living and Cowboying in the Nicola Valley

Living and Cowboying in the Nicola Valley
When you hear the word "cowboy" what is the first thing that comes to your mind?
Did you know that the term cowboy was first documented in the English language by 1725? It was a direct translation of the Spanish word vaquero — one who manages cattle from horseback, cowboy has the same meaning. Vaquero is rooted in the word vaca, or cow, and stems from the Latin vacca.
For some of us, it is not easy to develop trust when we are dealing with something or someone new. Dealing with a horse is not different. How can you communicate with a horse? How do horses communicate with us? To learn more about horsemanship, let me introduce our guest blogger Miles Kingdon, from Miles Kingdon Horsemanship.
I wanted to cowboy on a big ranch…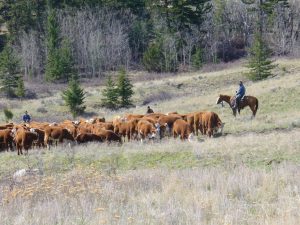 I came from Saskatchewan to the Nicola Valley, in March of 1981,  because I wanted to cowboy on a big ranch.  Most importantly, I wanted a full time cowboying job in cow country.  To live in a land where I could see the mountains and ride my horse across creeks and streams, and view wildlife year round.
I had been a cowboy on the big government pastures in Saskatchewan, but that job was seasonal; finishing for the year when the farmers took their cattle home in the late fall.  Besides, the winters were bitterly cold there, and not conducive to riding year round. 
So I headed to B.C.  When I drove into the Nicola Valley from Kamloops, on Highway 5A (the only highway at that time), I saw vast, beautiful rolling hills of bunchgrass.  I knew that this was the place I wanted to stay.
Streams, lakes, and beautiful wooded hills
My first cowboying job was at the Douglas Lake Cattle Company.  Every day, I rode out in the early morning to look at a new range; with creeks, streams, lakes, and beautiful wooded hills to look at.  Other days, I'd be riding across a sea of grass, and knew I was in the best cow country I could ever see.
It was a good life at Douglas Lake, but I was still hungry to see what was on the other side of the ridge, so I hired on at Nicola Ranch.  I had a family of my own by then, and being at Nicola Ranch exposed me more to the Merritt Community.  Our children were born in Merritt, went to school and were involved in sports in Merritt. 
A cowboy may not plan on involving himself in the community too much, because of his time spent at work, but he will, through the love of his children and interest in their daily activities.  It is inevitable for the parents.  They will rub shoulders with other parents and become involved in community functions, and as a result, feel like part of that community.
A new learning curve for this cowboy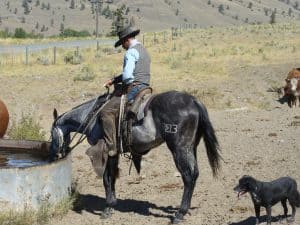 As the years rolled by, my interest in other ranges, and the desire to do better for my family, led me to the other big ranches across BC; the Bar K Ranch, Empire Valley Ranch, and the Gang Ranch.  These places were all a new learning curve for this cowboy.  Learning how to fit into a new environment, and acclimatize to each new system's way of doing things; all were good for me.  I gained more knowledge about grasslands and different herd management practices. 
Also, very important to me, was making a new string of horses for me to go to work with.  Taking the horses from being young and inexperienced to a finished bridle horse, at each ranch. 
Cowboys and cowgirls from all walks of life passed through our pretty valley. 
A horse experienced at roping and doctoring cattle, cutting, and sorting cattle, and eventually becoming a willing partner that anyone, even my children,  could eventually ride.  And they did.  And until my children gained enough experience to be good help to the crew, the horses would take care of them throughout the day at work, and bring them home safely.
Not only did the horses watch how they carried my children through their formative and impressionable years, but so did the cowboys we rode with, always watched out for them.  Each of those hands became like uncles or aunts to our kids.  This is part of what makes our community so unique.  Cowboys and cowgirls from all walks of life passed through our pretty valley. 
At one time, the native community provided most of the recruits for the cowboy crews, and as the years rolled by, people from all over Canada, the US and beyond came to ride on these legendary outfits; some to move on to new ranges, some to stay and raise their families.  Ultimately, my family and I always came back to the Nicola Valley.  It wasn't just the ranges and the scenery, the forgiving environment, and the horses, it was the community.  The people, and their empathy for others held us here. 
Back when I was younger, and cowboying at Douglas Lake, one of the older hands did the math and figured we were riding an average of 5,000 miles/year horseback.  Some of us questioned that, but the elders on the crew attested to that figure.  Some outfits were less distance covered on horseback, while some, like the Gang Ranch, were a bit more.
I understand the horse…
So, after over forty years of cowboying for a wage, I've come to make a lot of friends in the cattle industry, and I've gotten to a place where I understand the horse quite a bit better.  It makes a difference in me, at days end, to count my blessings and tally up how many things were a bit better today than yesterday, with my horses, dogs, saddle partners and life.
It seemed the natural thing to do, once I left cowboying for the outfits full time, to hang my shingle out doing workshops.  To teach the skills we learned going places on horses, and making a living as a cowboy.  So, today, my wife and saddle partner, Possum, and I are making a business of that.  We have two more horsemanship/stockmanship workshops coming up this summer in the valley, at Seven Half Diamond Ranch. 
There's always a horse, and a person, who could use a hand.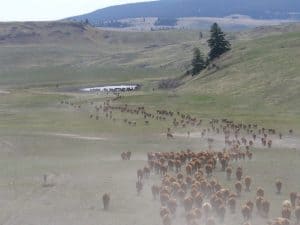 Now, I can pass on these skills to whomever may be interested in working with horses and cattle.  There's always a horse, and a person, who could use a hand.  And I really enjoy passing on knowledge to our youth, who, during their impressionable years, grow and gain knowledge the most. That is what they really desire.
Ultimately, after years of freedom and adventure, going places horseback, I had a few good stories to tell, and my wife pushed me to write them down.  As a result, we are looking at publishing our first book later this year.  It will be stories of life horseback, mostly situated in this valley of ours.
Many great adventures
The horse has brought me to many great adventures, and contact with a lot of good people.  The horse will do this for others as well. As long as there's these grasslands and cattle that need to be maintained, there will be men and women riding down a trail and listening to their spurs chiming in time to their horse's stride.  I have been blessed to grow in this community, and have come to love this valley, and the people in it.
Thanks, Miles Kingdon! We look forward to your book!
Click here for more info on Miles' workshops. "Miles Kingdon Horsemanship offers a wide range of clinics, camps and workshops."
For more reading on the cowboy experience in the Nicola Valley, read Etelka's blog on the Nicola Valley Pro Rodeo.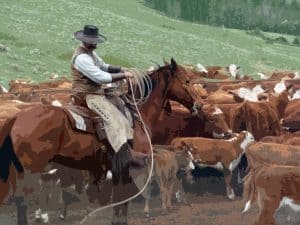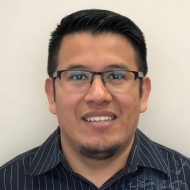 Latest posts by Manuel Olguin
(see all)
https://experiencenicolavalley.com/wp-content/uploads/2018/10/Photo1.jpg
960
1280
Manuel Olguin
https://experiencenicolavalley.com/wp-content/uploads/2018/05/merrit-nicola-logo-01-300x254.png
Manuel Olguin
2018-10-09 10:02:16
2019-06-14 19:26:50
Living and Cowboying in the Nicola Valley