Merritt Summer Nights Market
"People like to have a place to be able to shop unique items and congregate."
Starting Friday July 6th, 2018
Small town summer nights markets…… if you haven't experienced at least one, you should! Starting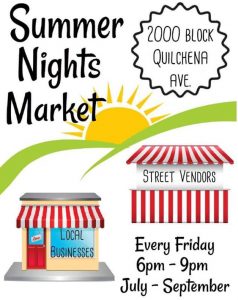 Friday July 6th, 2018 there will be more than ever to experience in the Nicola Valley. We want something new and exciting. Something to do on Friday nights. Merritt Summer Nights Market! A place to congregate and encourage business, and what better place than right down town Merritt?
An opportunity for local downtown and home businesses
There are a lot of small home businesses in Merritt, but not many platforms to sell their products. In the day and age of social media, it is easier than ever to get your business out there for free. But really, where else can you go to sell your products? Sure there is the odd craft fair. Maybe an event every so often like Canada Day in the Park, the Garlic Festival or the Fall Fair. But other than that, where do you go?
The reality is, people like to have a place to be able to shop unique items and congregate. To take a little cash and maybe buy themselves something you can't buy in a general store. Maybe it is just a garage sale antique, or something nostalgic from their childhood.
For me I like to find unique gifts for Birthday's, Mother's Day, Father's Day etc. I like to find unique jewelry for myself. I love my "real" jewelry, but I am a lover of "junk jewelry" and hand made items. I like things that are different, often statement pieces. I often find it is the cheap earrings that I just happened to stumble upon on some crazy clearance that often are the ones people admire most!  
And there's the food…
Then there is the smell of a Summer Night Market. You know the one- the fried onions, pulled pork,
donairs, hotdogs, and mini donuts. The smell of fried food we all know we shouldn't eat, but secretly relish in enjoying.
We are inviting vendors for different food. And for now we know we have…home baked goods. Love home baked goods. The banana bread, zucchini loaf, cookies, pies and squares we all take home in two's so we can eat one to ourselves, and serve the other to guests so they think we baked (or at least I do LOL).
Stroll down the middle of the road.
There is something to be said about being able to stroll down the middle of a road. One that is otherwise occupied by cars. That feeling of seeing the road as something different than a path for cars. It is now a place to greet people, stop and have a chat. Seeing the businesses that line the sidewalks with their doors open letting the cool Merritt Summer Nights Market air in after the sweltering summer heat has eased off. I don't know about you, but I always feel more prone to walking in to a business with the door wide open. Almost like they are inviting you to come in and browse without pressure. Somehow it seems friendlier, and I find it's amazing how such a small gesture subconsciously makes you want to go inside.
Let's get this going! Participate in the Merritt Summer Nights Market!
We are just starting out. We'll see if we can attract all the amazing small businesses, nonprofit orgs, the delicious food vendors and music to make this a small town success in our town of Merritt. Join us in making this Friday night event a success!
I invite you, I encourage you, to come down to Quilchena Avenue and enjoy a Merritt Summer Night Market. Shop all the local businesses, come for the food, the fresh produce, and some great finds, but stay for the experience. The experience of the Nicola Valley!
See you there!
https://experiencenicolavalley.com/wp-content/uploads/2018/07/IMG_5387-e1530850417265.jpg
1080
1080
Meagan Preston
https://experiencenicolavalley.com/wp-content/uploads/2018/05/merrit-nicola-logo-01-300x254.png
Meagan Preston
2018-07-06 04:12:23
2019-02-21 08:27:06
Merritt Summer Nights Market