Christmas Lights in Merritt BC

Christmas Lights in Merritt BC
Organizing your Christmas Lights and Cheer
Enjoying the Holidays with Christmas Lights
This year putting up Christmas Lights in Merritt BC has extra meaning.  This summer we were faced with forest fires and some people were evacuated.  If that was not enough, the entire town of Merritt, British Columbia, Canada was evacuated due to extreme flooding.  In fact, over 350 homes were severely damaged.  Add to these problems, Covid-19 and you have a year to remember or not.
The nice thing about this time of year is that we have a chance to bring some cheer and light to our town.
Organizing Your Christmas Lights in Merritt BC
If you are like me, the worst part of putting up Christmas lights is actually taking them down.  Since I don't like this job I just strip them down and throw them into a big bin.  Therefore, when it is time to put them up again I have to organize them.
If all the lights were the same colour this would not be a problem.  However, I have variations on a theme and thus I have to separate the strings into their individual colours.
I created my problem by buying my lights in different years.  My first purchase were some lights some describe as "warm" white.  That sounded good to me. However, they tended more to be a yellow than a white.  So the next year I purchased "cool" white.  These tended to be more blue than white. Xmas
The next time I went to the store my wife asked if we could get "clear" white.  Guess what?  These lights were actually white!
I, therefore, divided my lights into 3 piles.
Testing your Christmas Lights in Merritt BC
When I took my lights down last year they all worked but I know from past experience this may not be the case now. Somehow the gremlins find their way into the bin and break at least one string.   In my case two strings were 1/2 burnt out.  Since I am not an electrician and don't have fancy testing gadgets I cut off the parts of the strings that didn't work and put together the parts that worked. Notice that in this picture 1/2 the string is not on.
Stringing Your Christmas Lights in Merritt BC
Most people who put up their lights put their efforts into decorating the front yard.  They generally follow the roof line, including any peaks.  Also, there is often lawn ornaments of deer, snowmen or Santa.
That is not the case in my house.  We have wall to wall windows that look out onto the backyard so it makes sense to me to put the majority of my effort there.  Also I am afraid of heights and ladders so you won't find me decorating any areas that are up high.
 The backyard is terraced where the first level is defined by a row of lilac bushes centred by a choke cherry tree.  The second area is our new terraced garden that is on the north side of the house.  The final area is our deck that spans the back of the house.
The Results of Stringing the Christmas Lights in Merritt BC
I would like to say that everything went smoothly but unfortunately that was not the case.  I wrapped the lights around the branches of the lilacs and up into the choke cherry tree.  However, before I moved on I decided to test the installation and, lo and behold, the middle string did not light up. Canadian Tire did not have any of the long strings left so I headed over to Walmart where I found what I was looking for. The lights were labeled  "cool white" which was exactly what I needed.  After stringing the lights I tested them and found out that what Canadian Tire calls "cool white" is not the same as Walmart's.
Despite the difference I decided to leave well enough alone and continued onto the other areas where I had success.  With the backyard complete I moved onto the front yard.
Stringing Up the Christmas Lights in the Front Yard
As I said I have not put a lot of effort into the front yard.  We have a central flower bed that has a young sunburst locus tree in the centre and barberry bushes around the edges. So I have strung the Christmas lights on the tree and the bushes.
We also came across some kaleidoscope lights that you screw into your house out door lights to add some colour without a lot of work. 
With minimal work the front yard display is not bad.
 Christmas Lights in Merritt BC
Nicola Valley Travel and Tourism Guides
"Experience Community Program" is a small and rural community authentic content marketing program.  Therefore it is a product of the EH? Canada Marketing Group.  Contact us today to bring this award winning community program to your region.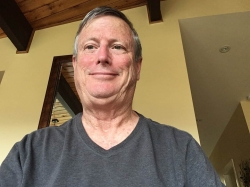 Latest posts by Tom Reynolds
(see all)
https://experiencenicolavalley.com/wp-content/uploads/2021/12/IMG_2806-scaled.jpeg
1024
768
Tom Reynolds
https://experiencenicolavalley.com/wp-content/uploads/2018/05/merrit-nicola-logo-01-300x254.png
Tom Reynolds
2021-12-30 00:57:38
2021-12-30 00:57:38
Christmas Lights in Merritt BC