Aboriginal Day In the Nicola Valley
Celebrating Aboriginal Day in Merritt BC June 21, 2019
People in the Nicola Valley Celebrate Aboriginal Day
We celebrated Aboriginal Day in the Nicola Valley Merritt BC on June 21, 2019. Canada's Governor General proclaimed the first National Aboriginal Day in 1996. Every year since then June 21 is the day for all Canadians to celebrate Canada's  First Nation's Aboriginal Peoples.
There are three Aboriginal groups in Canada – the First Nations, Inuit, and Métis peoples.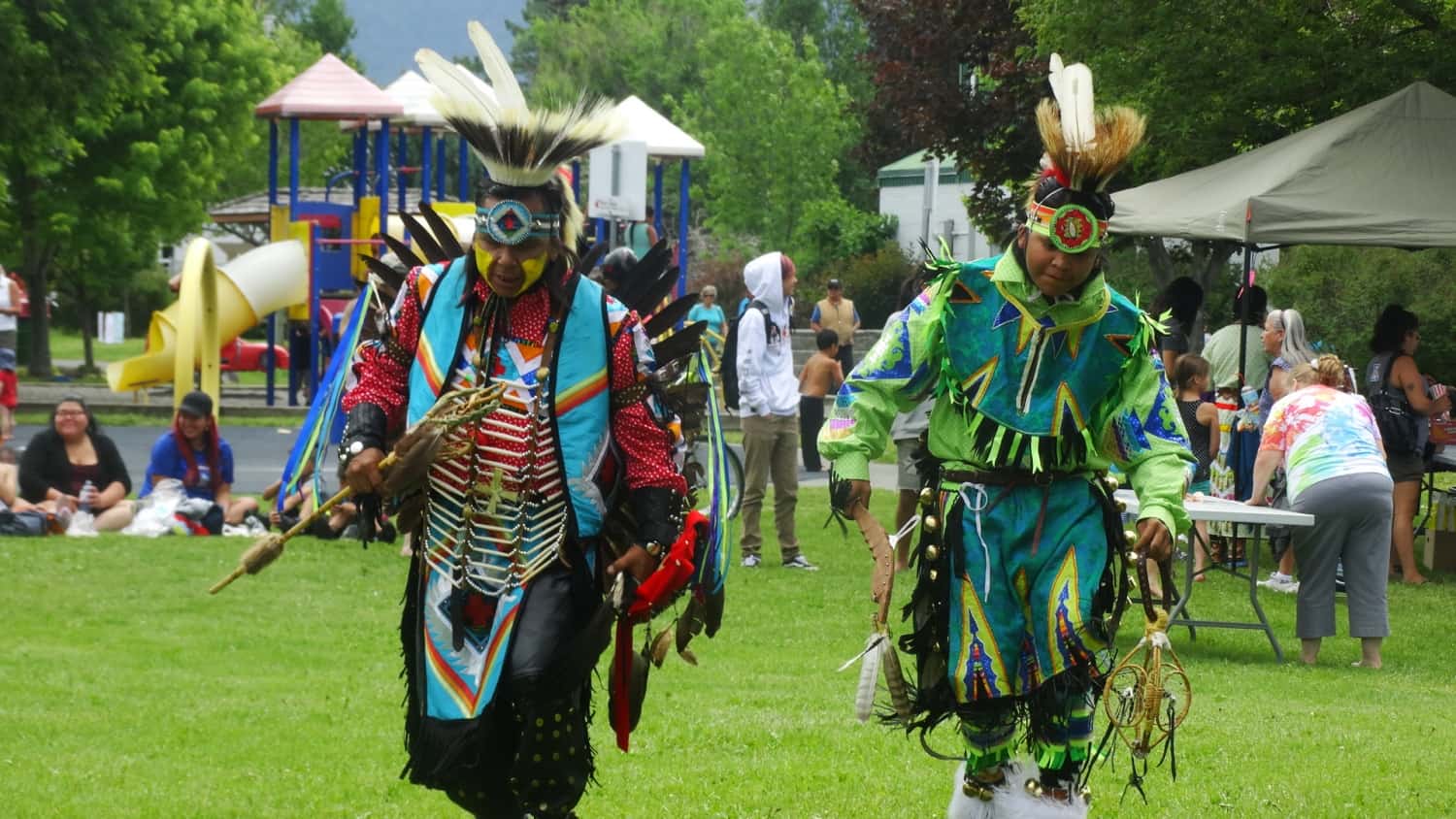 Celebrating Aboriginal Day in The Nicola Valley Merritt BC
Along with the pounding Heartbeat of Mother Earth, the Regalia worn by the dancers will surely amaze you. A great day at Merritt's Rotary Park on June 21, 2019. In case you missed it here is my photo collage for you to enjoy.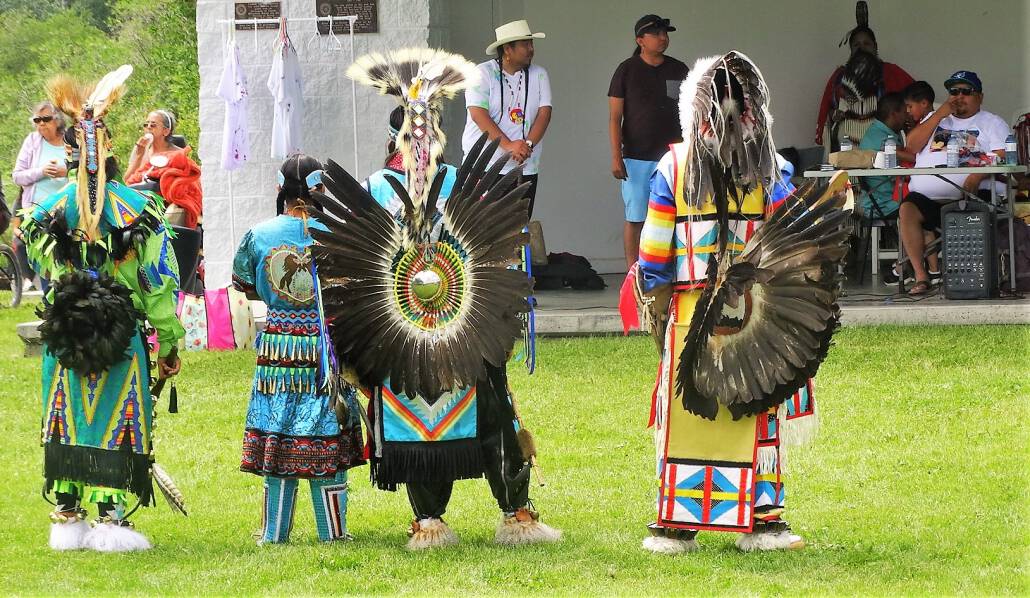 Aboriginal Day June 21, 2019.
Aboriginal Dance Regalia
Regalia is unique and sacred to each dancer. Therefore not to be ever confused with or referred to as costumes. Regalia is adorned with various materials. Most noteworthy Regalia outfits feature intricate beadwork (often sewn by a family member or friend), while others use ribbons, shiny materials or the use of traditional materials, such as porcupine quills.  While the ceremonial dress is beautiful to look at, pow wow etiquette requests that observers not touch or take pictures of dancers' regalia without permission.
Crystal Spahan with her children dressed in their traditional First Nation regalia.
Beautiful Handmade Regalia
Noteworthy Crystal  Spahan's elaborate shawl is uniquely decorated with distinct flower patterns, beadwork along with flowing fringes.
Pow Wow Dances are Expressions of Indigenous Spirituality, History and Culture
In addition with the festivities going on, Aboriginal Day is also a day of learning about Canada's Indigenous culture.  In fact I was honored to meet Stuart Patrick preparing his sons Regalia along with his own. He was ensuring that their regalia was well-secured before their performance.  Furthermore, I was welcome to interview Stuart Patrick.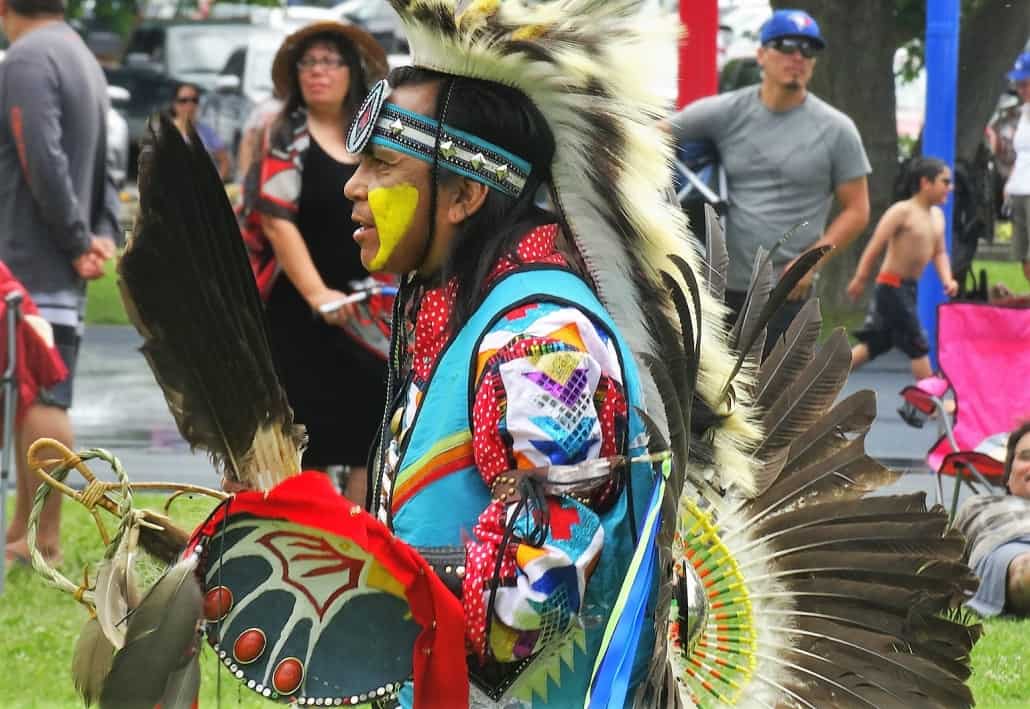 Stuart Patrick
(Q1)  Are you from the Nicola Valley?
(Stuart Patrick) I am from Uclue Let (U-Cloo-let) Vancouver Island. I went to 2 residential schools, Christy Residential in Tofino first, and then closed Kamloops Residential School down.
(Q2)  When did you start to dance?
(Stuart Patrick) I dance for survival. I have quit cutting my hair, I am done with mourning. We lost our Potlatch rights when I was seven. I have always chased the "Pow wow" We dance for the seven generations before us, and for the seven generations after us.
I started walking the "Red Road". After the second year you pick what you want, like dancing, drumming. You join the circle for life.
(Q3)  Were did you get your Eagle feathers?
(Stuart Patrick) A Fire Fighter from Merritt found a dead Eagle and gave the feathers to me.
(Q4) Do your children also dance?
(Stuart Patrick) My son Jacob is wearing my first Regalia outfit. And my daughter Raven is wearing the blue Regalia outfit. They both perform regularly throughout BC. We go to Pow Wows and perform at University's and College's.
(Q5) Who makes your Regalia?
(Stuart Patrick) Janice Sheena and Abraham Sheena. The beadwork.
(Q6) What dances do you perform?
(Stuart Patrick) I do traditional potlatch mask dancing. The Humming Bird and the Chicken Dance.
In Addition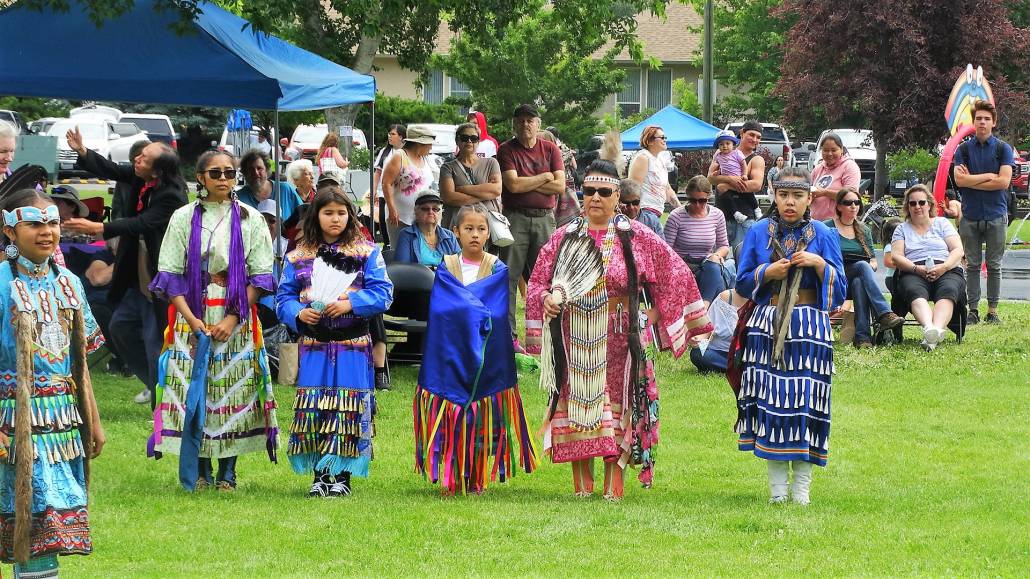 Celebrating Indigenous Day in full Regalia. Merritt BC Rotary Park.
The Work and Detail that Goes Into These Beautiful Regalia Dress
Desiree Dick has been dancing since she was 3 yrs old. Along with her mother Adriene Johnny & sister Kirsten Dick (Hand Drummer at MSS) they all have a "Passion for the Pow Wow".  Desiree's Grandmother was the artist behind her Regalia.
With The Beating of The Drums and The Dancers Performance
While the  Dancers take great care to ensure that their regalia is well-secured before a performance. Losing a part of regalia during a dance could cost a dancer the competition. Although this day was not a competition, but the work and care is very visible.
Additionally More Beautiful Regalia
Awesome attendance at Merritt Rotary Park on Aboriginal Day
Furthermore with the beating of the drums and performing dancers. Everyone in attendance had a amazing day!
Pounding of Your Heartbeat
Above all hearing the Drum beat along with the vocals gathers all peoples together, regardless of gender, belief, or race. The throbbing pull of the Drum connects us, one to another, with the pounding Heartbeat of Mother Earth.  
A Bit of Culture Education
Drumming has always played a significant role in education, healing, history and ceremonies of the Native American peoples. Oral histories and stories, accompanied by drumming, play a vital role in passing on ancestral traditions and customs to new generations.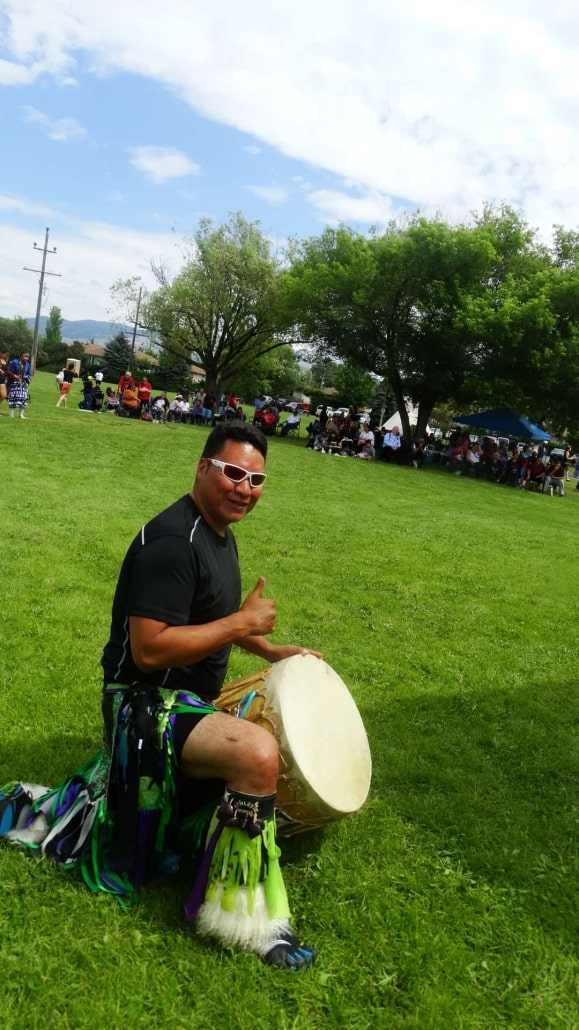 Warming of the Drum.
The Sound of the Drums Could be Heard Through Out the Nicola Valley
Additionally A Teepee Was Set Up For All To Enjoy

Getting in touch with my Aboriginal Heritage.
Celebrating Indigenous Culture
Especially seeing all the Regalia and the dancing can transform you back in time.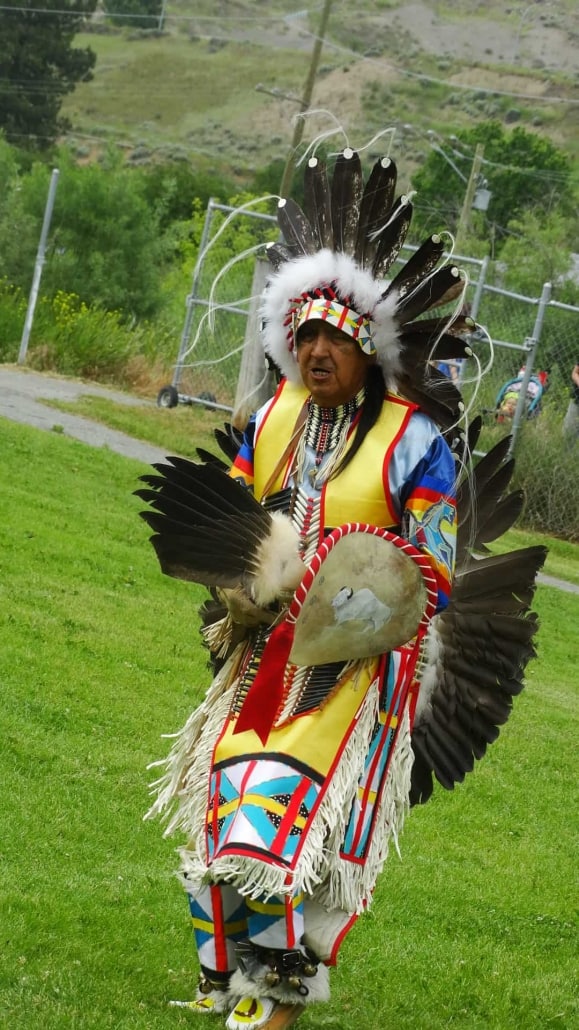 Full Regalia
After All
Proclaimed June 21  National Aboriginal Day in 1996. It is a day to celebrate Canada's First Nation's Aboriginal peoples. Make sure you mark your calendar next year, June 21.
Aboriginal Day in the Nicola Valley
https://experiencenicolavalley.com/wp-content/uploads/2019/06/DSC05847-2.jpg
767
1754
Tania Stewart
https://experiencenicolavalley.com/wp-content/uploads/2018/05/merrit-nicola-logo-01-300x254.png
Tania Stewart
2019-07-12 01:23:22
2019-08-26 17:59:22
Celebrating Aboriginal Day In Merritt BC