Skiing Near Merritt
Apex Mountain Resort
Winter Family Fun
I am aware of several choices for Skiing near Merritt BC that are less than three hours away.  You can find Sun Peaks, near Kamloops, it has great snow, a quaint village and usually good weather.  It has all the amenities of a first class resort.
When you go  South from Merritt you have your choice of Silver Star near Vernon, Big White near Kelowna and Apex near Penticton.
We chose to explore Apex Mountain Resort, near Penticton
Skiing Near Merritt on our Apex journey
On a Thursday night our kids and their partners arrived at our home in Merritt. Because of  the wonders of modern science and fibre optic technology some of the crew were able to put in some work remotely before our travels to Apex.
The day started with a great breakfast of specialty eggs, toast and fruit.  Later we had a fend-for-your self lunch.  With the work done we were packed we were ready to leave by 3:00 and on the road.
Lodging at Apex
We were greeted by our hosts Lisa and Greg  who were just outstanding.  They were so helpful and had all the equipment in the world (well almost). As a result they were able to loan us skates and those traction things you put on your feet to help with the icy conditions.
The digs were absolutely amazing.  I have been to lots of short stays and found that most of them are poorly equipped, but not here. There were plenty of quality dishes, pots and pans and utensils.  They even had a spice drawer for upscaling your meal.
This Chalet is somewhat deceiving as it appears to be only 2 stories but because it is built on a cliff face there are two more stories.  The unit we stayed in was just below the main level where Lisa and Greg live.
Once we got our bags unloaded from the car (Greg helped), Lisa showed up with a hot out of the oven short bread cookie big enough for the six of us.  What a great treat.
The Apex Ski Hill
The great thing about Apex is that the runs are so well organized so that you don't spend your day traveling on ski lifts.  as you can see from the map everything is run off just a few lifts.
Map courtesy of Apex Mountain Resort
The kids were up on the ski hill taking advantage of all the various runs where they tackled some of those black diamond runs.  My daughter was decked out in a great outfit for her adventures.
It was a good day for travelling up the chair as these three show great smiles,
and an even better day for flying down the hill.
Snowshoe Trails at Apex
 Snow shoeing is an activity related to skiing near Merritt BC.  Two areas ay Apex are designated for snowshoeing.  The first one is the Nickel Plate Nordic Centre.  This area consists of beautiful cross country ski trails and snow shoe trails.  You pay a nominal fee to use this facility but it is worth every penny.  The trails are well maintained.
On the other hand you can choose the free area which is just a short car ride from the village.  We found Snowflake Lake trail to be perfect for Shirley and me.  While you can cross country ski on these trails they are not groomed and are shared with the snowshoers so they are kind of rough.
Apex Mountain Relaxing Times
While there is lots to do outdoors it is also great to take some time off from the strenuous activities and chill out. We took advantage of the pub in the village called the Gun Barrel Saloon to have a beer and some nibbles before heading back to the chalet for a gourmet pasta meal.
While I raved about our chalet earlier for its atmosphere and its equipment you need to see some of the spaces we had to relax in.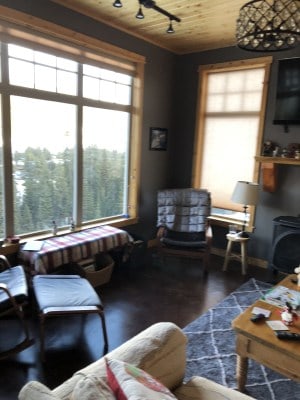 Apex Living Room- T Reynolds photo
The piece- de- resistance was the hot tub with its view of the valley.
Skiing Near Merritt, BC the Apex Experience
I have to say that we had an excellent time at Apex.  Unfortunately we did not have time to do everything.  Skating in the wilderness run would have been fun as would the tube park.  However we only had so much time and therefore we will have something to come back for.
Skiing Near Merritt
Apex Mountain Resort
Winter Family Fun
Nicola Valley Travel and Tourism Guides
"Experience Community Program" is a small and rural community authentic content marketing program.  Therefore it is a product of the EH? Canada Marketing Group.  Contact us today to bring this award winning community program to your region.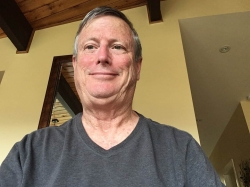 Latest posts by Tom Reynolds
(see all)
https://experiencenicolavalley.com/wp-content/uploads/2022/02/Apexgunbarrel.jpg
768
1024
Tom Reynolds
https://experiencenicolavalley.com/wp-content/uploads/2018/05/merrit-nicola-logo-01-300x254.png
Tom Reynolds
2022-03-24 21:27:03
2022-03-24 21:27:03
Skiing Near Merritt BC