PFN Coaching, Mark Nendicks Story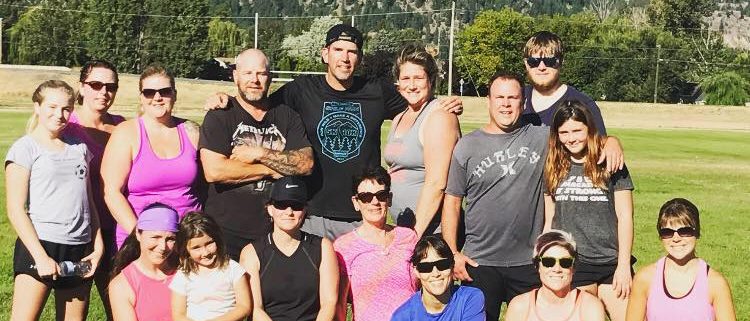 Mark Nendicks Story
Local Merritt resident Mark Nendick is the owner/operator of PFN Coaching (Priority Fitness Nutrition). A successful Merritt based company that focus's on helping people reach their greatest potential through diet and exercise.  
       While working a full time job at Highland Valley Copper and raising 3 kids, Mark has still managed to find the time to start and maintain his business. Showing that hard work, dedication and passion really do bring results. 
        Today he is in the best shape of his life but most importantly he is enjoying life on his terms, but it wasn't an easy journey. I had the opportunity to meet up with Mark at a local coffee shop and ask him a few questions.  Below is Marks story:
The Transition
In 2007 Mark found himself weighing 260 pounds. Standing at the starting line of a 5 km run, his daughter strapped in her stroller, with a Venti Java Chip Frapuccino in his hand. He thought this race was an easy feat. However, unable to finish the race, and with no energy or self esteem he was fed up with how he felt both physically and mentally. So it was at this moment he realized he needed to make some drastic lifestyle changes.
        In 2010, he embarked on a health and wellness journey. Overweight and riddled with anxiety he knew there had to be a better way to live and feel.  Therefore he committed himself to learning as much as he could about making healthy choices and personal well being. Realizing he was not alone with these struggles, he created PFN Coaching to support others in achieving their lifestyle goals as well.
COACHING
 Mark began eating a healthier diet to lose some weight and started running to help his cardio, he also incorporated strength training to offset muscle loss. In 2016 he became a Certified Personal Trainer and took on his first client who had an amazing results. Converting his basement into a gym he holds 4-6 classes per week and now has over 100 clients.
Mark is 55 pounds lighter today and feels amazing. However, he had to constantly reach out of his comfort zone so he could achieve the goals he did. The end result was definitely worth it. PFN Coaching is growing stronger as are the people who are apart of it. It took a lot of hard work and dedication, this is a great example of how hard work truly pays off. 
Corporate
Health
In 2018, Mark joined with a friend of his from Austria and became a senior partner in a Corporate Health Business. The goal of the program is to teach employers and their employees how to create a healthy atmosphere. While boosting morale and improving productivity, the employees felt more valued and the companies also noticed a reduction in sick time. It only makes sense to maintain a healthy lifestyle at home and at our workplace.
       Mark is currently training for this year's 2019 Los Angeles Marathon. When he meets the qualifying time in L.A he will then be eligible to run in the 2020 Boston Marathon. Which has been a dream of his for years. Knowing Marks focus and dedication I have no doubt he will make the qualifying time in LA, setting a target time for him to beat in Boston I'm sure. PFN Coaching is more than a local business. It is a lifestyle transition for those wanting to improve their physical health and well being. 
https://experiencenicolavalley.com/wp-content/uploads/2019/03/31530463_10214668336894972_1283019401192275968_n.jpg
746
750
Rob Lee
https://experiencenicolavalley.com/wp-content/uploads/2018/05/merrit-nicola-logo-01-300x254.png
Rob Lee
2019-03-08 22:15:46
2019-03-08 22:15:46
PFN Coaching, Mark Nendicks Story